Wilmington Wrongful Death Lawyer
Have you lost a loved one due to someone else's negligence?
You may have a wrongful death claim, and you may be searching for a Wilmington personal injury lawyer to assist with your case. The wrongful death lawyers at Riddle & Brantley have been serving the Wilmington NC area for decades and we would love to help if we can.
There is no obligation, there are no upfront costs, and we don't get paid unless we win you the compensation you deserve.
Please call 1-800-525-7111 today and let a wrongful death lawyer handling cases in Wilmington review your claim.
In addition to handling wrongful death cases in Wilmington, we also handle cases throughout the state, including Raleigh, Durham, Greenville, Fayetteville, Greensboro, High Point, and Winston-Salem.
Free consultations are available by phone, email, text and video conference and there is no in-person consultation required. However, we can even come to you if it's more convenient.
We have bilingual interpreters on staff for the convenience of our Spanish-speaking clients, as well.
"They made a hard time in my life easier to endure."
–Melissa C., Riddle & Brantley client
What Can a Wrongful Death Lawyer Do for You?
Wrongful death cases can be complicated, time-consuming and stressful. You don't have to do this alone. Let Riddle & Brantley's wrongful death attorneys handle your claim in the Wilmington area so you can focus on the grieving process and recovery.
A Riddle & Brantley wrongful death lawyer can handle all aspects of your claim or lawsuit, including:
Investigating the accident
Collecting, documenting and preserving important evidence
Hiring outside experts to help prove liability
Helping you file an insurance claim
Negotiating with the insurance company and defense counsel
Identifying and interviewing potential witnesses
Obtaining the official accident report from law enforcement
Representing you in mediation and/or arbitration
Filing a lawsuit if necessary
Conducting depositions
Drafting and filing legal briefs and other court documents
Representing you at court hearings
Representing you at trial
Setting up trusts
And much, much more
In many cases, liability is contested and our wrongful death lawyers serving Wilmington will organize a thorough investigation into the facts and circumstances surrounding the death of your loved one(s). We have an experienced team of investigators on staff, and will often bring in outside experts to help prove liability.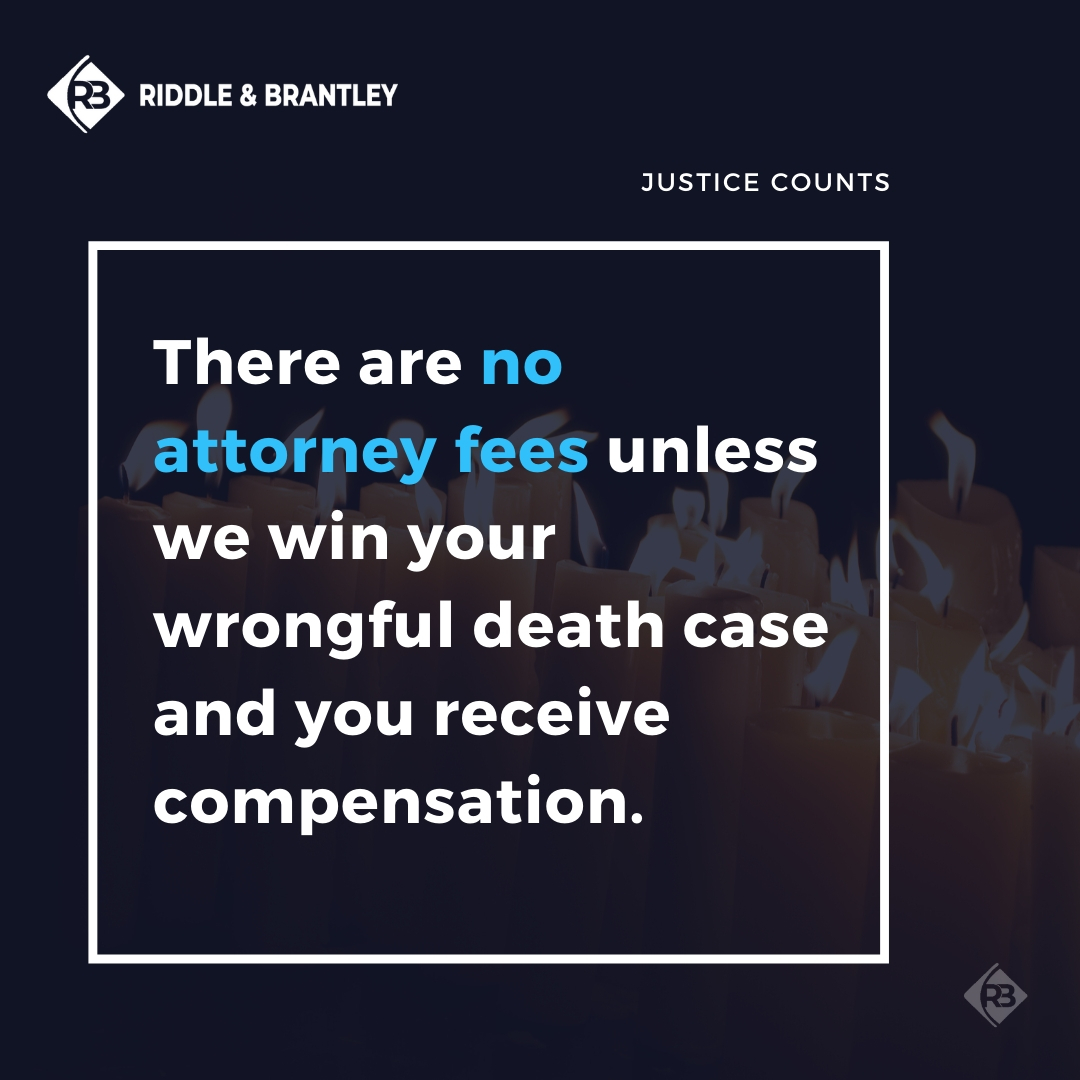 There are no upfront costs and no attorney fees unless we recover compensation for you.
Nothing can make up for the loss of a loved one, but our wrongful death attorneys handling cases in Wilmington can help you get the justice you deserve.
Call 1-800-525-7111 today for a FREE consultation regarding your potential wrongful death claim. We will listen to you, advise you on your legal options, and if you decide to hire us, we will fight tirelessly on your behalf for the justice and compensation you deserve.
Justice for Those Who Have Lost Loved Ones Due to Negligence
In more than three decades serving the people of North Carolina (including many clients in Wilmington), our wrongful death attorneys have won many significant settlements and verdicts on behalf of those who have lost their loved one(s) due to others' negligence.
Recent wins include:
$9,450,000 | Truck Accident & Wrongful Death — Our attorneys fought for justice for surviving loved ones of a family of four who were tragically killed in a horrific tractor-trailer crash on a busy North Carolina highway. We investigated the accident, proved liability, and filed lawsuits against multiple parties. Ultimately we were able to negotiate separate settlements totaling $9.45 million out of court.
$2,250,000 | Truck Accident & Wrongful Death — Our client was killed instantly when a truck ran across the center line and hit her head-on. We hired outside experts to prove liability, advised defense counsel of our intent to file a wrongful death lawsuit, and secured a $2.25 million settlement on behalf of surviving family members. We were assisted in the case by attorney David Kirby of the Raleigh law firm Kirby Edwards.
$850,000 | Mesothelioma — Our client died of mesothelioma cancer suffered as a result of asbestos exposure while working as a railroad welder. We filed a lawsuit against the railroad company and the insurance carrier, and identified former co-workers to testify on behalf of our client. The case was set for trial but we were able to negotiate pre-trial settlements with both parties totaling $850,000 in compensation for surviving loved ones.
*** Disclaimer: An attorney must meet certain requirements to join these organizations or receive these awards. For more information on Membership Criteria for Million Dollar Advocates Forum, Multi-Million Dollar Advocates Forum, Super Lawyers, The National Trial Lawyers Top 100, The National Association of Distinguished Counsel, AV Preeminent by Martindale-Hubbell, and the Litigator Award, please visit our Membership Criteria page. These awards and memberships should not be construed as a promise or guarantee of a similar result. Each case is different and must be evaluated separately.
"They turned a heartbreaking situation completely around."
–Tonya Taylor, Riddle & Brantley client
Call Riddle & Brantley in Wilmington, NC for Help
If you've lost a loved one due to another person or company's negligence, please call 1-800-525-7111 to speak with a wrongful death lawyer serving Wilmington today. 
There is no obligation, the consultation is free, and you won't pay a dime in attorney fees unless we win you case and recover financial compensation for you and secure justice for your loved one.
Please call 1-800-525-7111 today and let's review your wrongful death claim.
These cases can be complicated and you'll want an experienced wrongful death attorney on your side who is familiar with Wilmington and knows how to handle these cases.
Riddle & Brantley's wrongful death attorneys have been serving Wilmington for decades and have more than 220+ years of combined legal experience.
We understand what you're going through and you don't have to do this alone.
Justice Counts for those who have lost loved ones due to negligence and we would love to help you secure the justice you deserve.