Are JUUL Pods Contaminated? Lawsuit Makes Explosive Claim
JUUL faces yet more legal scrutiny after a former executive alleged in a new lawsuit that at least one million JUUL menthol flavor pods were contaminated and the company "refused to recall those contaminated pods or even issue a product health and safety warning."
Alleged JUUL Contamination
Filed in US District Court for the Northern District of California in late October, the lawsuit says that Siddharth Breja, former senior vice president of global finance at JUUL, was fired by the company after raising concerns about the potential JUUL contamination.
Breja alleges that he was fired "in retaliation for whistleblowing and objecting to the contaminated pod shipment and other illegal and unsafe conduct."
"Mr. Breja became aware of very concerning actions within the company that could be jeopardizing the health of millions of JUUL users." -Harmeet Dhillon, plaintiff's attorney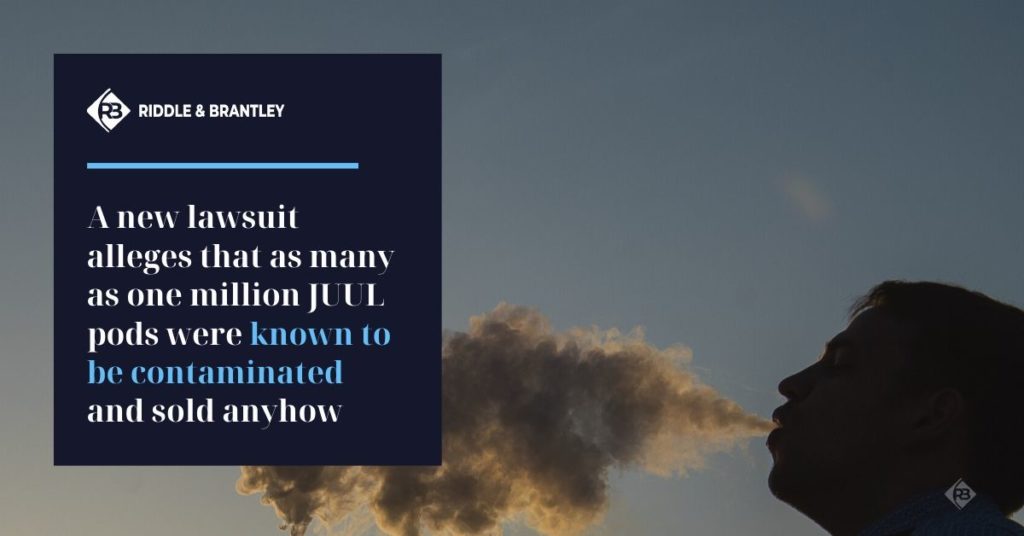 The lawsuit is just the latest in legal troubles for JUUL, which already faces multiple lawsuits alleging the company deliberately targeted minors, engaged in deceptive marketing, and knowingly downplayed serious health risks. In addition to serious lung injury and illness, public health officials caution that using JUUL devices and other e-cigarettes may cause cancer.
The FDA is reportedly also finalizing a nationwide ban on flavored e-cigarettes. After facing serious FDA scrutiny and losing an earlier lawsuit, JUUL suspended all US advertising in September 2019. The company has also shuttered its popular social media accounts.
Thousands of cases of vaping product-associated lung injury and illness (known as EVALI) have been reported across the country recently, resulting in more than 30 deaths.
Have you been injured by JUUL e-cigarettes?
If you've suffered lung injury or illness after using JUUL vaping devices, you may be entitled to compensation.
Multiple lawsuits have alleged that JUUL knowingly targeted minors with easily concealable vaping devices and "fun" flavors like Fruit Loops. Plaintiffs also allege that JUUL downplayed serious health risks and engaged in deceptive marketing practices.
If these allegations are true, we believe that's wrong — and we are committed to holding JUUL and possibly other e-cigarette companies accountable.
Our JUUL lawsuit lawyers have more than 220+ years of combined legal experience, and we've been fighting on behalf of injured Americans since 1985.
For a FREE consultation and case review, please call 1-800-525-7111 or complete the short form below.
If you decide to hire us, there are no upfront costs and no legal fees unless we win your case and you receive financial compensation.
Victims injured due to the alleged negligence of e-cigarette companies like JUUL deserve justice.
Call 1-800-525-7111 to speak with an experienced JUUL lawsuit attorney.
There is no obligation, the consultation is free, and there are no attorney fees unless we win your case.
Please call 1-800-525-7111 today and let's talk.
Justice Counts.