New Elmiron Maculopathy Study Strengthens Claim Againsts PPS
Researchers have conducted a new Elmiron study looking for a correlation between pentosan polysulfate (PPS) and vision problems in patients taking this medication for interstitial cystitis. PPS is also known by its brand name Elmiron and is one of the only treatments available for interstitial cystitis, a rare bladder disease.
New Elmiron Maculopathy Study Results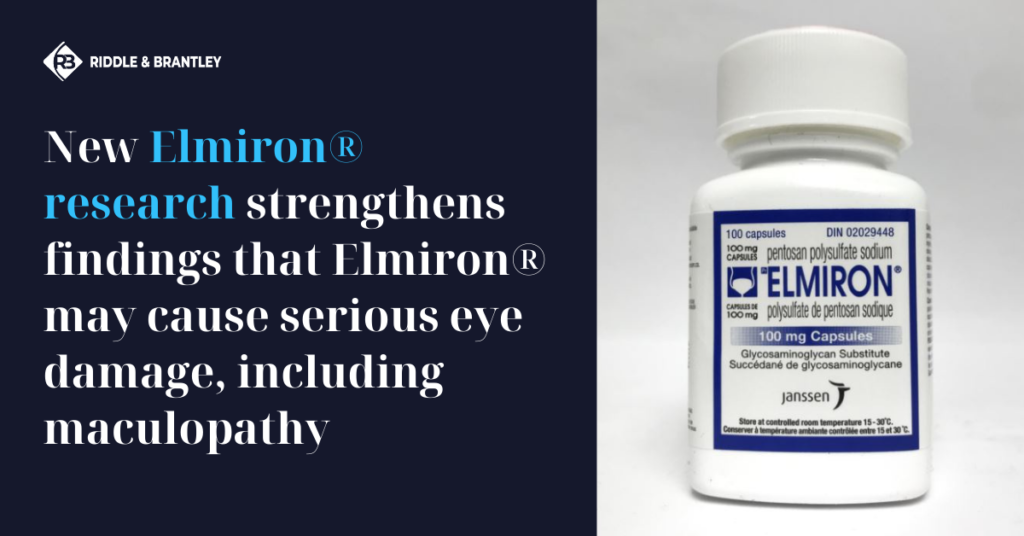 In line with recent Elmiron eye damage research, the new study found that "respondents in the highest PPS exposure tertile were more likely to report difficulty with reading small print and to have a diagnosis of macular degeneration and/or pigmentary maculopathy than unexposed respondents"
This study further connects Elmiron and maculopathy and other eye damage in those that take it consistently, raising further questions about the safety of Elmiron.
If you or a loved one have taken Elmiron and developed maculopathy, macular degeneration, scotoma or other vision problems, call 1-800-525-7111 for a FREE consultation concerning a potential Elmiron lawsuit.
Our Elmiron lawyers have recovered over $600 millions dollars in compensation for victims of injury since 2000 alone and we would love to help you if we can.
This new Elmiron eye damage research is alarming and we are committed to seeking justice for those who may have been injured due to this potentially dangerous drug. Call 1-800-525-7111 and let's review your case.
What is Elmiron?
Elmiron is a brand name for the compound pentosan polysulfate (PPS). It is the only FDA-approved treatment for people suffering from a rare and debilitating bladder condition known as interstitial cystitis.
In recent years, it has been linked to very serious eye damage, including maculopathy, retinopathy, and scotoma, among other injuries.
Does Elmiron cause eye damage? 
Many studies have linked Elmiron to eye damage. For example, a study conducted in 2019 found that nearly one quarter of all patients who had "significant exposure" to Elmiron showed signs of retinal damage later on.
As one of the researchers, Dr. Robin Vora, noted: "It's unfortunate, you have a patient with a chronic condition like interstitial cystitis, for which there is no cure and no effective treatment. They get put on these medications because it's thought to have few side effects and few risks, and no one thinks about it again. And year after year, the number of pills they're taking goes up and up."
Out of 91 patients studied, 22 showed clear signs of drug toxicity, with the rate of toxicity rising alongside the amount of the drug consumed.
Pigmentary Maculopathy
In February 2020, the National Institute of Health published another study that linked Elmiron to pigmentary maculopathy development in participants. At seven years after taking Elmiron, there was a statistically significant correlation between those who had been exposed to Elmiron and pigmentary maculopathy.
"Do I Qualify for an Elmiron Lawsuit?"
If you have taken Elmiron and later developed any of these conditions, you may qualify for a lawsuit:
Degenerative maculopathy / Macular degeneration
Macular retinopathy
Macular / pattern dystrophy
Retinal pigment epithelium atrophy
Vision impairment
Halo vision
Unilateral blindness
Bilateral blindness
Metamorphopsia
Reduced night vision
If you believe you may qualify for an Elmiron lawsuit, call Riddle & Brantley at  1-800-525-7111 today for a FREE review of your case with one of our expert Elmiron lawyers.
Why should I hire Riddle & Brantley for my Elmiron lawsuit?
Riddle & Brantley has recovered millions for clients (see disclaimer below), but beyond that, we are dedicated to ensuring that anyone who has been injured due to dangerous drug manufacturers' negligence receive the justice that they deserve.
Janssen Pharmaceuticals and other drug manufacturers have legal teams on their side to make sure they're not held accountable for the damage their drugs may cause. You deserve a legal team that is dedicated to fighting for your rights, and has the experience to go up against these big drug companies.
With more than 220+ years of combined legal experience, the dangerous drug attorneys at Riddle & Brantley are ready to go toe-to-toe against potentially negligent companies and fight for your interests.
For a FREE consultation with an experienced Elmiron lawyer, please call 1-800-525-7111 or complete the fast and easy form below.
When you hire us for an Elmiron lawsuit, you won't pay ANY attorney's fees unless we win compensation for you.
We believe Justice Counts for those injured potentially due to dangerous drugs like Elmiron. Call 1-800-525-7111 and let's review your claim.