New Mexico Files Talcum Powder Lawsuit Against Johnson & Johnson
The State of New Mexico has become the first state to file a talcum powder lawsuit against Johnson & Johnson.
In a court filing in January 2020, New Mexico Attorney General Hector Baldera alleged that Johnson & Johnson knew about asbestos contamination in its popular talc-based Baby Powder and continued to market it to consumers.
Baldera alleges that, in particular, Johnson & Johnson misled consumers, especially minority women and children.
"[Johnson & Johnson] concealed and failed to warn consumers about the dangers associated with their talc products."
-Hector Baldera, Attorney General for the State of New Mexico
Johnson & Johnson Faces Thousands of Baby Powder Lawsuits
The New Mexico lawsuit is only the latest legal headache for Johnson & Johnson, which faces more than 16,800 talcum powder-related lawsuits, according to the New York Times.
The company faces investigations by the Securities and Exchange Commission (SEC) as well as the Department of Justice, as well.
Johnson & Johnson continues to defend its talc-based Baby Powder as safe, claiming that its case is "supported by decades of scientific evidence showing our talc is safe and free of asbestos."
The State of New Mexico and thousands of other plaintiffs disagree. The lawsuits contend that Johnson & Johnson continued to market and sell its talcum powder-based products even after company executives raised red flags concerning possible asbestos contamination.
Asbestos is a potentially cancer-causing substance that many experts claim may have caused ovarian cancer and mesothelioma in those exposed to contaminated baby powder.
In late 2018, Johnson & Johnson recalled 33,000 bottles of baby powder after the FDA announced test results showing trace amounts of asbestos.
Have You Suffered from Ovarian Cancer or Mesothelioma After Exposure to Johnson & Johnson Baby Powder?
If you or a loved one has used Johnson & Johnson talcum powder products and been diagnosed with mesothelioma, ovarian cancer, or endometroid ovarian cancer, you may be eligible for a talcum powder lawsuit.
Criteria for these lawsuits includes:
Must have used Johnson & Johnson Baby Powder or Shower-to-Shower talcum powder for 4+ years continuously in the general area
Must be diagnosed with ovarian cancer, mesothelioma, or endometroid ovarian cancer
Must have been diagnosed in 2009 or later
Must have used talcum powder before menopause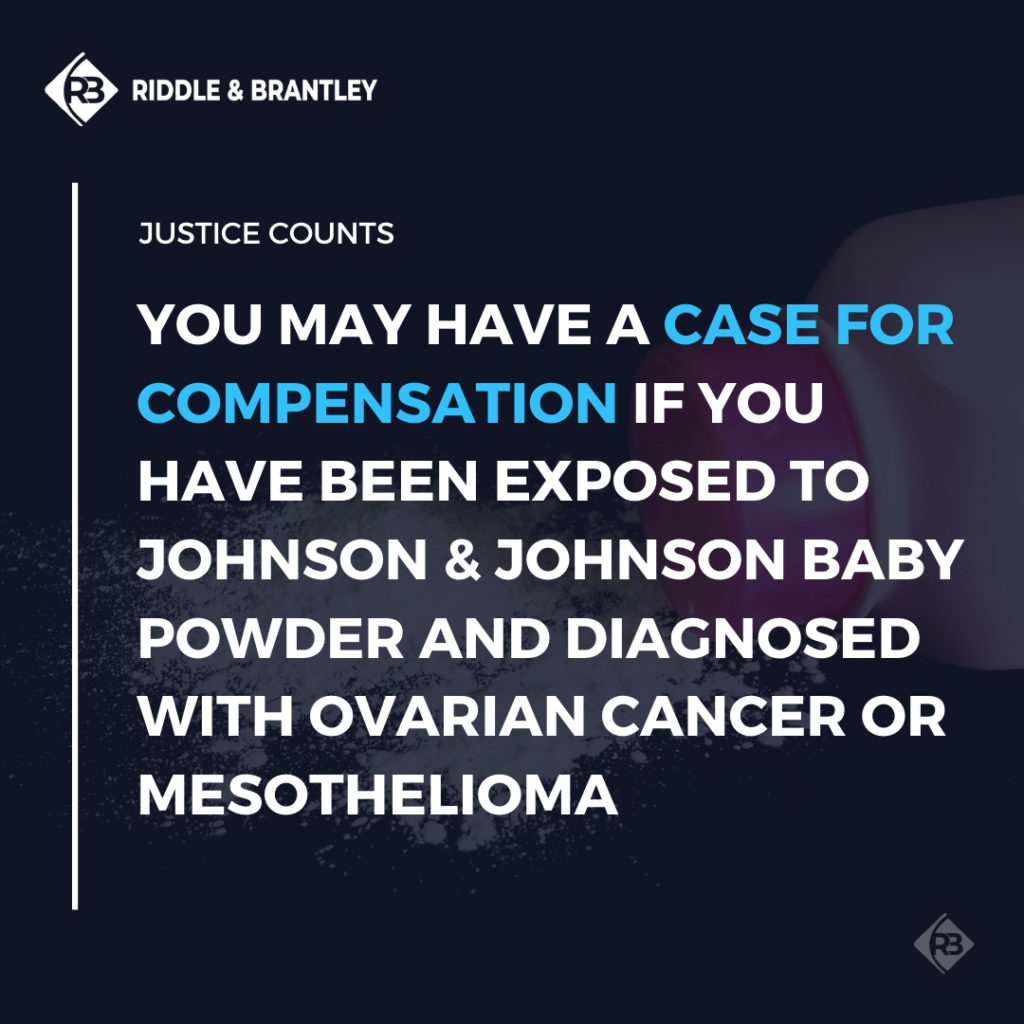 You deserve justice — and you may be entitled to compensation.
The experienced product liability lawyers at Riddle & Brantley may be able to help. For a FREE case review with a talcum powder lawsuit attorney, please call 1-800-525-7111.
There are no upfront costs and no attorney fees unless we win your case and you receive financial compensation.
Those exposed to Johnson & Johnson baby powder who have suffered from ovarian cancer or mesothelioma deserve justice.
Please call 1-800-525-7111 today for a free consultation.
Justice Counts.