North Carolina Files Lawsuit Against JUUL and Other e-Cigarette Companies
North Carolina has filed a lawsuit against JUUL, alleging that the e-cigarette company intentionally marketed its products to minors and downplayed potential health risks.
The lawsuit, filed in May 2019, also alleges that JUUL used lax verification methods in selling its vaping products online.
North Carolina State Attorney General Josh Stein has accused JUUL of "aggressively targeting children" and says that the company does "not require appropriate age verification when selling these dangerous and addictive products."
Stein said that "Our complaints allege that these eight e-cig companies are helping to fuel an epidemic of vaping among high school and middle school students."
"One look at their marketing materials demonstrates just how egregious their sales tactics are — with flavors like cotton candy, gummy bear, unicorn, and graham cracker, they're clearly targeting young people." -Josh Stein, North Carolina Attorney General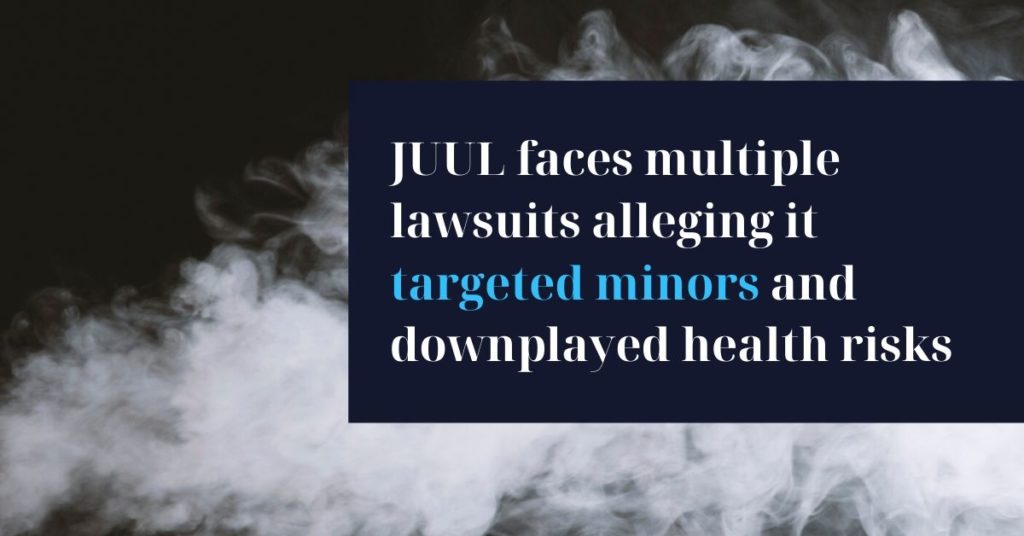 A 2018 study by the Food & Drug Administration (FDA) found that 25 percent of high-school students reported vaping in the last 30 days.
The FDA has disputed JUUL's claims that vaping is a safer alternative to use of traditional tobacco-containing cigarettes, and is currently considering a nationwide ban on the sale of flavored e-cigarettes.
In response to lawsuits against JUULand potential FDA action, JUUL stopped advertising in the United States in September and also deleted its social media accounts.
JUUL, EVALI and the Lung Injury Epidemic
In October, the Centers for Disease Control and Prevention (CDC) formally named mysterious lung injuries associated with JUUL and other vaping device usage "EVALI," which stands for "e-cigarette product use associated lung injury."
As of mid-October, more than 1,300 cases of vaping-related lung injury had been reported, with many victims experiencing chemical pneumonia-like symptoms. 26 deaths have been confirmed in 21 states.
While no definitive cause of EVALI has been identified, the CDC cautions that most cases are associated with use of vaping products containing THC, or tetrahydrocannabinol.
The CDC advises all individuals to immediately stop use of THC-containing vaping products and also recommends that individuals stop vaping altogether until more is known about the cause of these injuries.
Symptoms of EVALI include:
Coughing
Chest pain
Shortness of breath
Other potential symptoms include:
Abdominal pain
Nausea
Vomiting
Diarrhea
Those experiencing any of these symptoms should contact a doctor immediately and advise medical personnel of any use of JUUL or other vaping devices.
JUUL and other e-cigarettes are also under scrutiny for potentially causing cancer.
Learn more about the potential risk of cancer from JUUL and other vaping products.
Have you suffered lung injury after using JUUL or other e-cigarettes?
If you've been diagnosed with EVALI or other lung injury after using JUULs or other e-cigarettes between the ages of 14 and 26,  you may be eligible for a JUUL lawsuit.
Our JUUL lawsuit lawyers have been holding negligent companies accountable since 1985. With more than 220+ years of combined legal experience, we fight tirelessly for our clients to get them te justice and compensation they need and deserve.
For a FREE consultation with a JUUL lawsuit attorney, please call 1-800-525-7111.
You can also complete the short form below.
As always, there is NO upfront cost and NO attorney fees unless we win your case and you receive financial compensation.
Please call 1-800-525-7111. We would love to help you get justice if we can.
If you or a loved one has suffered lung injury or death as a result of using JUULs or other vaping products, you deserve justice.
For a FREE consultation with a JUUL lawsuit lawyer, please call 1-800-525-7111.
Justice Counts.