Social Security Disability Denials and Next Steps
Has Your SSDI Claim Been Rejected?
If your application or appeal for Social Security disability benefits has been denied, don't be discouraged — you still have legal options and we would love to help if we can.
For a FREE consultation with an experienced North Carolina disability lawyer, please call 1-800-525-7111.
We can evaluate your rejected claim and advise you on your best legal options for seeking SSDI benefits.
Please call 1-800-525-7111 or complete the fast and easy form below for a complimentary case review. There are no upfront costs and you won't pay any attorney fees unless we win your case and you are approved for disability.
Social Security Disability Denials
Applying for Social Security Disability Insurance (SSDI) and Supplemental Security Income (SSI) can be an intimidating process. If you do not include the proper information on your application, your claim could be rejected or denied even though you have a real, severe, documented impairment or set of impairments that keep you from working. Hard deadlines apply to the appeal of these rejections and denials.
Why Appeal a Social Security Disability Denial?
We hear from some clients that they were advised by well-meaning friends or family that they should just file a new application if their claim gets rejected or denied when they first make it. This is bad advice! A new disability application filed with the same information as the first one will almost certainly be rejected again.
Your odds of success are much better on an appeal of a rejection or denial than they are on a new application. An attorney who specializes in this area of the law can help repair the problems with your original claim. Also, the amount of past-due benefits or "backpay" could be greatly reduced if you file a newer, later claim instead of appealing a rejection or denial of your first claim. Our North Carolina disability team can guide you through this appeal process, all the way to United States federal district court if necessary.
What to Do After a Disability Denial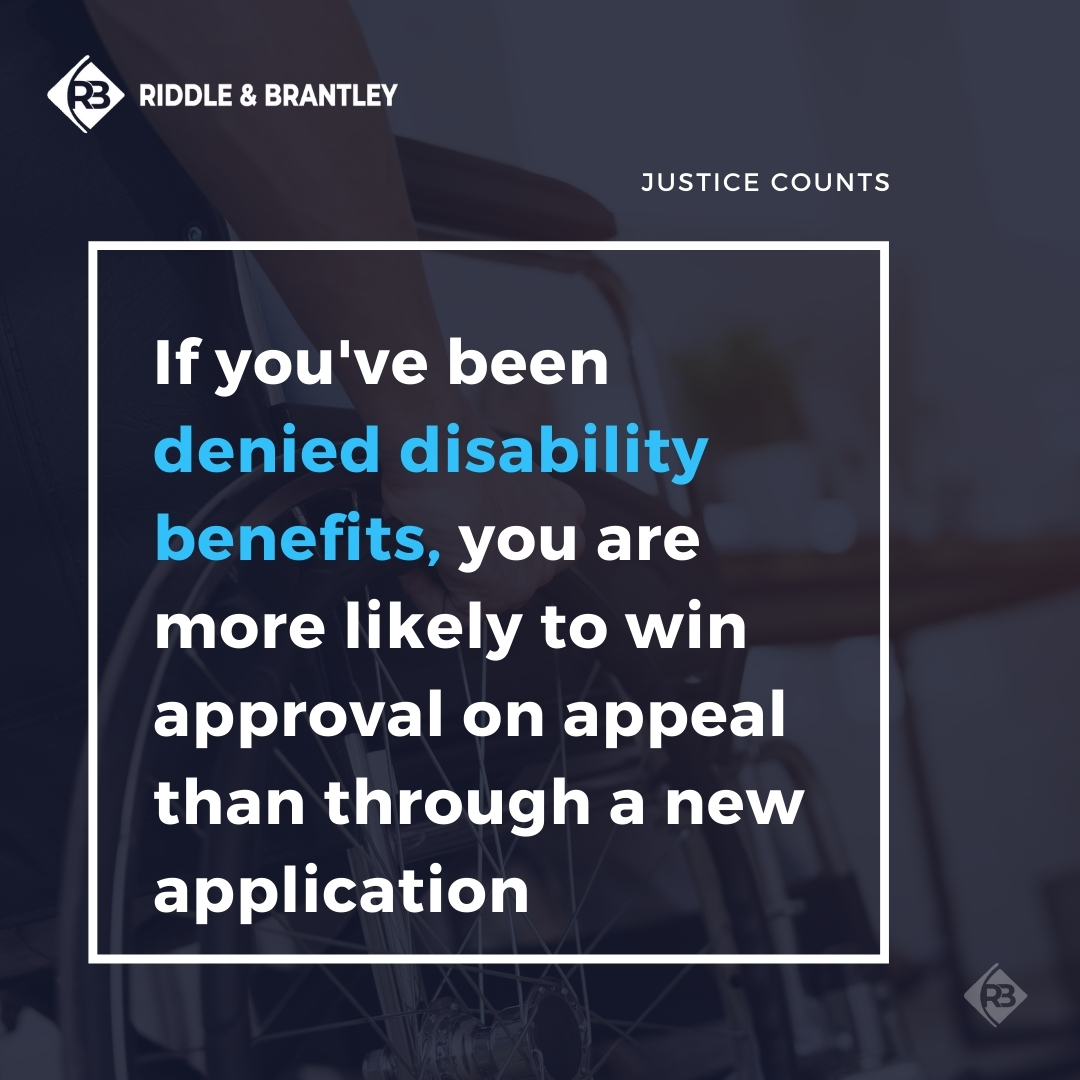 If your application for benefits is rejected or denied, it is important to act quickly. You only have 60 days from a disability denial to file an appeal, technically called a "request for reconsideration."
If you miss this deadline without a good reason, you will have to start over with a new application, and for the reasons stated in the above paragraph, that is not a good thing. Many of our clients come to us for help after missing this deadline, and there is usually nothing we can do for them at that point but have them file a new application and start over. The wait times for disability claims are already long enough — don't make yours longer by missing your appeal deadline!
For a FREE, no-obligation consultation with an experienced North Carolina disability lawyer, please call 1-800-525-7111.
The consultation is free and we don't get paid unless you do. If we don't win your case and get you Social Security disability benefits, you won't pay any attorney fees.
Call 1-800-525-7111 and let's discuss your denied disability application. We may be able to help you get the disability benefits you need and deserve.
"Why Was My Disability Claim Denied?"
Your disability lawyer can review your denial and explain to you why it was rejected. The state government agency whose job it is to review disability applications — Disability Determination Services (DDS) ­— is supposed to give an explanation for why they deny or reject applications.
They are supposed to follow a "five step sequential analysis" when they evaluate your claim.
Specifically, DDS looks at:
Whether you are currently working. If you are, and you are earning around $1,300 per month or more, then by definition, you are not disabled no matter how bad your medical condition might be. This can be a confusing and frustrating principle to workers who are virtually killing themselves to keep money coming in. They are put in the unfortunate position of having to stop working if they want to make a claim for disability benefits, because until they do, their claim will be rejected without further consideration of how bad off they are, medically.
If you have stopped working, then the next step is to show that your impairments are "severe." That word has special meaning in the disability world — it means that your medical (including mental health) impairments must be serious enough to interfere with basic work-related activities, things like sitting, standing, walking, talking, following instructions, and the like. If your medical records do not prove that your condition (or set of conditions) are severe, your claim will be rejected.
Next, DDS will look at whether your medical diagnoses meet or equal one of the SSA's "Listings of Impairments." These Listings set out definitions of some health conditions that are so severe that they are automatically considered to be disabling. In summary: if you are not working and your records show that you meet a Listing, you win your case. If not, then the analysis moves on to the next step.
At Step Four, DDS will look at whether you can do the jobs you've done for the past fifteen years. They first do this by deciding what they think is your "residual functional capacity" or remaining ability to perform work related activities. If DDS concludes that you are still able to do enough things that would allow you to keep doing this "past relevant work," then they will deny your claim at this step. If they conclude that you cannot do this "past relevant work" then they will move on to Step Five.
At Step Five, the final step, DDS will decide whether your Residual Functional Capacity is still sufficient for you to adapt to other, less-demanding jobs than those you have done over the past 15 years. They will take your age into account when making this determination. If DDS decides that, even though you cannot do your past relevant work, you can still do other jobs, then they will deny your claim at this final step.
As you can likely see, the Social Security Disability system is a complicated, quirky, very specific set of rules and guidelines that can seem overwhelming to a novice. Your odds of success improve dramatically when you enlist the aid of a knowledgeable and experienced disability lawyer.
The Riddle & Brantley disability law team has the resources and experience to give you the best chance of success after the initial rejection or denial of your claim.
If you've been denied disability benefits, don't wait — call 1-800-525-7111 for a FREE consultation with a North Carolina disability lawyer at Riddle & Brantley.
If your application or appeal has been rejected, don't worry — we may be able to help and would love the opportunity to serve you if we can.
Call 1-800-525-7111 and let's review your Social Security disability claim.
SSDI Claim Rejected? Call Our Disability Attorneys Today
Even legitimately disabled workers' claims can be rejected and denied if they do not move through the proper channels in the application and appeal process. With over 220+ years combined legal experience, the attorneys at Riddle & Brantley have the know-how to give you the best possible chance of being awarded the benefits you have paid for and deserve.
We serve all 100 counties of North Carolina from our convenient office locations and we would welcome the opportunity to help you no matter where you live.
"Without your help, I would not have received my Social Security disability benefits."
–Charlotte R., Riddle & Brantley client
Our experienced disability team can help you with your claim from beginning to end. Please call 1-800-525-7111 today for a FREE, no-obligation consultation with an experienced disability lawyer.
Justice Counts for North Carolinians with disabilities and we would love to help however we can.