Disability for Fibromyalgia
Can you get disability for fibromyalgia?
Yes, provided you meet certain circumstances, you can receive disability benefits for fibromyalgia. In this article, we'll describe how to qualify for fibromyalgia disability benefits and how you can increase your chances of being approved for benefits by hiring an experienced North Carolina disability lawyer.
IMPORTANT: If you suffer from fibromyalgia, call 1-800-525-7111 for a FREE consultation with an experienced disability lawyer regarding potential fibromyalgia disability benefits. We will review your claim and advise you on your best legal options. There are no upfront costs and you won't pay any attorney fees unless we get you the disability benefits you need and deserve.
What is Fibromyalgia?
The Social Security Administration ("SSA") defines fibromyalgia as "a complex medical condition characterized primarily by widespread pain in the joints, muscles, tendons, or nearby soft tissues that has persisted for at least 3 months."
Fibromyalgia is usually accompanied by impairments in mental functioning like fatigue and confusion. Fibromyalgia is a very common condition, with over 3 million cases reported each year. When the symptoms of fibromyalgia become severe enough, it can form the basis for a successful claim for Social Security Disability benefits.
How to Qualify for Fibromyalgia Disability Benefits
We've previously talked about the two different "tracks" for a successful disability claims – one by which you show that your condition meets one of the SSA's "Listings" of impairments, and the other by showing that your impairments limit your activities (your "residual functional capacity" or "RFC") so severely that no jobs could accommodation all of your limitations. Fibromyalgia is a little different in that there is no Listing specifically for fibromyalgia.
However, there is an official SSS "Ruling" (SSR 12-2p) that explains how the SSA evaluates claims based on fibromyalgia under the second track, by proving a significantly degraded RFC and the inability to perform jobs you've done in the past or any other jobs that require you to function on an 8-hour day, 40-hour week basis.
Social Security Disability Ruling on Fibromyalgia
Ruling 12-2p first tells us that fibromyalgia will not be considered a "medically determinable impairment" unless there is evidence of chronic widespread pain in multiple parts of the entire body. Also, since fibromyalgia is such a difficult illness to specifically diagnose, you must show that a doctor has ruled out other diseases like lupus and multiple sclerosis that can cause the same types of symptoms.
Ruling 12-2p has some fairly specific requirements for proving the existence of fibromyalgia, such as tender points in at least 11 of 18 specific "tender point areas" of the body, as well as repeated (and documented) occurrences of six or more symptoms such as:
"fibro fog"
Fatigue
cognitive or memory problems
sleep problems
depression
anxiety
IBS
Fibromyalgia can be very difficult to diagnose. It is not like a broken bone or a cancer that can be easily proven by an x-ray, blood work or tissue biopsy. Many primary care doctors use the fibromyalgia diagnosis as a "catch-all" when no other diagnosis fits a patient's symptoms. Therefore, it is much more persuasive to the SSA to have your primary care doctor send you to a specialist like a rheumatologist or a pain management specialist to confirm the fibromyalgia diagnosis.
Fibromyalgia and RFC
Once you have proven your fibromyalgia diagnosis and demonstrated that it is severe enough to meet those criteria, you then have to prove that your symptoms cause your RFC to be so degraded that you cannot be expected to work at any type of full-time job, no matter how simple or easy it might be.
When determining what your RFC really is, SSA will first look at your age, education, work history, and level of impairment, and that includes mental impairments related to fibromyalgia like "fibro fog." They will then compare your RFC to all the jobs available in the work force to see if they think you can still perform some of them.
For instance, your case of fibromyalgia could result in symptoms like pain, fatigue, confusion, fibro fog, weakness and dizziness that are so severe that, for you, given your background, few if any jobs could accommodate you. Your age is a major factor as well. If you are over 50 years of age, you are presumed to be less able to adjust to other types of work besides what you have done over the past fifteen years. If these things are proven by medical evidence and testimony from friends and family, you can be approved for fibromyalgia disability benefits.
Seeking Disability for Fibromyalgia?
If you suffer from fibromyalgia and believe you may qualify for disability benefits, our Social Security disability attorneys may be able to help.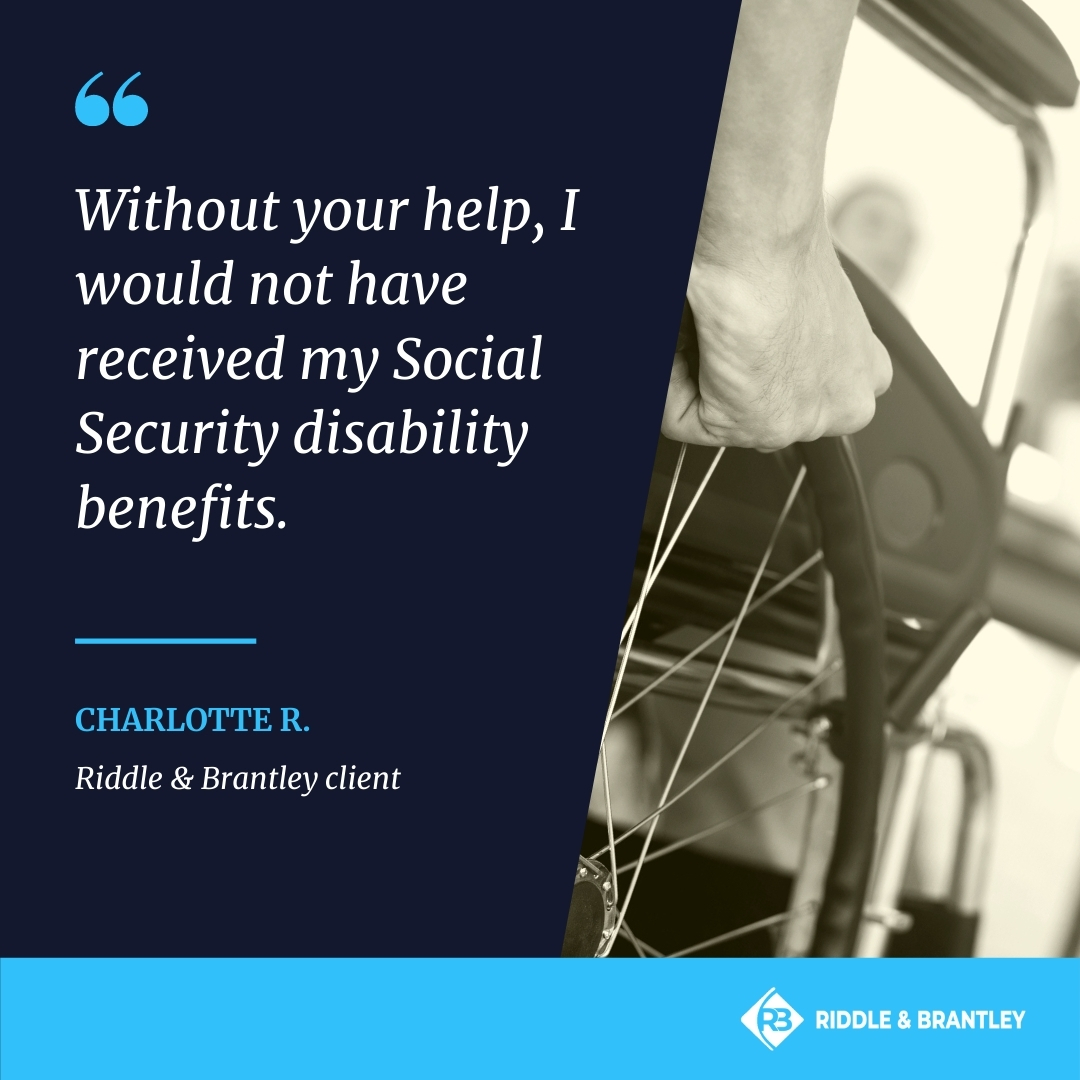 Studies show that roughly 34 percent of all applicants are awarded disability benefits, but approximately 60 percent of those represented by an attorney are approved.
"Without your help, I would not have received my Social Security disability benefits."
–Charlotte R., Riddle & Brantley client
Don't wait ­— for a FREE, no-obligation consultation concerning disability for fibromyalgia or another condition, please call 1-800-525-7111 today.
We believe Justice Counts for all North Carolinians with disabilities and we would love to help however we can.
Please call 1-800-525-7111 and let's review your claim.