Disability for Leukemia: Do You Have a Claim?
"Can I get disability for leukemia?" Yes, disability benefits from the Social Security Administration (SSA) are available for leukemia, provided you meet certain criteria.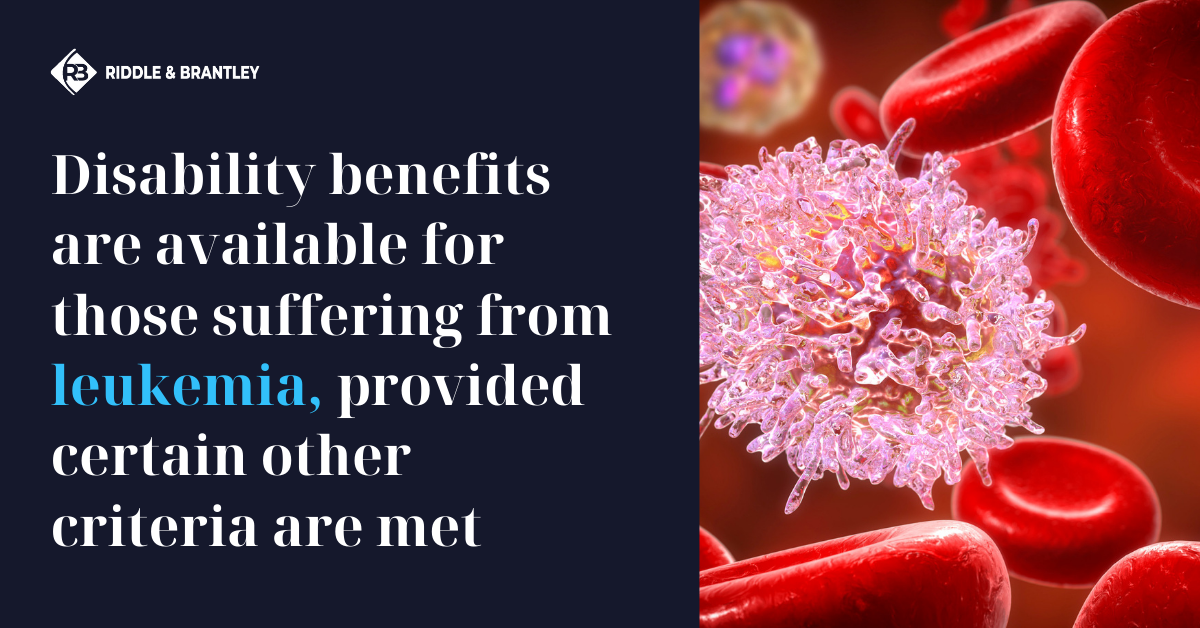 The process of seeking disability benefits for leukemia can be difficult, however. In this article, we'll talk about what to expect when seeking disability for leukemia, and how an experienced disability attorney can help.
For a FREE consultation about your potential leukemia disability claim or appeal, please call 1-800-525-7111 today.
We will review your case and advise you on your best legal options for seeking benefits. If you decide to hire us, we will fight tirelessly for justice for you and your loved ones.
Call 1-800-525-7111 today for a free, no-obligation review of your disability for leukemia claim by an experienced North Carolina disability lawyer. Our attorneys serve:
and all other cities throughout North Carolina.
What is Leukemia?
"Leukemia" is the general term used for a family of blood and bone marrow malignancies. There are many specific types of leukemia, with some of the most common being:
Acute Lymphocytic Leukemia (ALL)
Acute Myeloid Leukemia (AML)
Chronic Lymphocytic Leukemia (CLL)
Chronic Myeloid Leukemia (CML)
The symptoms of leukemia can include:
Fatigue
Fever
Weakness
Enlarged spleen or liver
Weight loss
Bone pain
Tenderness
Treatments for leukemia can include chemotherapy, radiation, and stem cell transplants. When the symptoms of leukemia and/or the side effects from these treatments are severe enough to keep a person from working, leukemia disability benefits may be available from the Social Security Administration ("SSA") by filing an application for benefits and proving that you qualify.
Disability Benefits and Meeting the "Listing" for Leukemia
The SSA recognizes that certain types of leukemia and leukemia treatments are so debilitating that the sufferer cannot reasonably be expected to work unless and until he or she is cured or enters remission. Therefore, there is a category in the Listings of Impairments specifically for leukemia within the more general blood cancer group of listings.
If you prove that you meet a Listing, you win your case and are awarded Social Security disability benefits for leukemia.
Keep in mind:
If your specific type and severity of leukemia does not meet or equal the stringent requirements of the leukemia Listing, you can still qualify IF your symptoms are severe enough to limit your "residual functional capacity" (RFC) so severely that you cannot work.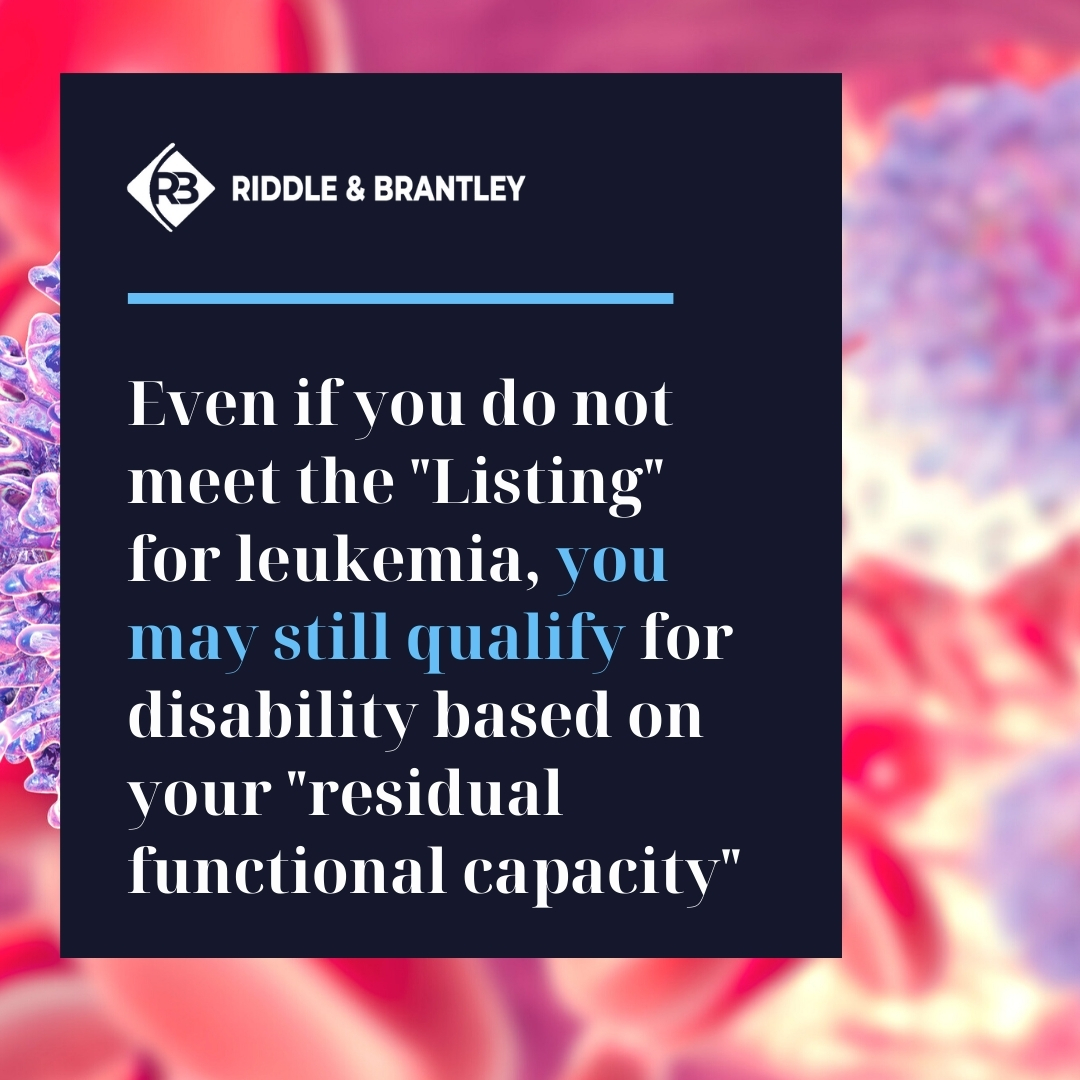 In order to meet the leukemia Listing, you must have medical documentation to prove a diagnosis of either acute leukemia (lymphocytic or myeloid) or CML (see above) with certain features.
The listing for leukemia is more complicated than most. It requires an evaluation of whether certain treatments work within certain time periods, and therefore it can take longer than average to be evaluated. There are specific testing result requirements applicable to specific types of cancers. An approval under this listing is also normally limited in duration because treatments like stem cell transplants, once they are completed, are presumed to "cure" leukemia or at least put it in remission after a certain period of time.
Qualifying for Disability for Leukemia Due to Limited RFC
As mentioned above, if your leukemia does not meet or equal the technical requirement of the leukemia listing, you can still be approved for disability benefits if your RFC (i.e., what you can still do despite your symptoms) is so limited that you cannot do the work you've done in the past or any other full-time jobs.
This could occur if your propensity for bleeding or bruising, or your pain level, keeps you from doing the types of physical work you have done in the past. Alternatively, it could be that the treatment you get – chemotherapy or stem cell transplants, for example – leave you so fatigued and immune-compromised that you spend most of the day isolated and resting, and leave you so mentally drained that you cannot pay attention or stay "on task" long enough to do even the simplest jobs.
If these things are proven by medical evidence and testimony from friends and family, you can be approved for disability benefits for leukemia even though you do not meet the technical requirements of the leukemia listing.
"Compassionate Allowance" for Leukemia Disability Claims
Leukemia can be a severe cancer. Some types of leukemia are very aggressive and can result in death within a relatively short period of time. During that time, a person who cannot work because of the leukemia can face financial devastation, for the patient as well as the family.
Therefore, the most serious and aggressive forms of leukemia are included in the SSA's "Compassionate Allowance" program, which is a way of speeding up the approval process and getting benefits to the patient and family more quickly than would be the case otherwise.
Are You Seeking Disability for Leukemia?
If you've been diagnosed with leukemia and the cancer or your treatments have interfered with your ability to work, you may qualify for disability benefits for leukemia.
If you decide to hire us, our attorneys and team of paralegals and case managers can assist with all aspects of your claim or appeal and help you get the disability benefits you need and deserve.
"Without your help, I would not have received my Social Security disability benefits."
–Charlotte R., Riddle & Brantley client
For a FREE consultation concerning your leukemia disability claim, please call 1-800-525-7111 or complete the fast and easy form below.
There is no obligation and you won't pay any attorney fees unless we win your case and you receive financial compensation.
Please call 1-800-525-7111 today and let's review your claim.
"Even if you've previously been denied, we may be able to help you get the benefits you deserve. We'd love to help you if we can."
Justice Counts for those whose leukemia has interfered with their ability to work, and we would love to help you fight for the benefits you deserve if we can.
Please call 1-800-525-7111 and let's see how we can help.
---
*** Disclaimer: The results mentioned are intended to illustrate the type of cases handled by the firm. These results do not guarantee a similar outcome, and they should not be construed to constitute a promise or guarantee of a particular result in any particular case. Every case is different, and the outcome of any case depends upon a variety of factors unique to that case.