"Can I Recover Lost Wages After My Car Accident?"
Compensation for Lost Wages After a Car Accident in North Carolina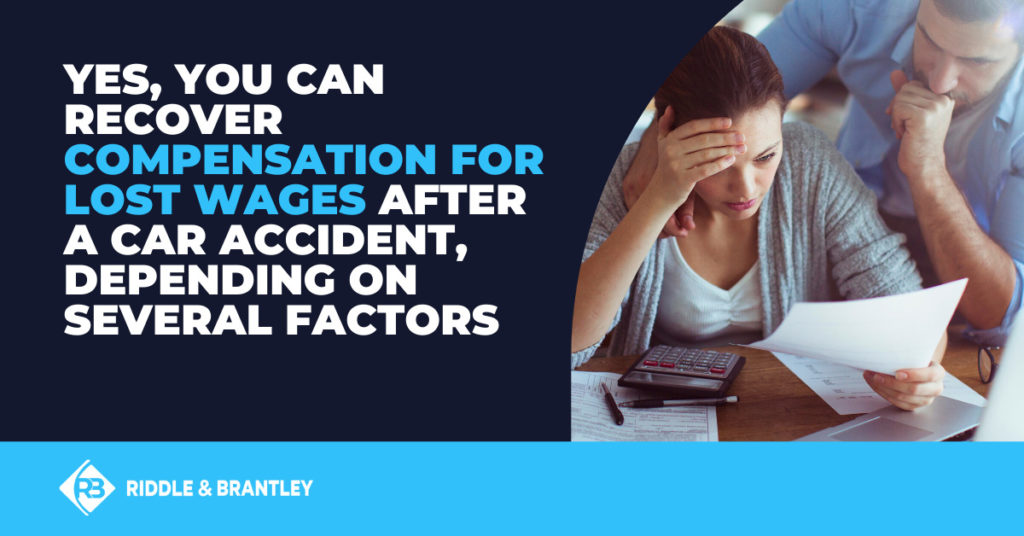 If you're wondering, "Can I recover lost wages after my car accident in North Carolina?" the answer is yes, depending on several factors.
A serious car accident can leave you with more than just vehicle damage. Victims may be struggling with injuries, hospital bills, and loss of income during their recovery. If the crash wasn't your fault, you can often recover compensation for lost wages, commissions, and salary, and a North Carolina car accident lawyer at Riddle & Brantley can help. With over 220 years of combined legal experience, our attorneys can help you maximize your recovery for financial losses you have suffered as a result of a collision.
Over the years, our veteran attorneys have helped countless clients secure the financial compensation they need to pay bills and make ends meet after a personal injury causes them to miss work. We strive to give every client the attention they require and deserve, whether you only missed a couple days of work, or had to change careers due to their injuries. Our verdicts and settlements range from small to multi-million dollar verdicts (see disclaimer below).
Whether you are self-employed, a salaried employee, or work for hourly wages, we understand the evidence needed to prove your lost earnings.  Many people now work in the "gig economy," such as driving for Uber or Lyft.  We have experience documenting and helping people recover for lost earnings in similar situations and would be honored to put our experience to work for you.
Please call 1-800-525-7111 for a FREE, no-obligation consultation today. You have absolutely nothing to lose and a lot to gain by reaching out to our friendly and knowledgeable attorneys, since we charge no upfront costs and you'll owe us no attorney fees unless we win your case and recover damages on your behalf.
Call 1-800-525-7111 today for a free consultation with an experienced North Carolina car accident lawyer.
What are Considered Lost Wages?
In the context of personal injury litigation, "lost wages" or "lost income" can include not only your typical base earnings, but the benefits, vacation days, bonuses, and commissions that you would have earned if not for your accident and injuries.  If you have to use PTO or sick days to go to doctor's appointments, you still suffered a loss and should be compensated accordingly.
The at-fault driver's insurance policy should be responsible for reimbursing for your total loss of income during the recovery process, but in order to prevail, you'll need to provide adequate supporting documentation.
We can help.
As your legal representatives, Riddle & Brantley can secure proof of income from your current employer, which may include a letter of verification on company letterhead, previous pay stubs or direct deposit receipts, and evidence of any payments for disability.
Documenting Wage Loss for Car Accident Claims
Insurance claims adjustors want comprehensive verification of your income. Toward this end, your employer may be asked to furnish the following information:
The number of days or weeks you have missed work
Your wage and earnings at the time of the vehicle accident
The amount of overtime you worked before the accident
Vacation days, sick days, or other bonuses you had to use during recovery
Any promotions or potential benefits you lost because of your injuries
It's worth noting that if your earnings include cash tips or undocumented wages (those which you do not declare or pay taxes on) then these lost earnings may not be recoverable as part of your claim. Supporting documentation is critical for a successful recovery, which means you need medical records proving you are physically unable to work, and income verification demonstrating the wages you would typically earn.
At Riddle & Brantley, we believe that Justice Counts. For a FREE, no-obligation case review, call us today at 1-800-525-7111 or use the easy online form below. We are ready to help if we can!
Remember, the consultation is free and there is no obligation. We don't get paid unless you do. It's as simple as that.
Proving Lost Income When You're Self-Employed
If you are a business owner or otherwise self-employed, you have the same right to recover your lost wages as anyone else who was injured by a negligent driver, though collecting proof can be a bit more difficult.
In order to recover fair compensation, we will need to collect documents that demonstrate your prior earning history. These can include:
Bank statements showing payments from clients or contractors
1099 Tax forms for at least 2 years that show your income earnings
Previous tax returns
Business invoices and contracts
Profit and Loss statements for the year
Documentation of lost contracts or business opportunities during your recovery
Loss of Future Earnings
Some North Carolina car accidents are so catastrophic that victims are left with permanent disabilities that prevent them from resuming gainful employment. In these cases, our legal team frequently retains vocational experts and forensic accountants, who can project an accurate loss of future earning capacity.
The amount recovered for "loss of future income" will depend largely upon the following factors:
Your age at the time of injury
Your prior earning history
The number of years you would have worked in your lifetime
Your ability to work in a new trade
Your work training and education before the accident
In addition to the compensation that may be available in your personal injury case, we also have a dedicated disability team led by a Board-Certified Specialist in Social Security Disability who can assist with claims and appeals to the Social Security Administration.
Experienced Car Accident Lawyers Protecting Your Rights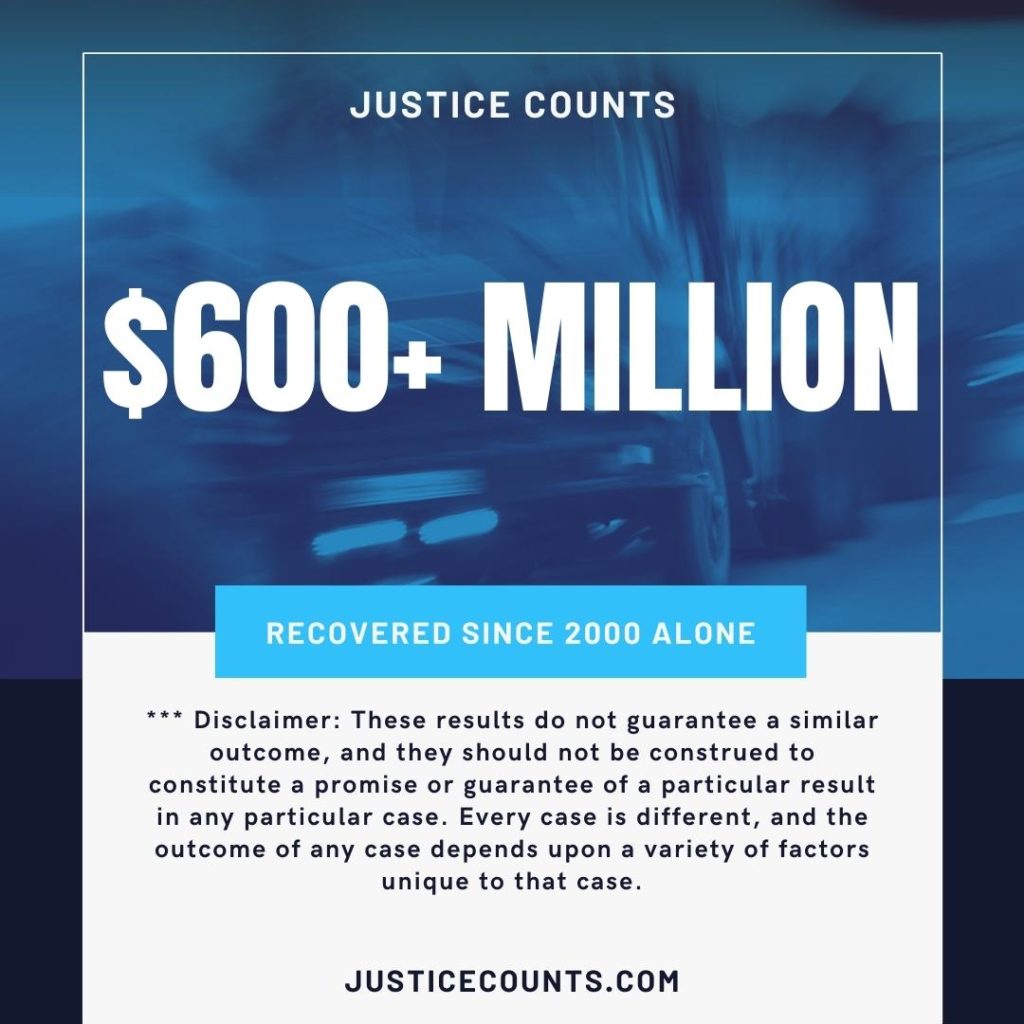 Not sure if you are eligible for lost wage replacement after a car accident?
Speak with a personal injury lawyer at Riddle & Brantley about your case. Our talented legal team can help you understand the complexities of making a claim and if you decide to hire us, fight for the maximum compensation you rightfully deserve.
Our attorneys are available to answer your questions free of charge, and we invite you to schedule a free consultation by calling 1-800-525-7111 or contacting us through the form below.
Free consultations are available by phone, email, text, and even video conference. Remember, there is no obligation and we only get paid if we recover compensation for you.
Please call 1-800-525-7111.
Justice Counts.
---
*** Disclaimer: The results mentioned are intended to illustrate the type of cases handled by the firm. These results do not guarantee a similar outcome, and they should not be construed to constitute a promise or guarantee of a particular result in any particular case. Every case is different, and the outcome of any case depends upon a variety of factors unique to that case.