"Can I Sue if My Child Was Hurt in a Car Accident in North Carolina?"
If you've ever been injured in a car accident because of someone's negligence, then you know how long the road to recovery can be. The worry can be much worse if your child was in an accident and hurt.  Children deserve compensation if hurt in a car crash in North Carolina. Many of our clients wonder, "Can I sue if my child was in a car accident in North Carolina?"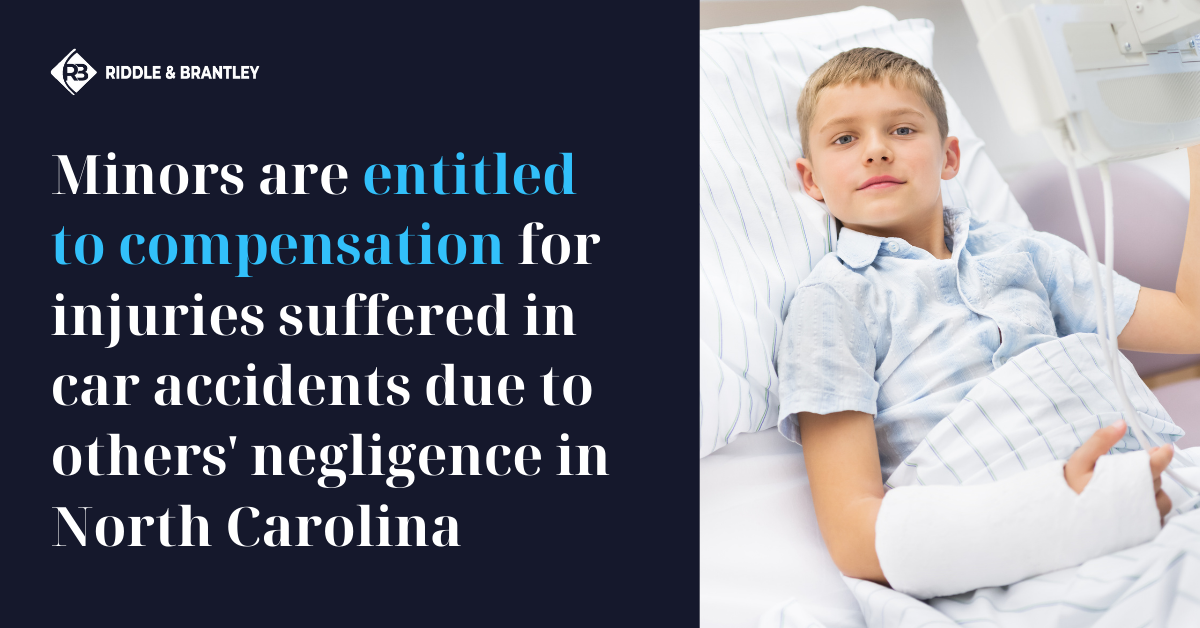 The short answer is yes. In this article, we'll share what you need to know about filing an injury claim or lawsuit when your child is hurt in a car accident. We'll also discuss steps you can take to protect your legal rights and seek maximum compensation for your child's injuries.
IMPORTANT: For a FREE, no-obligation consultation with an experienced North Carolina car accident lawyer concerning your child's accident injury claim, please call 1-800-525-7111. Justice Counts for minors, too.
"Can I Sue on Behalf of My Injured Child After a Car Accident?"
North Carolina law states that a minor child does not have the ability to sue or be sued. However, a child is able to sue for damages with the help of a Guardian ad Litem (GAL). The GAL is a third party that will represent the child and his/her injuries.
The child's parents or legal guardians have the claim for the medical bills for the child and can sue for these damages. NC law entitles a person who is injured to recovery for their injuries. This is true for minors who are injured too.
Two Claims
When a child is injured In a North Carolina car accident due to someone else's negligence there are two separate claims that arise.
The first claim, usually brought by the parents or guardian of the minor, is for the recovery of the medical bills, expenses and treatment of the child. If it becomes necessary, the expenses may be recovered through a lawsuit in the parents or legal guardian's names.
The second claim belongs to the child which may be taken to court through the child's Guardian ad Litem (GAL).
Compensation for Children Injured in Car Accidents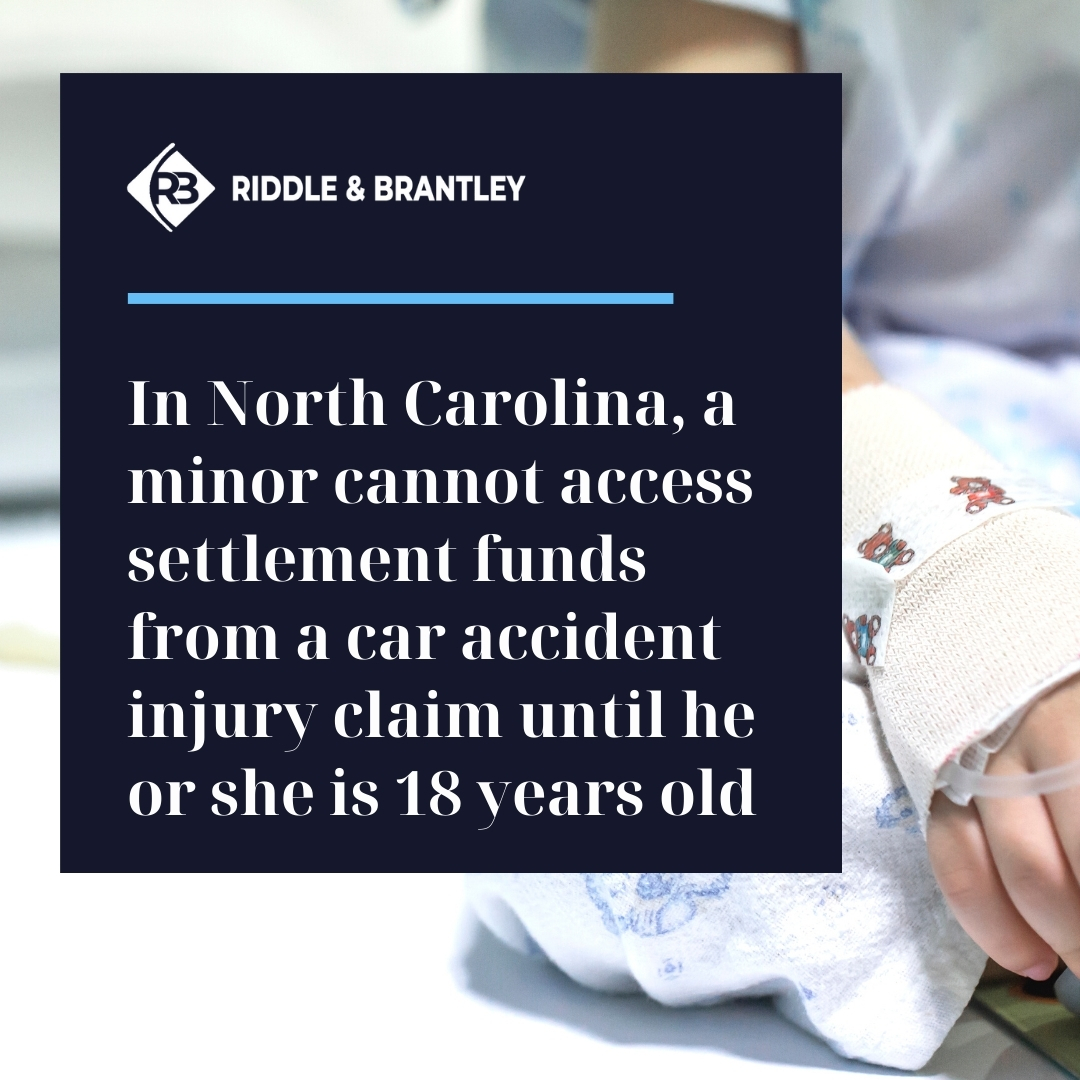 In North Carolina, a minor cannot receive settlement funds until they reach the age of 18. The settlement is kept in an interest-bearing common fund by the Clerk of Superior Court. The clerk will charge a fee to hold the funds. However, the small amount of interest that accrues usually covers the cost of the Clerk fee.
There is one exception to holding the settlement in a common court fund. This is called a structured settlement. Instead of the Clerk holding the funds, the funds are used to buy an annuity. The annuity has favorable interest when compared to the common fund. The parent or guardian of the child decides the terms of the structured settlement.
Who Can Serve as a Guardian ad Litem in North Carolina?
The Guardian ad Litem representing the minor is appointed by the court to protect the interest of the child and ensure any settlement is fair. The GAL must be a disinterested third party approved by the court. The Guardian ad Litem is usually a family member (such as a grandparent) or attorney. Furthermore, since minor children are not able to make their own decisions, no settlement is final until it has the final approval of a judge.
Insurance Companies and Settlements for Children Injured in Car Accidents
It is common for insurance companies to settle a personal injury claim involving a minor by simply giving the check to the parent and avoiding any judicial approval. Should the parties to the minor's settlement fail to seek judicial approval of the settlement, the minor may not be bound by the terms of the unapproved settlement when reaching the age of 18 years old.
However, most insurance companies do require judicial approval of any minor settlement if the injury of the child is significant. This is generally considered an amount of at least $3,000.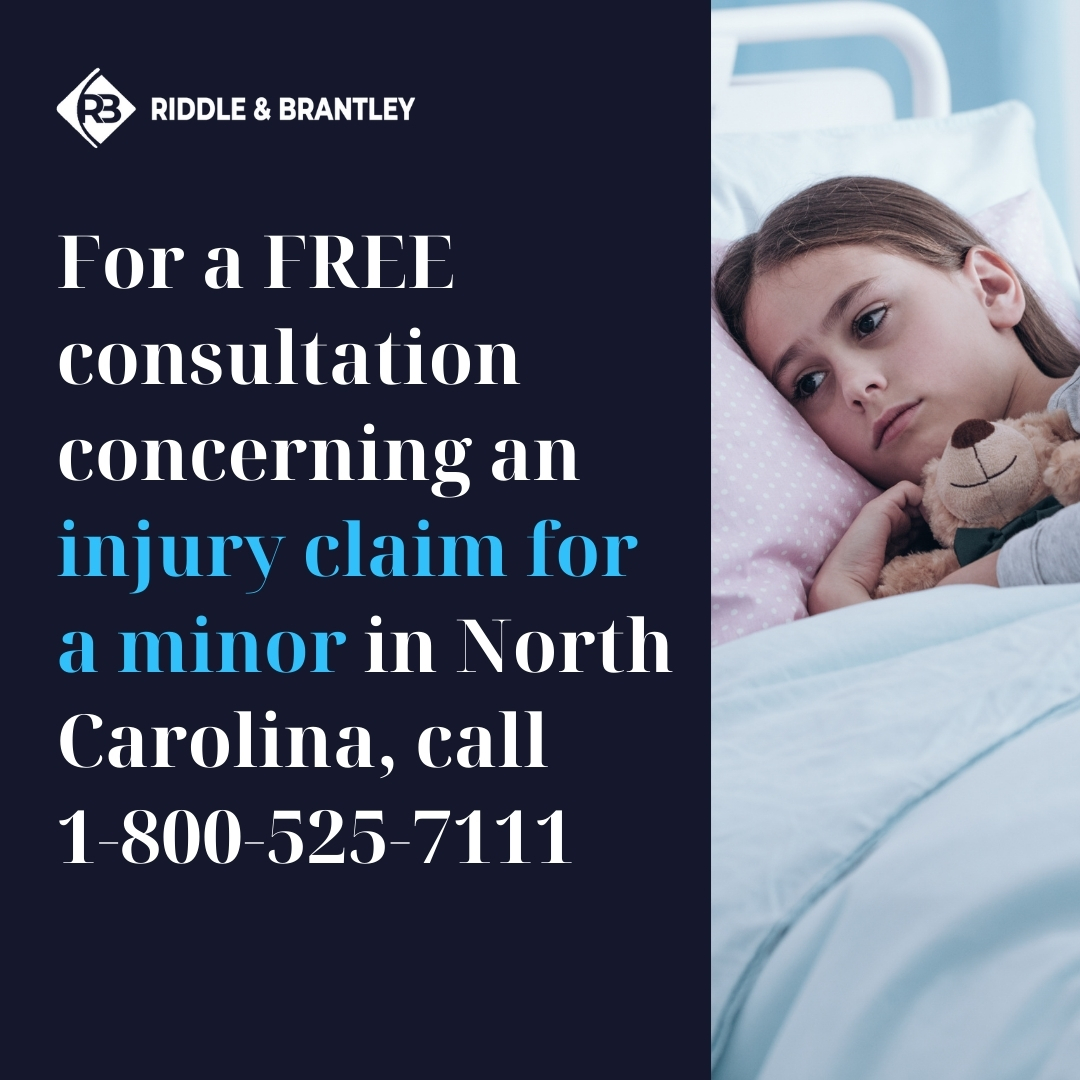 In the case of very serious or debilitating injuries, there are many issues that must be addressed. In these cases, it may be important to hire an attorney. Riddle & Brantley is here to help. Our attorneys have over 220+ years of combined legal experience and can answer any questions you may have.
Call us at 1-800-525-7111 or fill out the quick form below for a FREE, no-obligation consultation. We are here to help you and your loved ones who have been hurt by a negligent driver.
We've handled many cases involving minors injured in car accidents in NC, and know how to pursue these claims with the insurance companies. Please call 1-800-525-7111 today and let's review your case.
What people are saying about Riddle & Brantley:
"Riddle and Brantley was extremely diligent in handling the case … I will always be thankful because this settlement changed me and my family's lives. Thank you for a job very professionally done." –Linda B.
"My experience with the law offices [of Riddle & Brantley] was superior." -Anashia Chalmers
Navigating complicated laws while advocating for the best interest of a minor who is hurt in an accident can be complicated. Riddle & Brantley is ready to help. Justice Counts for you and your loved ones. Justice Counts for minors.
Call 1-800-525-7111 or fill out the short form below. The initial consult is free, there is no obligation, and we are happy to discuss your options with you. If you decide to hire us, we'll fight tirelessly for your love one's right to compensation.
Remember, if we don't recover compensation for you, you won't pay any attorney fees.
Please call 1-800-525-7111 today and let's review your case.