Evolution of Car Safety
North Carolina requires numerous motor vehicle safety measures be taken to ensure that roads are as safe as possible for drivers and pedestrians. Here are just a few of the safety requirements cars have in North Carolina to be consider safe for roads and lawful to operate:
There are numerous other North Carolina and federal statutes to ensure the safety of drivers and passengers. These days we have quite a few safety measures to make sure drivers, pedestrians and passengers can coexist safely.
In the 1800's the first automobile was invented in Europe. Since that time, 21st century motor vehicles have greatly transformed in style, comfort, and safety. Newly manufactured cars come with various standard safety systems and options that help drivers travel long distances with peace of mind.
The evolution of car safety includes innovations in technology that original pioneers of the automobile industry might never have been able to fathom.
Early Innovations in Car Safety
Some of the most interesting milestones in the early history of automotive safety include:
1899 – The first traffic fatality on record occurs when H.H. Bliss is struck and killed by an early-model motor vehicle in New York City
1901– The first speedometers are placed in Oldsmobile vehicles
1914 – Detroit installs the first stop sign to control traffic
1919 – The first three-color stoplight is installed in Detroit
1924 – Cadillac creates and uses safety glass windows in its vehicles
1936 – The first mechanical backup braking system is invented by Hudson Terraplane
1939 – The first electric turn signal is invented by General Motors
1949 – The Chrysler Crown Imperial is the first vehicle to use disc brakes
Modern Innovations in Car Safety
Car safety technology has come a long way since the 1800s. Some of the most notable improvements in vehicle safety include:
Airbags were invented in the 1950s, but it was not until 1987 that frontal airbags were installed. The NHSTA states that new airbag technology has saved over 50,000 lives.
Seat belts used to not be required in vehicles and many people probably remembering riding in cars without them. However, now they are required in every new vehicle. In 1959, Volvo introduced the 3-point seat belt. This innovation prevents the belt from loosening and as a result is tighter in the event of an accident. NHSTA reports that these belts have saved countless lives.
Electronic stability allows drivers to maintain control of their vehicles and prevent spin outs. Since 2011 all cars must have this safety feature.
Blind spot monitors were established in 2009 when the BMW 7-series introduced its Active Blind Spot Detection technology. This feature detects cars in potential blind spots and alerts the driver before switching lanes.
Backup cameras have been required in every newly manufactured vehicle since 2018. These cameras allow drivers to detect any dangers or potentional hazards directly behind the vehicle.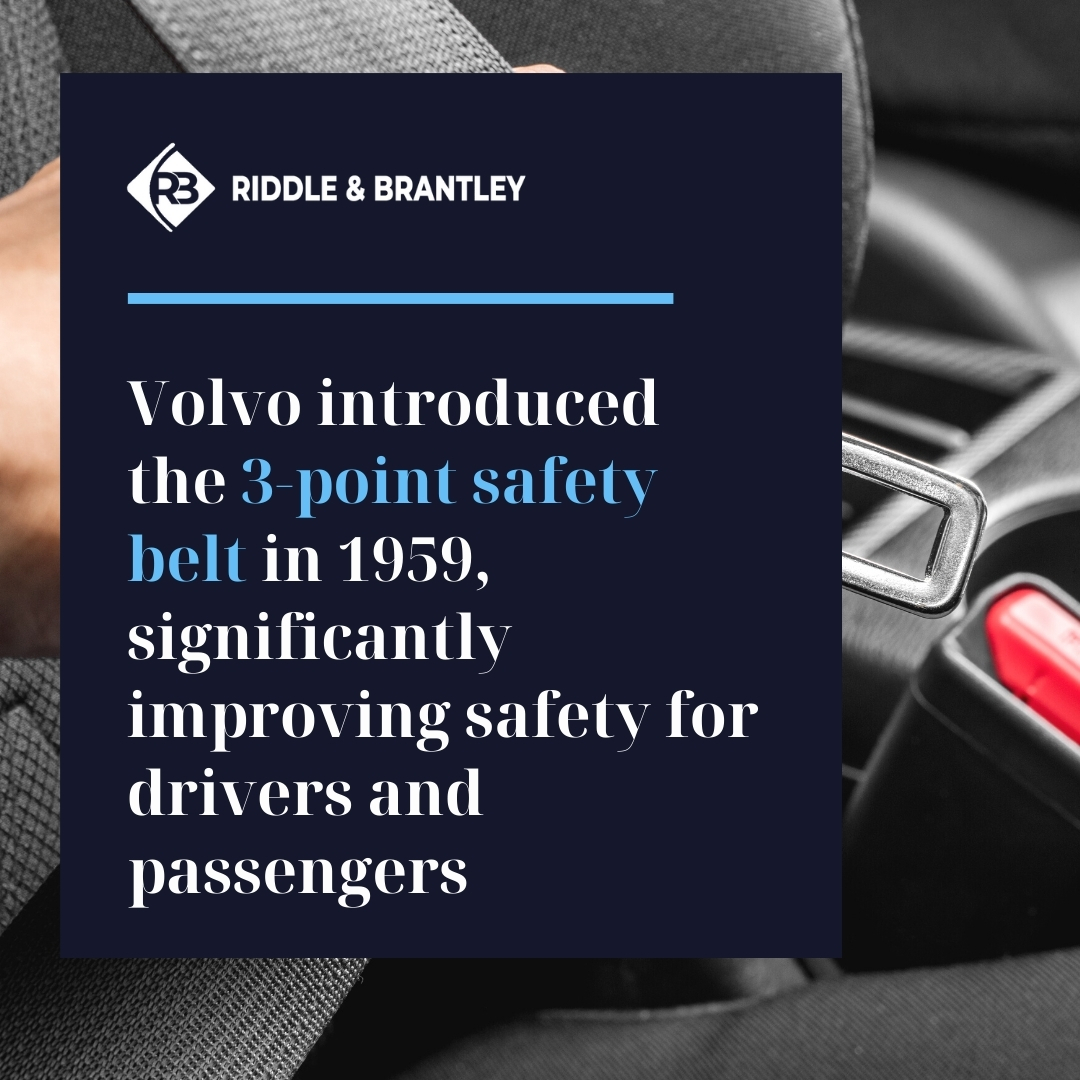 Ever since cars were invented, technology has been reinforced with stronger infrastructure and safety features to protect drivers and their passengers on the roads.
Although safety standards have increased considerably since the invention of the automobile, there is always the risk that a negligent driver could injure you and others on the road.
Justice for Victims of Auto Accidents
If you or a loved one have been injured in a North Carolina auto accident, call a North Carolina car accident lawyer at Riddle & Brantley for a FREE, no-obligation consultation.
If a driver behaves recklessly, carelessly or in any way that endangers themselves and other drivers, they may be liable for the injuries sustained by others in an accident. In the event a life is lost, the driver may also be liable for the wrongful death of that person.
It is important to reach out to an experienced car accident attorney following an accident to protect your legal rights and seek compensation for your injuries.
Please call 1-800-525-7111 today and let's review your claim.
North Carolina Auto Accident Lawyers
At Riddle & Brantley, our auto accident lawyers care for our clients. We know how devastating any accident and accompanying injuries can be — especially when a loved one is injured or killed in the process. We believe that Justice Counts and would love to help you if we can.
We are proud to fight for justice on behalf of wronged North Carolina drivers and passengers, and we have offices throughout the state to serve our valued clients.
We're here for you. Call 1-800-525-7111 today for a FREE, no-obligation consultation and let's review your claim.
You don't have to do this alone, and you may be entitled to compensation that can make all the difference in your recovery and improving your quality of life.
For a FREE consultation, call 1-800-525-7111 and let's talk.