Child Car Seats and North Carolina Law

Child safety seats are an essential for ensuring the safety of children, but they can also be dangerous.
The attorneys at Riddle & Brantley are concerned for the safety of children in cars and we're committed to holding companies accountable for faulty or defective car seats. According to the National Highway Transportation Safety Administration (NHTSA) auto accidents are the number one killer of children under five years old. It is important that parents pick the proper type of safety seat for their children and know how to fit them properly.
"Are car seats required in North Carolina?"
Every parent knows that buckling up children in cars is a necessity.  According to North Carolina's car seat law, if you are transporting a passenger younger than sixteen, they must be restrained by using a seat belt or child restraint system. Any child younger than eight OR weighing less than eighty pounds must be secured in a weight-appropriate car seat.
How Long Should a Child Be Kept in a Car Seat?
Federal recommendations suggest drivers should keep children in rear- facing restraint systems at least until they are one year old or as long as possible because rear-facing restraints are the safest. Federal recommendations for forward-facing cars seats and restraints imply that children should move to forward-facing seats once they reach one year old (remember that keeping children in rear-facing seats for as long as possible is the safest).
You should only move to a forward-facing seat once your child has outgrown his/her rear-facing car seat.
Children should stay in a forward-facing seat until they have become too tall or heavy for that particular seat and then move to a booster seat. At four years of age, children are allowed by law to move to a booster seat but this can be dangerous. Always try and keep your kid in a forward-facing seat until he/she has outgrown the limits set by the manufacturer of the seat. This is usually around seven years old.
According to the North Carolina Child Passenger Safety Law, children must be 80 pounds or eight years old to use a seat belt only.
Keep in mind that according to the NC Seat Belt Law, any passenger in a vehicle must wear a seat belt.
"Nothing is more important than the safety and well-being of your children. Please follow state guidelines regarding the use of car seats and keep your kids safe."
–Gene Riddle, attorney
Car Seat Installation and Fitting
Below are tips from the National Highway Transportation Safety Administration (NHTSA) on car seat installations and fitting your child into a car seat correctly:
Car Seat Installation Tips
Always read the car seat's instruction manual and the vehicle's owner's manual on car seat installation. Every car seat should be installed using either the lower anchors or the seat belt to secure it in place. If you decide to use a seat belt to install your car seat, pay close attention to how to lock your seat belt in the vehicle owner's manual. Every car seat and vehicle is different, it's important to carefully follow any instructions.
Place the car seat in the back seat of the vehicle and follow the manufacturer's installation directions. The car seat must be secured tightly in the vehicle and should never move side-to-side or front-to-back more than 1 inch when pulled at the belt path.
If it is a forward-facing seat and has a tether strap always connect it to the tether anchor and tighten. This step is critical as it limits forward head movement in a crash.
If you are using a rear-facing seat, be sure the car seat is installed at the correct recline angle. Many car seats have built-in angle indicators and/or adjustors that help. If you have questions, trained Child Passenger Safety Technicians are available to help you. Many fire and police stations offer free car seat inspections.
 Fitting Your Child Correctly In The Seat
It is important to properly position the harness on your child. Rear-facing: Harness straps should lie flat, not twisted, and be placed through the slot that is at or below your child's shoulders. Forward-facing: Harness straps should lie flat, not twisted, and be placed through the slot that is at or above your child's shoulders.
Buckle the harness and the chest clip and tighten.
You will know the harness is snug enough when extra material cannot be pinched at the shoulder.  Always make sure the chest clip is at armpit level.
North Carolina Car Accident Attorneys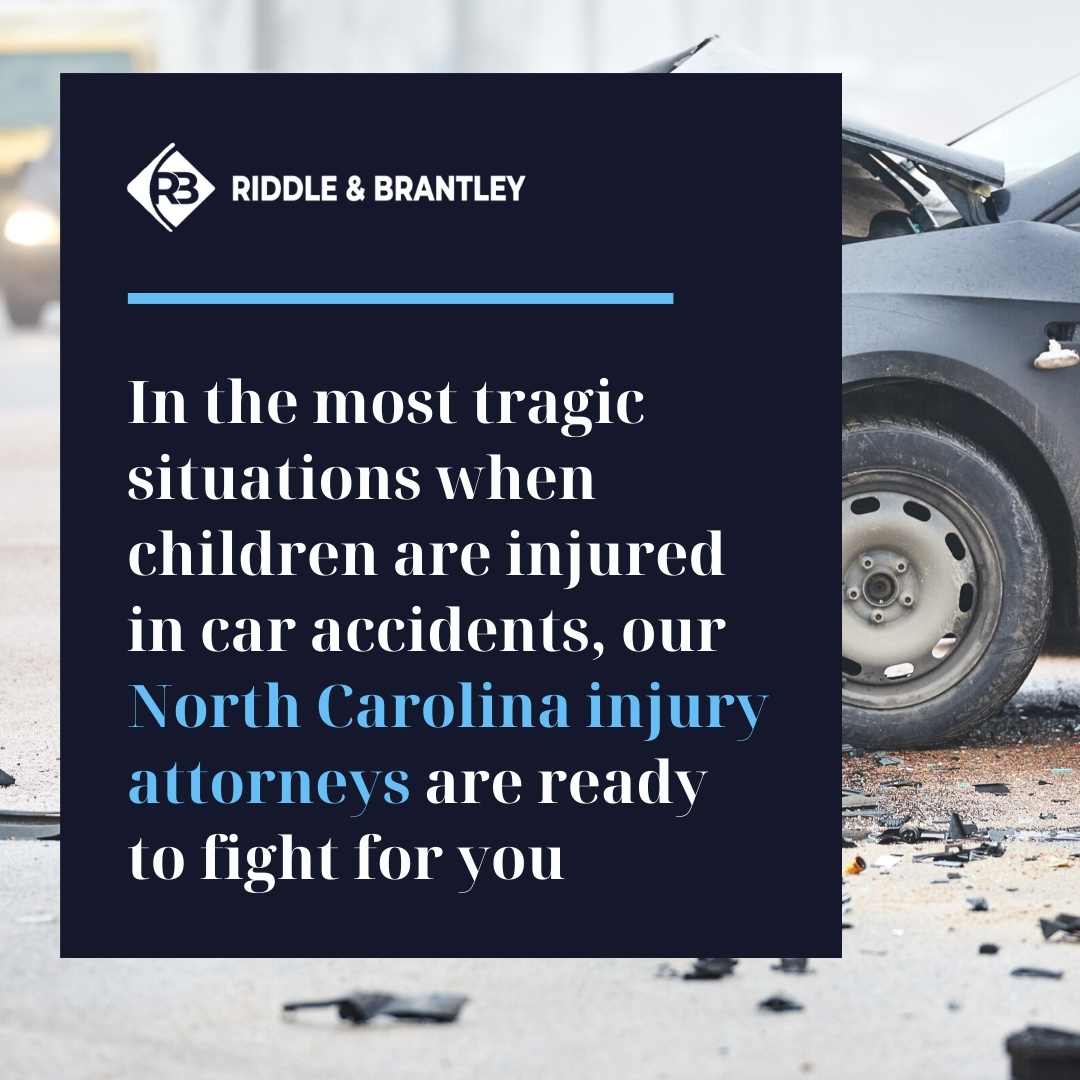 At Riddle & Brantley our car accident attorneys care for all families and their children. We know how devastating auto accidents can be especially if a child is hurt badly or even killed. You and your loved ones deserve justice for injuries that were the fault of someone else's negligence.
For a FREE, no-obligation consultation with an experienced North Carolina car accident lawyer, please call 1-800-525-7111.
The consultation is free and you won't pay any attorney fees unless we win your case and you receive financial compensation.
Call 1-800-525-7111 or fill out the form below for a free case review with an experienced personal injury lawyer at Riddle & Brantley.
Our attorneys are proud to fight for justice on behalf of all drivers and passengers who have been injured by negligent drivers. Please give us a call at 1-800-525-7111 or fill out the short form below. We serve clients in all 100 counties across North Carolina and offer consultations by phone, email, text, video conference, or in-person visit — whichever is most convenient for you.
"They turned a heartbreaking situation completely around."
-Tonya T., Riddle & Brantley client
At Riddle & Brantley, we have been helping the injured of NC for over 35 years and we've recovered more than $600 million in compensation for victims since 2000 alone (see disclaimer below). We will be glad to review your claim and let you know if we think you have a case.
The consultation is always free and we don't get paid unless we get compensation for you.
Justice Counts.
---
*** Disclaimer: The results mentioned are intended to illustrate the type of cases handled by the firm. These results do not guarantee a similar outcome, and they should not be construed to constitute a promise or guarantee of a particular result in any particular case. Every case is different, and the outcome of any case depends upon a variety of factors unique to that case.