North Carolina Defective Airbag Injury Lawyer
Airbag Injury Lawyer
Have you been injured due to a defective airbag? Our North Carolina airbag injury lawyers may be able to help you get the justice and compensation you deserve.
The consultation is free and we only get paid if you do — if we don't recover compensation for you in your airbag injury case, you won't pay any attorney fees.
Defective Airbags
Airbags play a critical role as a safety system during a collision by preventing occupants from striking both the vehicle interior and each other during an accident. Airbags rapidly inflate upon impact to provide cushioning that helps protect vehicle passengers from striking the inside of the vehicle, which can lead to blunt force injuries.
Traditional airbags deploy directly from the steering wheel and dashboard upon impact. More recently, car safety innovation has led to the use of different types of airbags placed throughout the entire vehicle, with each type protecting a different passenger compartment.
While airbags can be lifesaving, airbag defects can prevent these devices from working properly and increase the risk of injury. Some airbag defects have even resulted in death. Defective airbags are one of the more common vehicle safety hazards.
Experienced Attorneys Handling Airbag Lawsuits
If you've suffered an injury due to a faulty or defective airbag, you may be entitled to significant compensation from the automaker and/or the airbag manufacturer.
For more than three decades, Riddle & Brantley's team of North Carolina car accident lawyers has been helping injury victims throughout the state and holding airbag manufacturers accountable for their defective devices.
We are ready to help fight for the justice that you deserve.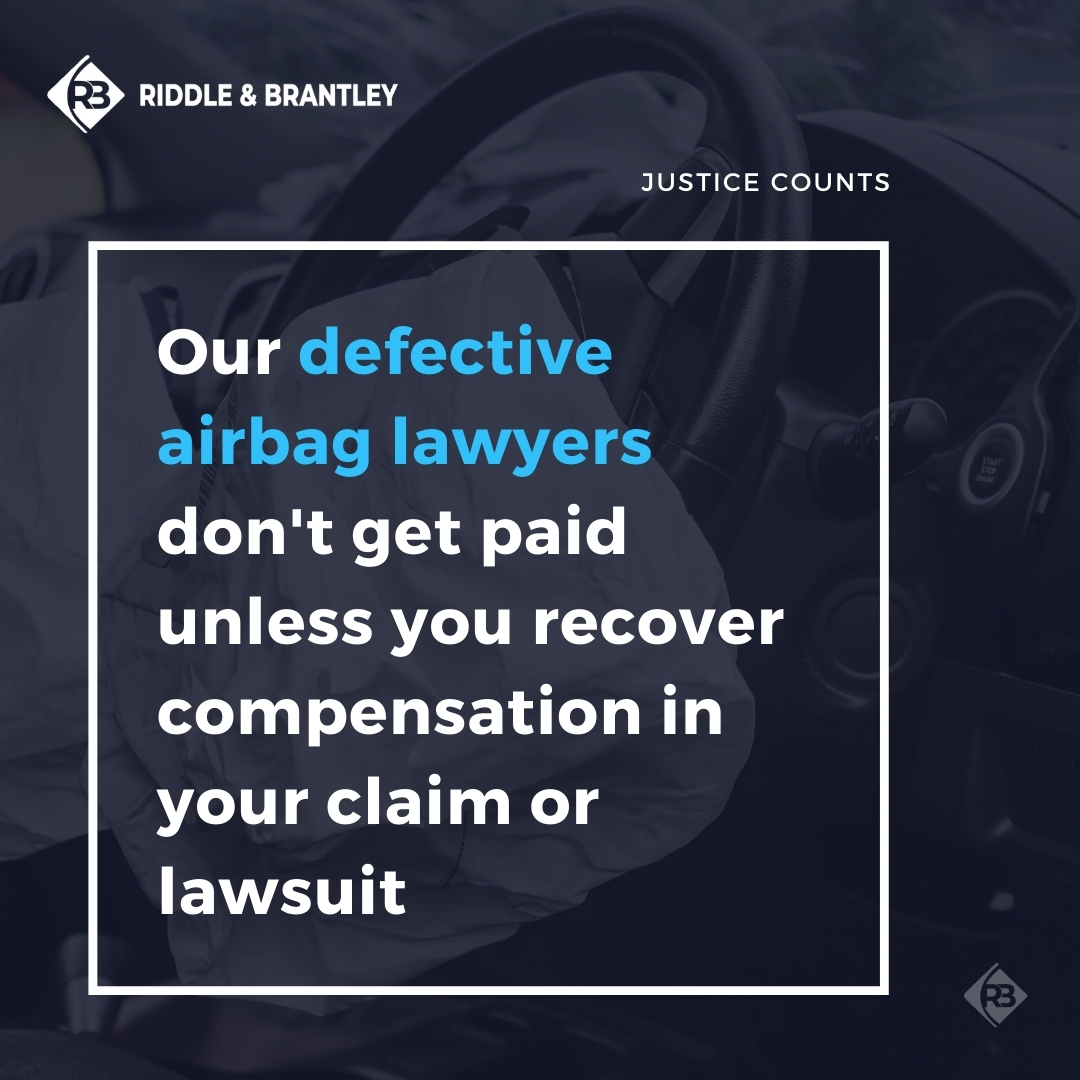 If you have been injured by a faulty airbag, contact an attorney at Riddle & Brantley as soon as possible after the accident so that we can advise you on the necessary steps to take to preserve your vehicle. This is critical because the vehicle and airbags must be examined by an expert to prove the cause of the malfunction/defect and relation to the injuries suffered. Once the vehicle is repaired or destroyed, it may be too late.
The consultation is free and you won't pay any attorney fees unless we win your case and you receive financial compensation.
Types of Airbags
Mercedes-Benz first introduced the airbag in 1981 in Germany as a safety option in its high-end S-Class sedan. Over the last 40 years, vehicle safety engineers have introduced dozens of innovations in airbag technology.
In addition to mandatory front airbags, most vehicles sold in the United States now include airbags in several different locations throughout the vehicle to better protect all passengers. A few automakers, like Volvo, even equip certain vehicles with exterior airbags to protect pedestrians in the event of a crash.
Some of the most common types of airbags include:
Center Airbag
Curtain Airbag
Frontal Airbag
Knee Airbag
Motorcycle Airbag
Rear Curtain Airbag
Seat Belt Airbag
Seat Cushion
Side Torso Airbags
Side Tubular or Curtain Airbag
Different types of airbags have different triggering mechanisms for deployment.
"What Causes an Airbag to Deploy?"
Airbags are designed with sensors that detect the force of a collision and deploy only when that force is sufficient to cause injury. Even in the case of near-accidents, front airbags may still deploy to protect motorists from brain and neck injuries. For example, when a vehicle rapidly decelerates or abruptly slows down after striking a low object on the roadway, the vehicle's front airbags may still deploy even though there wasn't a collision.
Airbags are equipped with a sensor called a MEMS accelerometer, which is a small circuit with integrated micromechanical elements. The MEMS accelerometer moves in response to a vehicle's deceleration, which then sends a signal to the airbags telling them to deploy.
Stages of Airbag Deployment:
Inflation — An airbag's instant inflation is triggered upon impact.  Inside the airbag control unit, an inflator device ignites a rapid chemical reaction generated by nitrogen gas or some other variation of chemicals.  This reaction expands to fill the airbag within a fraction of a second, generating immediate deployment.
Post-Deployment — After an airbag deploys, it immediately deflates to prevent suffocation. As it deflates, gases within the airbag escape through the tiny vents in the fabric. As it deflates, the airbag may also release dust particles that cause minor irritation to the throat and eyes. In some individuals, these particles can induce an asthma attack.
Variable-Force Deployment — Technological advancements have enabled the design of airbags that deploy differently based on the severity of the accident. These "advanced airbags" are designed to meet the needs of occupants depending on the specific crash situation.  They are tailored to passenger size, posture, seatbelt usage and how close the passenger is to the actual airbag. These adaptive deployment systems  can also adjust the pressure within the airbag based upon the type of accident and size of the occupant.
Although airbags are invaluable safety devices, airbag defects can cause failure or injuries during any stage of deployment.
In these rare but possibly life-threatening situations, victims should consult with an experienced North Carolina car accident lawyer.
Victims of injury due to defective airbags deserve justice and we would love to help however we can. If you've been injured in a car accident by a defective airbag, please contact us for a FREE, no-obligation case review.
There are no upfront costs and no attorney fees unless we win your case and you receive compensation in your defective airbag lawsuit.
Injuries from Faulty Airbags
As an airbag rapidly inflates, it deploys with a tremendous amount of force. However, defective airbags may deploy with too much, too little, or no force at all. For example, manufacturing and/or design defects can lead to total airbag failure, leaving motorists unprotected during a wreck.
Other airbags may deploy defectively, exploding out with so much force that it causes injury to the chest, neck, and/or brain. Some of our clients have even suffered facial/nasal bone fractures from the deployment.
Other manufacturing defects may result in delayed airbag deployment. If an airbag fails to deploy immediately, a motorist may sustain initial injuries from striking the wheel or dashboard. When the airbag has a delayed deployment, in addition to suffering initial injuries from the lack of immediate deployment, an occupant may sustain secondary injuries when the airbag does go off — especially if the occupant's head and face are close to the airbag.
Some of the most common airbag injuries suffered during car crashes include:
Asthma Attacks
Bruises
Burns
Chest Injuries
Concussions
Corneal Abrasions
Ear Injuries
Facial Injuries
Internal Bleeding
Lacerations
Nerve Damage
Defective Airbag Wrongful Death Cases
In some instances, defective airbags may cause even more extensive and/or potentially fatal injuries. Attorney Gene Riddle successfully handled a claim where a driver's front airbag deployed and killed the driver, even though the impact was to the side and rear of the vehicle.
The airbag manufacturing company Takata recently issued a series of recalls for exploding airbags, affecting more than 42 million vehicles. These defective airbags were found to improperly inflate and release metal shrapnel into the chests and faces of drivers during deployment. According to a recent report, more than 400 people have been killed worldwide due to defective Takata airbags.
It is important to note that although airbags are a safety device intended to protect passengers during an accident, smaller-sized passengers are at an increased risk of receiving airbag injuries during a collision because the airbag can deploy into their face and chest, causing catastrophic injuries.  For this reason, it is recommended that children do not sit in the front seat until they are at least 13 years old or weigh 65 pounds.
"It was nice to see Riddle & Brantley put me and my needs first."
–R. Colley, Riddle & Brantley client
Have You Been Injured by a Defective Airbag?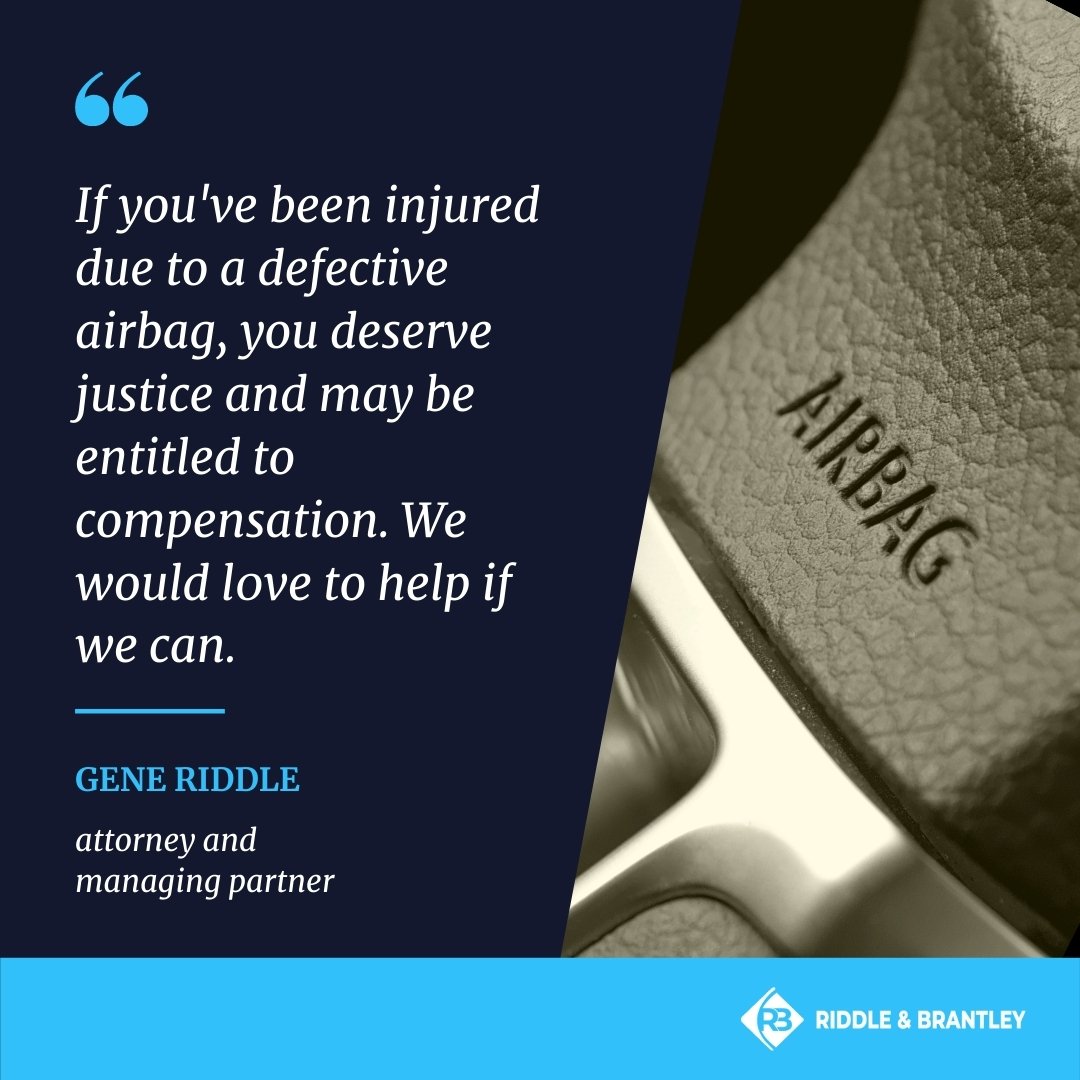 If you have been injured in a car accident, a North Carolina product liability lawyer at Riddle & Brantley can consult with you at no cost.
There is no obligation and you won't pay any attorney fees unless we win your case and you receive compensation.
We have offices throughout North Carolina and area and are available by phone, email, text or video conference, and no in-person meeting is required to get started on your defective airbag case. However, we will visit you at home, the hospital or elsewhere for your convenience.
We're proud of the settlements and judgments we've secured on our clients' behalf, and are also proud of the words our clients use to describe their experience working with our injury lawyers and staff:
"We are very satisfied with the justice and help we received." -Jessica F.
"Riddle & Brantley is a version of the Legal Dream Team." –Elizabeth R.
"Your talent and expertise proved to be an invaluable asset." –K.
"They always kept my best interest in mind." –Robert J.
"You showed concern and compassion for us as people." – and C. B.
If you've been injured by an airbag, don't wait — the longer you wait to contact our attorneys, the harder it may be to win your case and recover the compensation you need and deserve.
Justice Counts and we would love to help you if we can.
---
*** Disclaimer: The results mentioned are intended to illustrate the type of cases handled by the firm. These results do not guarantee a similar outcome, and they should not be construed to constitute a promise or guarantee of a particular result in any particular case. Every case is different, and the outcome of any case depends upon a variety of factors unique to that case.