How to Respond to a Low Settlement Offer After a Car Accident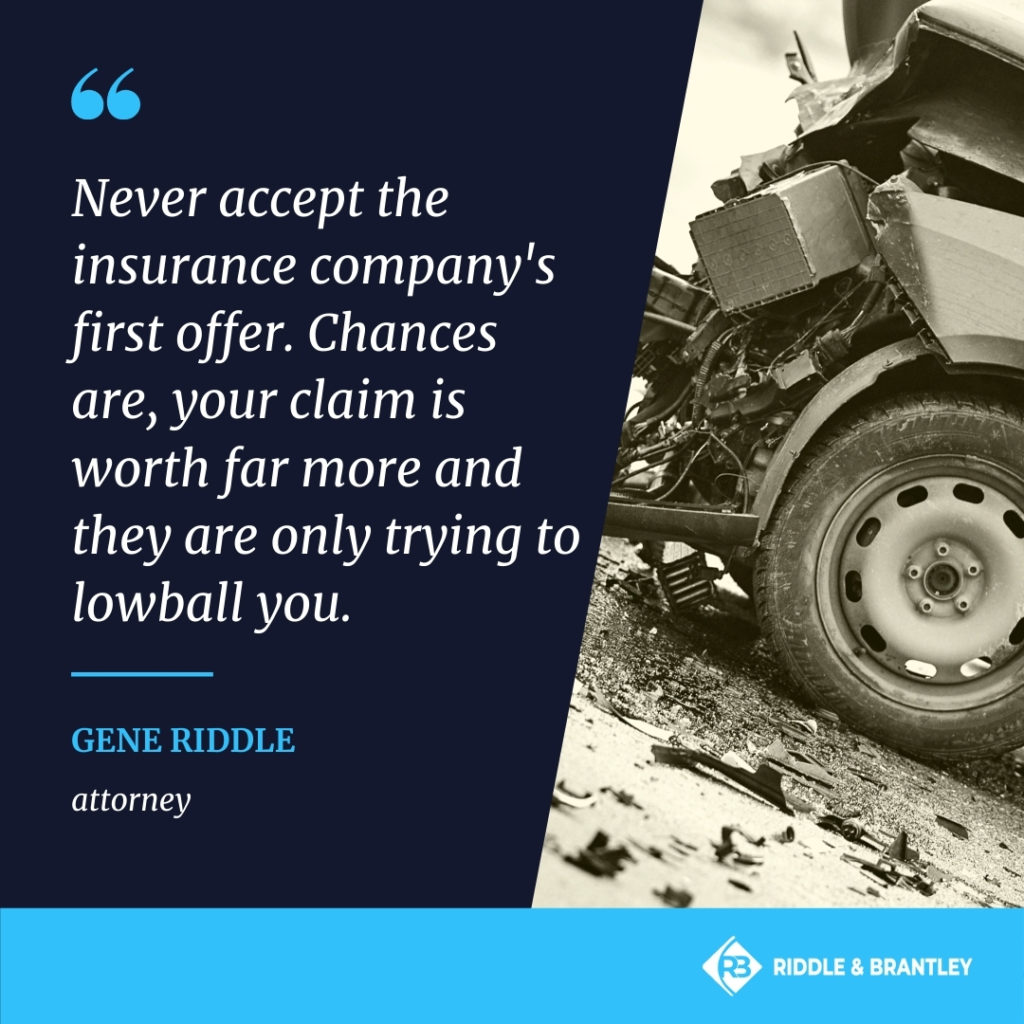 After a car accident, the insurance company's goal is to minimize your claim and pay you as little as possible. Unfortunately, this often means that the insurance company will make a "lowball" offer — one that is much less than what you are entitled to. But how do you recognize a lowball offer by the insurance company? And… more importantly, how do you respond?
How to Tell if the Insurance Company is Making a Lowball Offer
If you've been injured in a car accident, truck accident, motorcycle accident, or other motor vehicle accident, be wary of potential lowball offers by the insurance company, and contact a car accident lawyer immediately to protect your legal rights. Don't let the insurance company give you the runaround. You may be entitled to significantly more than the insurance company's first offer.
Signs of a Lowball Offer in a Car Accident Injury Claim
Potential signs that an insurance company is trying to lowball you after a car accident (or other motor vehicle accident) include:
Making an Immediate Settlement Offer — In many cases, the insurance company will offer a settlement right away. In most cases, this means they're simply trying to pay as little as possible,  The adjuster is probably trying to settle with you before you have an opportunity to see a doctor or talk to a lawyer about your rights. Many people just think they are shaken up after an accident. It takes a few days to recognize that you are not improving and you might need medical care. And if you have gone to an emergency room, you probably did not get much (or any) individual attention. You should never settle before you have had a chance to talk to and be evaluated by a doctor who has experience treating people who are involved in a motor vehicle collision.
The Adjuster Offers You a "Quick Hit" Release. — Many insurance companies will make you a quick offer that pays you a flat amount for your pain and suffering, plus promises to cover some future medical bills. In the insurance industry, these are referred to as "Quick Hit" releases. The language in these releases is often very vague or confusing. In many cases, the insurance company may not really be promising to pay much. For example, a release might say they will pay "reasonable" medical bills or medical expenses that are "necessary". But these terms are not defined, and the adjuster might later refuse to pay your bills, arguing that an x-ray was not needed, or that a doctor overcharged. These vague releases can severely limit your rights.
The Adjuster Pressures You to Accept — Insurance companies often rely on "tricks" to get accident victims to admit fault, or simply accept an initial, lowball offer. They might come to your house, or even try to meet you at the hospital. They might threaten that an offer is only on the table for a limited time. They might try to disparage and attack lawyers, to try to ensure you don't seek legal advice. If you feel like the insurance adjuster is pressuring you to accept a settlement, contact an attorney immediately. Your claim is probably worth far more than what they are offering.
The Insurance Company Ignores or Downplays Evidence — If you've submitted medical records and other important evidence in your car accident claim and the insurance company either dismisses it completely or downplays its significance, chances are they are not taking your claim seriously and are going to make you a lowball offer. If they keep losing everything you send them, placing you on hold, or reassigning your claim to a new adjuster, then this is a message that they are trying to wear you down until you finally surrender and take anything they offer you. An experienced car accident lawyer can help collect the evidence needed to increase pressure on the insurance company to pay what your claim is actually worth.
The Insurance Company Blames Pre-Existing Conditions — In many cases, the insurance company will attempt to downplay your injuries, or blame them on potential pre-existing conditions. They will argue that you already had a bad back, or that you had arthritis or degenerative disc disease. As bad and unethical as it is, they may even imply that you are exaggerating your injuries. This is typically a tactic to minimize your injuries and justify a lowball offer for your car accident claim.
They Don't Explain Their Calculations — If the insurance company calculates the supposed value of your claim, but doesn't explain its methodology, that's a red flag, and they're likely making a lowball offer. Sometimes, for instance, the insurance company will assign a monetary value to your pain and suffering but refuse to justify it. Or they will audit down your medical bills to an amount they consider "reasonable and customary". If the insurance company or adjuster won't explain the reasoning behind its calculations, consult with an attorney right away.
The "Silent" Treatment — If the insurance company suddenly stops communicating with you, or your phone calls or emails are not returned, they may be trying to pressure you into simply accepting their first, lowball offer. Insurance adjusters may hope you simply become frustrated and give up. Don't give up — contact an experienced personal injury lawyer right away to help secure maximum compensation.
Don't simply accept the insurance company's lowball offer. Remember, in most cases, you forfeit your right to sue after accepting a settlement. Call our North Carolina car accident attorneys today at 1-800-525-7111 for a FREE, no-obligation consultation and ensure that you're getting the compensation you deserve.
We can evaluate your claim and, if you decide to hire us, handle all aspects of negotiating with the insurance company. If they continue to make lowball offers, we won't hesitate to file a lawsuit. Our seasoned trial attorneys have more than 220 years of combined legal experience and have secured millions of dollars in compensation for our valued clients (see disclaimer below).
"Riddle & Brantley found me all the available money from the insurance companies."
–David H., Riddle & Brantley client 
Call 1-800-525-7111 and let's see how we can help.
"What is My Car Accident Claim Actually Worth?"
It can be extremely difficult to calculate the true value of a car accident claim, and remember — the insurance company is NOT on your side. Their goal is to pay as little as possible or dismiss your claim altogether.
The truth is, there is no average car accident settlement in North Carolina (or anywhere else for that matter). Every case is different, and what you are owed will depend on the unique facts and circumstances of your case.
"How Do I Respond to a Lowball Offer in My Car Accident Case?"
Consider hiring a car accident lawyer if you've been injured and suspect that the insurance company is making a lowball offer. You may be entitled to significant financial compensation and we would love to help however we can.
For a FREE consultation with an experienced and award-winning North Carolina car accident lawyer (see disclaimer below), please call 1-800-525-7111 or complete the fast and convenient form below. Since 2000, we've recovered over $665 million in compensation for our valued clients (see disclaimer below).
There is no obligation, and as always, we don't get paid unless you do. If we don't recover compensation for you in your auto accident claim, you won't pay any attorney fees. It's as simple as that.
Call 1-800-525-7111 today and let's talk.
Justice Counts for those injured due to others' negligence and we would love to help you if we can.
---
*** Disclaimer: The results mentioned are intended to illustrate the type of cases handled by the firm. These results do not guarantee a similar outcome, and they should not be construed to constitute a promise or guarantee of a particular result in any particular case. Every case is different, and the outcome of any case depends upon a variety of factors unique to that case.
*** Disclaimer: An attorney must meet certain requirements to join these organizations or receive these awards. For more information on Membership Criteria for Million Dollar Advocates Forum, Multi-Million Dollar Advocates Forum, Super Lawyers, The National Trial Lawyers Top 100, The National Association of Distinguished Counsel, AV Preeminent by Martindale-Hubbell, the Litigator Award, and other memberships, awards, and accolades, please visit our Membership Criteria page. These awards and memberships should not be construed as a promise or guarantee of a similar result. Each case is different and must be evaluated separately.