How Much Does a Car Accident Attorney Cost in North Carolina?
"How Much Does It Cost to Hire a Car Accident Lawyer in North Carolina?"
The best answer, is there is no average cost to hire a car accident lawyer. Every case is different, and our North Carolina car accident lawyers work on a contingency fee basis, which means that the attorney only gets paid if the client receives compensation — and the payment is a percentage of the total recovery. While the average attorney fee may vary based on the work required by the specific case, there are "average" contingency fee percentages in North Carolina, which we will detail here.
Car Accident Attorney Cost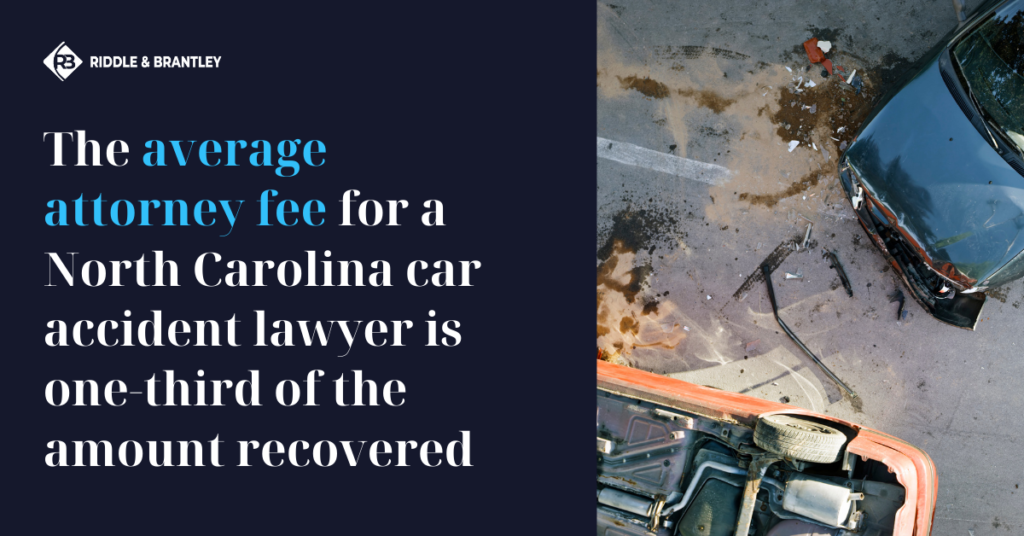 In North Carolina, the average fee for an attorney in a car accident, truck accident, or other motor vehicle accident case is one-third of the total amount recovered. So, if your attorney negotiated a $100,000 settlement with the insurance company, you would receive roughly $66,600 in compensation.
IMPORTANT: Keep in mind that the amount you keep in your pocket after attorney fees are deducted will depend on your medical bills and potentially other expenses.
General Personal Injury Attorney Cost
In "general PI" (general personal injury) cases such as slip and fall cases and dog bites, the average attorney fee ranges from 33 to 45 percent of the total recovery. Again, the specific contingency fee percentage will typically depend on the complexity of the case and the time and effort required of the attorney and his or her team.
Why You Should Hire an Attorney After a Car Accident
We're often asked, "Why should I hire a lawyer after an accident?" After all, the attorney typically receives a percentage of the compensation recovered. However, research has shown that by hiring a car accident lawyer in North Carolina — or an attorney for your personal injury, workers' compensation, or Social Security disability case — you typically receive more compensation than you would if you represented yourself, even after the attorney fee. In fact, one recent survey found that those who hire a personal injury attorney recover roughly 3 times more compensation on average than those who represent themselves.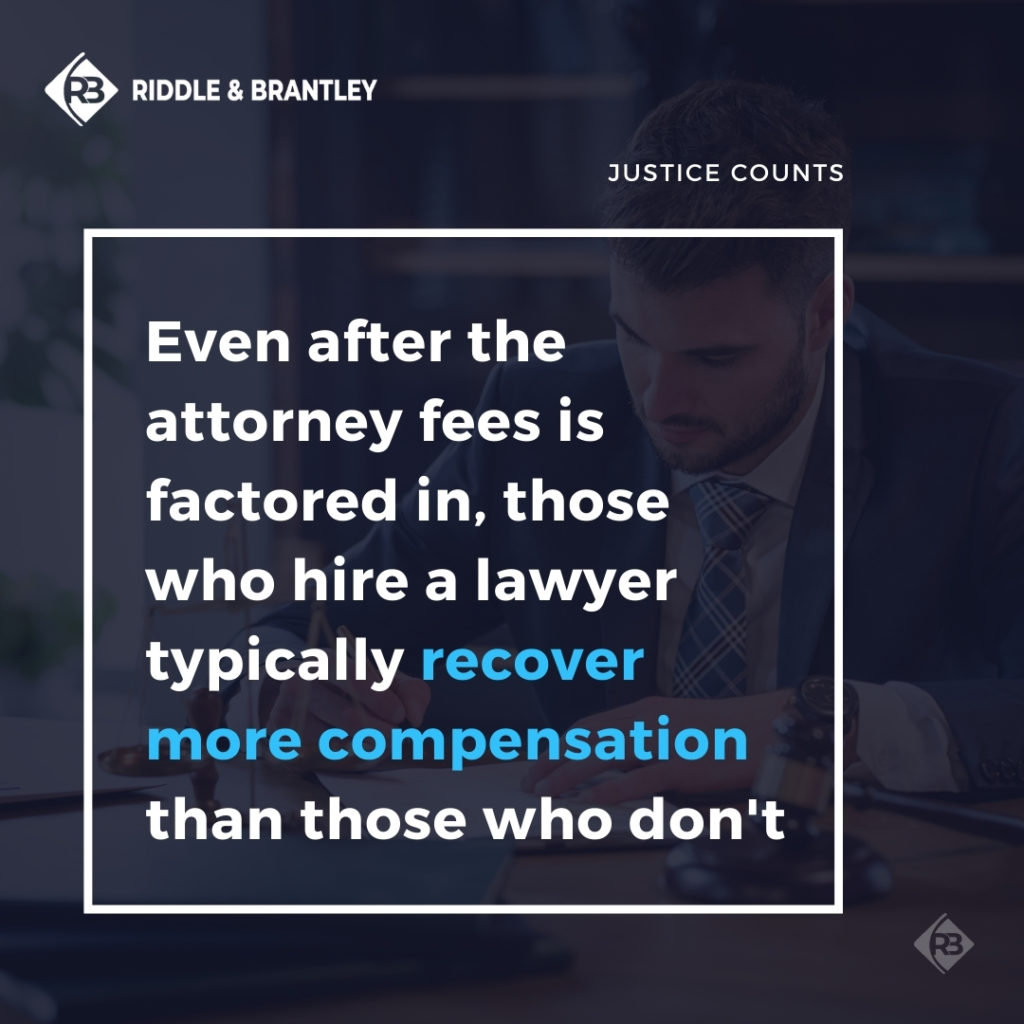 This additional compensation can help with paying your medical bills after a car accident, making up for lost wages, and compensating you for your pain and suffering.
That's why one of the first things you should do after a car accident (or other accident due to someone else's negligence) is contact an experienced attorney to help you protect your rights and seek maximum compensation.
For a FREE consultation with an experienced personal injury lawyer in North Carolina, please call 1-800-525-7111 or complete the fast and easy form below.
There is no obligation, and you won't pay any attorney fees unless we win your case and you receive compensation.
Get Maximum Compensation for Your Injuries
A car accident lawyer in North Carolina can help you seek maximum compensation for your injuries. Call 1-800-525-7111 and let's review your claim. Riddle & Brantley's attorneys have more than 220 years of combined legal experience and have recovered more than $600 million for our deserving clients since 2000 alone (see disclaimer below).
"Riddle & Brantley found me all the available money from the insurance companies."
–David H., Riddle & Brantley client
Justice Counts for those injured due to others' negligence and we are ready to help however we can.
---
*** Disclaimer: The results mentioned are intended to illustrate the type of cases handled by the firm. These results do not guarantee a similar outcome, and they should not be construed to constitute a promise or guarantee of a particular result in any particular case. Every case is different, and the outcome of any case depends upon a variety of factors unique to that case.