Negligence in Car Accident Cases
Car Accidents Caused by Negligence
At the heart of nearly every car accident case lies the theory that a driver acted negligently in operating their vehicle and thereby caused harm to the other driver involved. Negligence is an important concept in North Carolina law because it forms the basis for a car accident victim to recover for their damages against the other driver.
When it comes to proving fault in your North Carolina car accident claim, you may be wondering, "What is negligence? And how does it relate to my car accident case?" Our North Carolina car accident lawyers have the answers.
Negligence can best be described as careless or reckless conduct that results in harm to another person.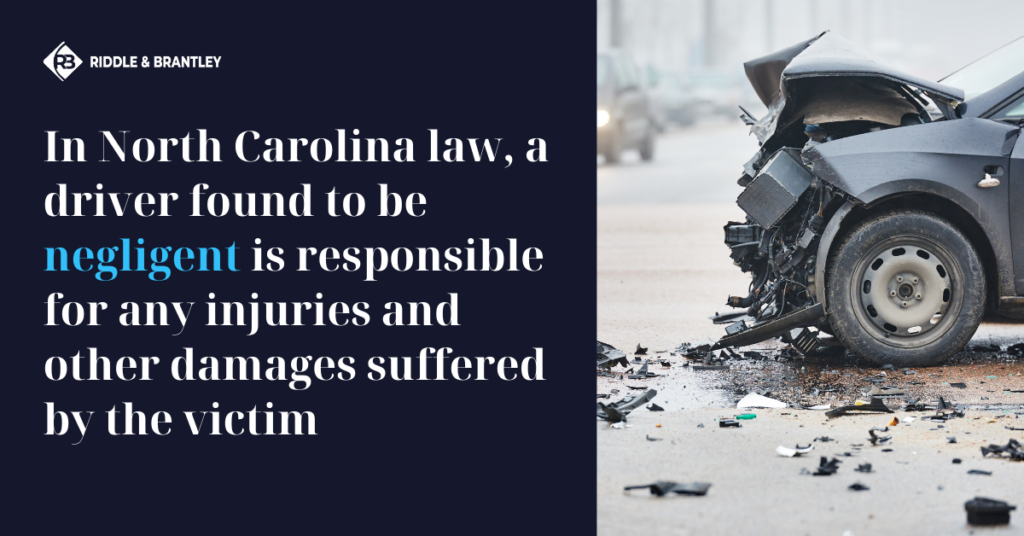 Legally, negligence is considered the failure to exercise a reasonable degree of care, resulting in injury to another. A driver can be negligent by failing to do something he or she should have done, like failing to yield to oncoming traffic while turning, or failing to yield for pedestrians crossing the road, as well as by doing something they should not have done, like running a red light or driving at excessive speeds.
In any case, when a motorist fails to drive safely, this kind of negligence can easily result in a car accident and serious personal injuries.
Driver negligence can take many forms. A driver might ignore, overlook or intentionally disobey traffic laws and signals. However, a negligent driver may also simply become distracted or complacent. Regardless of the exact cause, these kinds of car accidents are often preventable if drivers simply stay alert and follow traffic laws.
If you have fallen victim to a negligent car driver and suffered injuries, you may be entitled to seek compensation for medical bills and other damages through an insurance claim and/or personal injury lawsuit.
The consultation is free and you won't pay any attorney fees unless we win your case and you receive compensation.
"I would definitely recommend Riddle & Brantley without hesitation."
–Arthur H., Riddle & Brantley client
Types of Negligent Driving
The concept of negligence is based on the idea that every driver has a duty to use reasonable care in operating their vehicle to avoid causing injury to other motorists, vehicle passengers, and pedestrians. If a driver acts negligently by failing to exercise this reasonable care and someone is harmed as a result, that driver can be held financially liable for that person's injuries and other damages, including medical expenses, pain and suffering, and lost income.
This means that all motorists have a duty to not only follow all traffic laws and rules of the road, but also to remain cautious and alert to all other drivers, cyclists and pedestrians on the road. Therefore, any action or inaction on the part of a driver that increases the risk of a car accident is negligent behavior.  Driver negligence accounts for the vast majority of car accidents on North Carolina roads.
Some of the most common forms of driver negligence include:
Speeding — including driving too fast for weather conditions. Although speeding was involved in only 5.4% of North Carolina car crashes in 2019, it accounted for more than a quarter of traffic accident fatalities.
Drunk driving or driving under the influence of drugs (called "driving while impaired" in North Carolina) — in 2019, there were 11,492 car accidents involving alcohol in the state, 348 of which were fatal.
Texting and driving — one of the most common forms of distracted driving.
Distracted driving — including texting and driving, eating while driving, talking with other passengers, adjusting the GPS or stereo, etc.
Failing to stop or move over for emergency vehicles
Failing to obey traffic signs and signals
Following too closely
Reckless driving — including taking unnecessary risks, tailgating, road rage, etc.
Improper passing and lane changes — In 2019, lane departure maneuvers accounted for 20.9% all NC car accidents and 55.4% of fatal accidents.
According to the North Carolina DOT, the following forms of negligence are top contributors to car collisions in the state:
Driver Inattention
Failing to Yield the Right of Way
Improper Lane Change
Failing to Reduce Speed
Not only can drivers be negligent in their driving habits, but they also can be negligent in maintaining their vehicles as well.  Under North Carolina law, drivers must keep their vehicles in good repair to prevent accidents as a result of malfunctions or equipment failure.
This means you should regularly have your car's brakes, tires, and lights checked to ensure safety. Negligent actions place all drivers, as well as cyclists and pedestrians, in danger of serious car crash injuries.
Types of Car Accidents Caused by Negligence
Every year, driver negligence contributes to a wide variety of car crashes.  According to most recent data from the NC Department of Transportation, 18.8% involved a distracted driver, and 25.6% of all fatal car accidents in the state were related to speeding.
Given that driver negligence can cover a wide range of behavior, negligent driver behaviors like inattention and recklessness can result in many types of car accidents, including:
If you or a loved one has been injured in a negligent driving accident, then you may be entitled to compensation for your injuries and property damage.
A car accident attorney can assist you in filing an insurance claim and/or personal injury lawsuit as well as in proving the negligence of the at-fault driver.
The consultation is free and you won't pay any attorney fees unless we win your case and you receive compensation.
"Riddle & Brantley found me all the available money from the insurance companies."
–David H., Riddle & Brantley client
Proving Negligence in a Car Accident
If you've been injured a North Carolina car accident caused by another person, you may be sure it was the other driver's fault. However, to legally prove fault under North Carolina law, you typically must show that the other driver's negligence caused your car accident, and the car accident subsequently caused you to incur injuries and damages.
Contributory Negligence
It is important to note that in North Carolina, proving the other driver is mostly at fault for causing the collision is not always enough to successfully present a claim for damages. In some situations, you must also show that your own negligence did not contribute to causing the accident. This is because North Carolina follows the doctrine of Contributory Negligence.
Under this doctrine, which is codified in state law, if your own negligence contributes to the car crash in any way, you cannot collect compensation. This means that even if you are found to be one percent at fault for your accident, you may be barred from all recovery.
Contributory negligence is technically a defense raised by the at-fault party, because it acts as a total bar to the plaintiff's recovery. Contributory negligence is frequently criticized as being outdated and unnecessarily harsh on victims, which is why only a few states still follow the doctrine.
Last Clear Chance
Fortunately, there are a few legal doctrines in North Carolina that can overcome allegations of contributory negligence. Our state follows the Last Clear Chance doctrine. This doctrine is raised to overcome a defense of contributory negligence raised by the defendant. The last clear chance doctrine states that regardless of your negligence, if the other driver had the "last clear chance" to avoid the accident but failed to do so, then you can still recover for your injuries regardless of whether you were also negligent.
Our attorneys have extensive experience successfully raising this defense on behalf of our clients to help them get the compensation they need and deserve for their injuries.
Gross Negligence
Additionally, if evidence of a defendant's "gross negligence" exists in a case, that finding can also overcome allegations of contributory negligence on behalf of the victim.
Gross negligence is defined by North Carolina laws as "wanton conduct done with a conscious or reckless disregard for the rights and safety of others."
In North Carolina auto injury law, gross negligence is typically found where a driver is intoxicated, a driver is operating their car at excessive speeds, or a driver is engaged in street racing. When a defendant exhibits gross negligence in operating their vehicle, it will bar the defendant from arguing contributory negligence on the part of the victim.
North Carolina negligence law is nuanced and often confusing to those who don't have experience evaluating car accident circumstances for evidence of driver negligence. For this reason, it is important to seek the advice of a North Carolina car accident attorney after any kind of traffic collision. Fortunately, Riddle & Brantley's experienced auto accident attorneys have more than 220+ years of combined experience representing drivers who have been hurt by the negligence acts of another driver.
Our attorneys know the ins-and-outs of NC negligence law and are ready to fight for your right to compensation against the defendant's insurance carrier.  We also have investigators on staff who can assist with investigating the circumstances of the car accident and proving liability.
Hurt by a Negligent Driver? Call Riddle & Brantley
Riddle & Brantley has proudly served auto injury victims across North Carolina for more than three decades, providing our clients with comprehensive legal counsel and guidance throughout the entire process of their car accident claim.
"Every time I've needed them, they were there for me."
–Tyronnie T., Riddle & Brantley client
Our knowledgeable team of North Carolina car accident lawyers and paralegals understand the nuances of North Carolina negligence law and will work with you to build a strong case to ensure that you receive the compensation you deserve for your car accident injuries.
Our firm serves car accident and negligence victims throughout North Carolina. Remember, if you can't come to us, then we'll come to you – at home, at the doctor, or wherever you may need to meet.
Riddle & Brantley's experienced car accident attorneys serve clients throughout North Carolina from our many convenient office locations, and free consultations are also available by phone, email, text, and video conference.
Justice Counts for North Carolinians injured due to others' negligence and we are ready to fight for you however we can.
---
*** Disclaimer: The results mentioned are intended to illustrate the type of cases handled by the firm. These results do not guarantee a similar outcome, and they should not be construed to constitute a promise or guarantee of a particular result in any particular case. Every case is different, and the outcome of any case depends upon a variety of factors unique to that case.