Should I Accept a Check from the Other Driver or Their Insurer?
The aftermath of a car accident can be confusing. Some of our clients wonder, "Should I accept a check from the other driver or their insurance company?"
In most cases, the answer is pretty straightforward:
In almost every case, you should NOT accept a check from the other driver or the driver's insurance company following a car accident in North Carolina.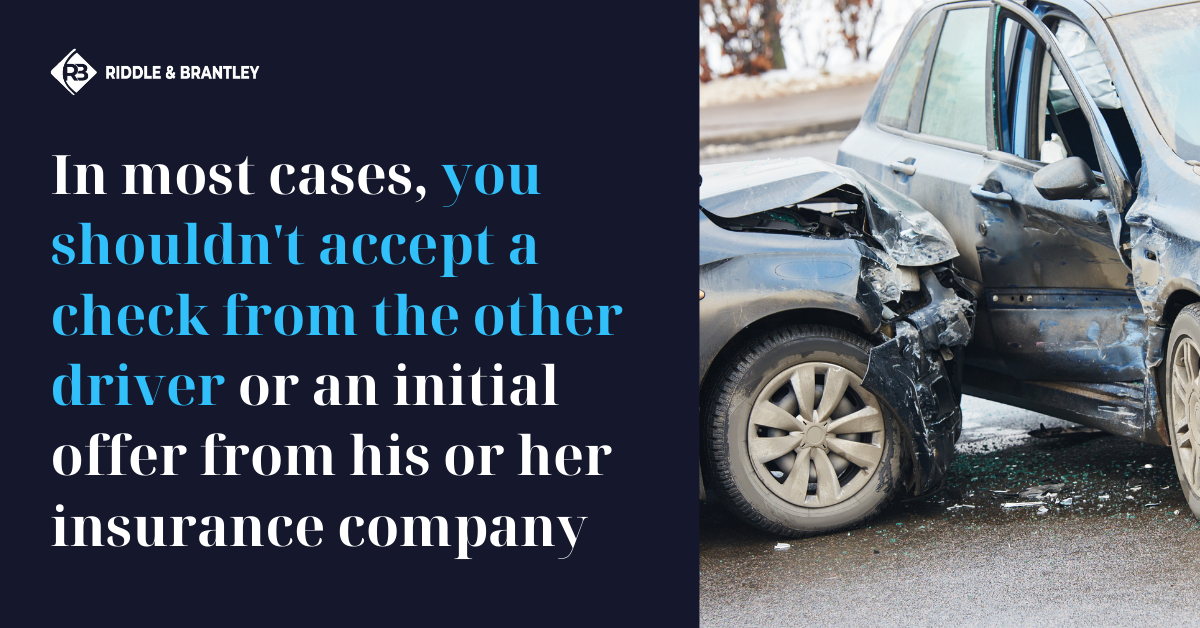 The insurance company will almost certainly contact you in the immediate aftermath, asking how you are doing and whether you would like to sign their waivers.
Though they may seem friendly enough, remember that it is in their best interest to settle the injury claim as quickly, quietly, and inexpensively as possible. For this reason, it's prudent to contact a car accident lawyer who can represent your interests and negotiate with these other parties while protecting your legal rights. Once you cash a check from the driver or insurer, you waive your right to sue for damages down the road.
There are no upfront costs and you won't pay a dime in attorney fees unless we win your case and recover compensation for you.
Why You Shouldn't Accept Money From the At-Fault Driver
Drivers responsible for accidents may be in a hurry or feel the damage isn't severe enough to warrant a call to the police. However, you should always get a formal accident report on file. Not only will this become valuable evidence if you decide to file a lawsuit, but your insurance company will also want a copy of this report on file.
In our experience:
Drivers offering to write a check may have done something wrong. The driver may not have auto insurance as required by law, or is driving without a valid driver's license, or is not driving his or her own vehicle, or has so many points on their license they fear revocation. Sometimes the at-fault party may be drunk driving, have illegal drugs in the vehicle, or are in the middle of committing a crime.
Drivers offering a check often do not provide enough compensation. Drivers offering money up front have no idea what your vehicle repair costs, medical bills, or lost wages might be. It is easy to underestimate.
Drivers offering upfront money may be looking to defraud injured parties to evade responsibility. You have no guarantee the check will not bounce, which would leave you with significant out-of-pocket expenses.
In some cases, the driver leaves in a hurry, and there is not much you can do. If you at least have the at-fault driver's contact and insurance information, you can file the police report yourself and pursue compensation with your own uninsured motorist policy. Our skilled car accident lawyers at Riddle & Brantley can walk you through this process at no upfront expense.
We also have experience handling hit and run accidents in North Carolina.
Why You Shouldn't Negotiate a Settlement with the Insurance Company (On Your Own)
Once you accept a car accident settlement with the insurance company, you forfeit your right to pursue additional compensation. Insurers will customarily ask you to sign a waiver or release form. These can be worded to trick injured parties out of their rights. In other situations, a verbal agreement recorded by phone may be enough for the insurance company to cut you a check. If you do not cash the check and contact a lawyer, you may be able to renegotiate better terms.
We recommend letting the insurer know you will be represented by an attorney and wish to have your legal counsel present before signing or agreeing to anything.
Here's why:
You Might Suffer Additional Complications. Even if it seems like you have minor neck pain or another slight injury, serious delayed onset injuries and complications can arise later. What if what seems like a whiplash soft-tissue injury ends up being cervical spine damage requiring surgery? What if you need extensive rehabilitation and multiple procedures? You cannot ask the insurer for more money later.
You May Be Unable to Return to Work. Immediate medical bills are one thing, but being unable to work for months or years — or even suffering permanent disability — is another matter entirely. At-fault drivers can be held liable for covering your lost wages.
Insurance Companies Are For-Profit Businesses. Generally, insurance companies offer low settlements to provide for immediate needs, without considering the accident victim's future expenses or non-economic damages like pain and suffering, mental anguish, emotional distress, loss of consortium or companionship, loss of enjoyment in life, disability, disfigurement, and loss of household services.
To receive the maximum amount of compensation allowed by law, we strongly encourage you to seek the help of a skillful attorney.
Do You Need a Lawyer?
If you've been injured in a car accident, contact Riddle & Brantley for a free, no-obligation consultation with a North Carolina personal injury lawyer.
Our attorneys have more than 225 of combined experience helping clients who are injured due to others' negligence, and we would love to help if we can. Attorney Gene Riddle recently recovered $2.25 million in compensation for the surviving loved ones of a North Carolinian tragically killed in a head-on collision (see disclaimer below).
For more recent case results, we invite you to review our settlements and verdicts (see disclaimer below).
"They turned a heartbreaking situation completely around."
-Tonya T., Riddle & Brantley client.
Our experienced North Carolina car accident lawyers have a proven track record of multi-million-dollar settlements and jury awards (see disclaimer below). You have nothing to lose by contacting us today, as you never owe us attorney fees unless we recover compensation on your behalf.
We believe Justice Counts for ALL North Carolinians, and we would love to help however we can.
---
*** Disclaimer: The results mentioned are intended to illustrate the type of cases handled by the firm. These results do not guarantee a similar outcome, and they should not be construed to constitute a promise or guarantee of a particular result in any particular case. Every case is different, and the outcome of any case depends upon a variety of factors unique to that case.