North Carolina Side Impact Collision Lawyers
T-Bone Accident Lawyer in North Carolina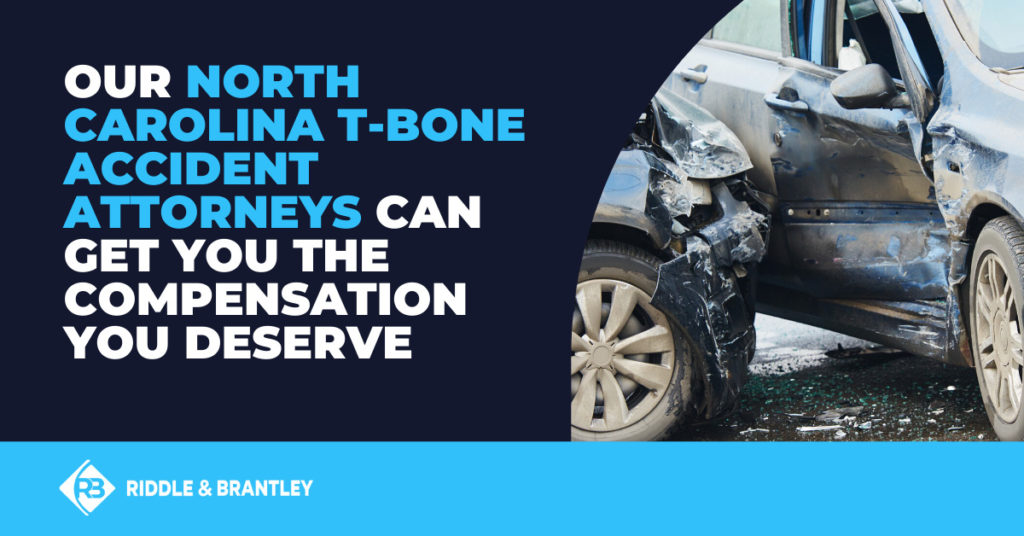 One of the most dangerous side impact accidents is the T-bones accident. If you or a loved one sustained a serious injury resulting from being T-boned, you may be entitled to compensation. Contact the experienced North Carolina personal injury attorneys at Riddle and Brantley for a free, no-obligation consultation.
Call 1-800-525-7111 or fill out the form below and let an experienced side impact accident attorney from Riddle & Brantley review your claim. There are never any upfront costs, and you won't pay a dime in attorney fees unless we win your case and you receive compensation.
Talk with a North Carolina T-bone accident lawyer today about your side impact crash and let's see how we can help.
What is a T-bone Accident?
Side impact collisions, commonly known as T-bone accidents, are when the front end of one vehicle collides with the side of another vehicle. These types of accidents normally occur at intersections. However, a driver can be T-boned anywhere on the road including:
Highways
Back roads
Parking lots
Any other point where two lines of traffic cross
T-bone collisions are particularly serious because they often occur when a negligent driver ignores traffic signs or signals, such as when a vehicle runs a red light at a high speed. This type of collision can cause serious or fatal injury. Under certain circumstances, insurance companies may fault both drivers for the accident. If this occurs, it is extremely important that you contact an experienced auto accident attorney as soon as possible.
Getting an attorney involved early in the process can make the difference between your claim being denied and approved. North Carolina follows a law of contributory negligence, meaning that you may be barred from recovery if you are deemed to be even 1% at fault. Therefore it is very important to have an experienced attorney on your side.
Consequences of T-Bone Collisions 
Unfortunately, T-bone collisions and sideswipes are among the deadliest kinds of car crashes that occur on the road. Technology has evolved to allow side airbags to inflate quicker than other airbags. This is because there is less room between the driver and the side of the vehicle.  Although auto manufacturers of vehicles increasingly include state-of-the-art side-protection airbags on newer vehicles, the fact remains that vehicles are equipped with less crumple zone protection from side impacts than front or rear impacts.
Injured in a T-Bone Accident in North Carolina?
Have you or a loved one been injured in a side impact collision caused by the negligence of another driver? You may be entitled to compensation for injuries, medical expenses, lost wages, and more.
The North Carolina car accident attorneys at Riddle & Brantley have over 220 years of combined legal experience. Our attorneys understand the serious injuries and liability challenges our clients face in these collisions and know what evidence is needed to help our clients receive the compensation they deserve from a negligent driver.
Common Causes of T-Bone Accidents
T-bone collisions most commonly occur at intersections, which are more prone to this type of crash for several reasons including:
Hydroplaning
Poor weather conditions
Poor vehicle maintenance
Driver inexperience
Common Injuries in Side Impact Car Accidents
According to the Insurance Institute of Highway Safety (IIHS), side impact collisions account for approximately 23%  of all fatalities in car crashes involving multiple vehicles. As a result, side airbags have become increasingly important for car manufacturers to include in vehicles.
However, despite these precautions, common injuries from side impact collisions still include:
Airbag Injuries
Although airbags are meant to prevent death or serious injury, they may also cause injuries. These may include facial bruises, burns, chest injuries, asthma attacks, breathing problems, and even whiplash.
Our North Carolina airbag injury attorneys have experience handling defective airbag lawsuits, including a case where a faulty airbag deployment fractured our client's nasal bone.
"Sideswipe" Collisions
Sideswipe collisions are a special type of side-impact collision that occurs when two vehicles strike each other in a parallel manner, as opposed to T-bone accidents.
Fault can be especially difficult to prove in side-impact collisions. These accidents often occur as vehicles attempt to merge into a different lane. When a side swipe collision happens on the highway, it can cause significant injuries because often both vehicles are traveling at high speeds. When a sideswipe collision occurs, it may not always be clear who is at fault for the accident. Were you involved in a side swipe accident? Contact Riddle and Brantley today for a consultation.
Experienced North Carolina T-Bone Accident Attorneys
Side-impact collisions cause be scary and cause devastating injuries. If you were injured in a side-impact collision, Riddle & Brantley wants to help you hold the negligent driver accountable for your injuries, medical bills, and other losses.
For decades, our NC car accident attorneys have helped injury victims fight for their right to fair and just compensation. In fact, since 2000 alone, we've recovered over $665 million in compensation for our valued clients (see disclaimer below). We'd love to help you however we can.
For a FREE consultation with an experienced North Carolina car accident lawyer handling T-bone accident claims, please call 1-800-525-711
The consultation is free and you won't pay a dime in attorney fees unless we win your case — and you receive compensation.
Call 1-800-525-7111 and let's talk.
"I was very pleased with how my case was handled. Everyone was professional and extremely helpful. I would not hesistate to use Riddle & Brantley again and highly recommend them."
–Robert L.
Our legal team is available 7 days a week to speak with you about your collision — we offer FREE, no-obligation consultations in the office or by phone, email, text, or video conference.
We are ready to provide you with comprehensive legal counsel on your specific case as well as guide you through the entire claim process. With offices located throughout North Carolina, we can serve you from anywhere. We can even come to you. Call us today for a free consultation.
Justice Counts.
---
*** Disclaimer: The results mentioned are intended to illustrate the type of cases handled by the firm. These results do not guarantee a similar outcome, and they should not be construed to constitute a promise or guarantee of a particular result in any particular case. Every case is different, and the outcome of any case depends upon a variety of factors unique to that case.