Accidents Caused by Speeding in North Carolina
Speeding is one of the leading contributors to some of the most severe motor vehicle accidents across North Carolina roadways. According to the NC Department of Transportation, in 2019 speeding caused over 15,000 accidents in our state. Additionally, speeding contributed to 9,378 fatalities across America in 2018.
When drivers decide to speed, their ability to control the vehicle and react to sudden situations significantly decreases.
Have you been injured by a speeding driver in North Carolina?
You may be entitled to compensation and a North Carolina speeding accident lawyer at Riddle & Brantley may be able to help.
The consultation is free and you won't pay a dime in attorney fees unless we win your case and you receive compensation.
Our car accident attorneys serve clients from our offices across North Carolina, including in Raleigh, Durham, Goldsboro, Fayetteville, Greenville, and Jacksonville*. Free consultations are available 7 days a week by phone, email, text, or even video conference.
We can even come to you directly if it's more convenient.
Let our North Carolina speeding accident lawyers review your case. We would love to help you get the compensation you deserve. We handle cases involving car accidents, motorcycle accidents, truck accidents, and more.
*In-person consultations are available in Durham, Fayetteville, and Greenville by appointment only, but we can consult on-demand, 7 days a week by phone, email, text, or video conference.
Speeding in North Carolina
Speed limits vary across North Carolina, but in general:
Most NC business districts set speed limits between 20 mph and 45 mph depending upon the congestion of traffic.
Most speed limits in NC residential areas are set at 35 mph.
Highway speed limits in NC are set between 55 and 70 mph.
Even though North Carolina implements laws against speeding, many drivers continue to ignore speed limits and other rules of the road, endangering themselves and other motorists.
Car Accidents Due to Speeding
In fact, the United States Department of Transportation (USDOT) states that speeding contributes to more than one third of all car crashes throughout the country.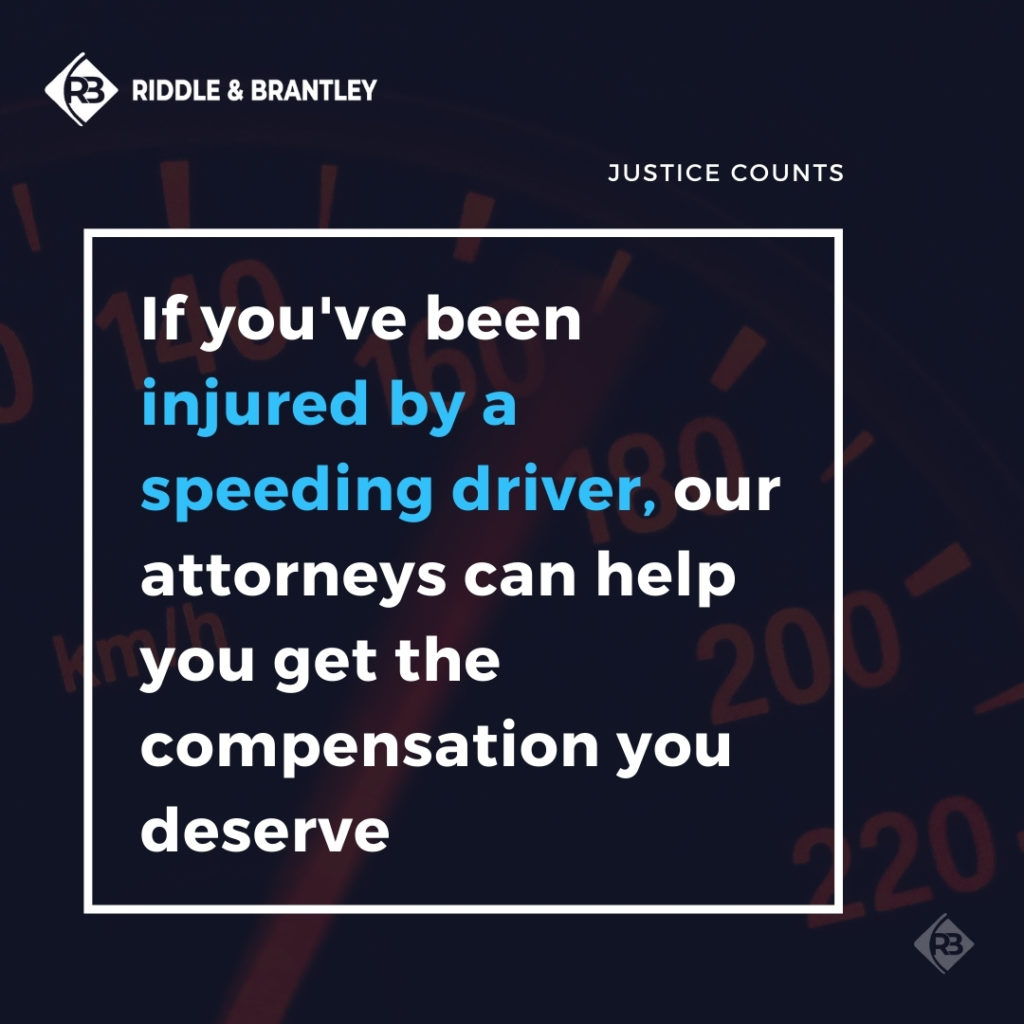 However, according to USDOT, only 13 percent of fatal speeding accidents happen on major highways. Instead, the majority of accidents related to speeding occurs on back roads or streets within city limits. As a result, many of the national speeding fatalities occur on roads with lower speed limits.
In some cases, drivers that caused a wreck because they were speeding will face criminal charges. However, in order to recover compensation for your bodily injuries, you must file a personal injury claim against the at fault driver's insurance company.
Even if the negligent driver receives a ticket for speeding after a car crash, the insurance company may still try to deny or minimize your claim. Speeding tickets are not the only way to prove that a speeding driver caused an accident. However, when a driver is cited for speeding, your auto accident claim is strengthened.
At the law offices of Riddle & Brantley, our experienced North Carolina car accident lawyers understand how to use evidence like speeding tickets, traffic cameras and accident reconstructions to ensure you get the compensation you deserve.
If the at-fault driver did not receive a citation for speeding, we may still be able to help you. Our attorneys understand how insurance companies work. In many cases, adjusters will undervalue claims and try to settle cases for the least amount of money possible. Let us help with you case. We offer free consultations, and work on a contingency basis. This means you pay no upfront cost or attorney fees unless we are successful in your case and you receive financial compensation.
Reasons Drivers Speed
In many cases, speeding is the result of driver negligence or recklessness and can cause catastrophic injuries. In addition to serious injuries, high speed impacts can even cause fatalities. AAA conducted a study, which suggested that about 48% of drivers drive at least 15 mph over the speed limit.
Some of the main reasons drivers speed include:
Drivers are on their way to work or some other obligation
Distracted driving, including texting while driving
Inattentive driving
Disregarding the speed limit, usually because of driver negligence.
Driver misapprehension, including a belief that speeding is not dangerous, that the law does not pertain to them and/or that they can handle driving at high speeds
Aggressive or reckless driving
Often, speeding drivers also believe that they will not get caught or they might not take traffic laws seriously. Whatever the reason for speeding is, driving over the speed limit is considered negligent. Consequently, if you were injured by another driver negligently speeding, you may be able to collect compensation from the driver for your injuries and damages.
The consultation is free and we don't get paid unless you do.
Injuries Caused by Speeding Accidents
In most instances, the chances for serious motor vehicle accidents and catastrophic personal injuries greatly increase when a negligent driver decides accelerates over the speed limit. Generally, the force of impact is much greater at higher speeds, thus leading to very serious and severe injuries, particularly in the event of head-on collisions, t-bone accidents, etc.
Some injuries caused by driving too fast include:
Back and neck injuries
Dental injuries
Internal injuries
Lacerations, including broken glass injuries
Loss of limb
Traumatic brain injuries and concussions
After being involved in an accident, we recommend all car accident victims seek medical attention immediately.
This will not only ensure there are no underlying injuries, but also ensure all injuries receive proper care. Our main goal is to ensure that you properly recover from your injuries. It will also provide you with necessary medical documents needed for an attorney to establish a case against all negligent parties.
Hurt by a Speeding Driver in North Carolina?
At Riddle & Brantley, our North Carolina car accident attorneys believe that you deserve justice for your injuries sustained in an auto accident.
We understand how stressful being in an accident can be and we want to help you recover. Our attorneys will guide you through the entire legal process and we will even file a lawsuit if necessary to win your claim.
Results for Our Valued Clients
Since 2000 alone, we've recovered more than $600 million in compensation for injury victims, and we're ready to help you however we can (see disclaimer below).
In one recent speeding case, attorney Gene Riddle recovered $2.25 million for the surviving family members of a young woman who was tragically killed when a speeding truck crossed the center line and hit her head-on (see disclaimer below).
The consultation is free and there are absolutely no attorney fees unless we win your case and you receive compensation.
Justice Counts.
---
*** Disclaimer: The results mentioned are intended to illustrate the type of cases handled by the firm. These results do not guarantee a similar outcome, and they should not be construed to constitute a promise or guarantee of a particular result in any particular case. Every case is different, and the outcome of any case depends upon a variety of factors unique to that case.