North Carolina Speeding Accident Lawyer
Dangers of Speeding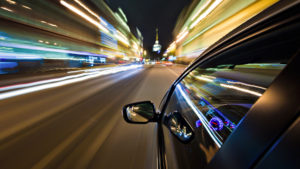 Speeding is one of the leading contributors to some of the most severe motor vehicle accidents across North Carolina roadways. When a driver chooses to speed, their ability to control their vehicle and react to sudden situations drastically decreases. In North Carolina, most of our business districts set speed limits between 20 mph and 45 mph depending upon the congestion of traffic. Most of our residential areas are set at 35 mph and our highways are set between 55 and 70 mph. We have laws that penalize drivers for speeding which can result in loss of driving privileges. Nevertheless, many drivers continue to neglect these limits and other rules of the road, endangering themselves and other motorists.
In fact, the United States Department of Transportation (USDOT) states that speeding contributes to more than one third of all car crashes throughout the country. However, according to USDOT, only 13 percent of fatal speeding accidents happen on highways. This means that you may sustain injuries in an accident caused by a speeding driver on any road. While a driver may sometimes face criminal charges for speeding, victims of these kinds of car crashes must file an insurance claim or civil lawsuit in order to collect compensation for their personal injuries and damages.
Even if the negligent driver receives a ticket for speeding after a car crash, the insurance company may still try to deny or minimize your claim. While a ticket is often not the only way to prove that a driver was speeding, causing the crash, it is strong evidence in your favor. At the law offices of Riddle & Brantley, our experienced car accident lawyers understand how to use evidence like speeding tickets, traffic cameras and accident reconstructions to ensure you get the compensation you deserve. Your initial consultation is FREE and in most instances, we only get paid when we obtain a recovery or offer of settlement for you.
What are the Top Reasons Drivers Speed?
Speeding is almost always the result of driver negligence or recklessness and can cause catastrophic injuries as well as wrongful death. It is also a widespread problem, according to the National Highway Traffic Safety Administration (NHTSA). In an NHTSA survey, one in five people admitted to speeding on a regular basis, despite knowing the risks.
Some of the top reasons drivers speed include:
Drivers are in a hurry, often due to lateness.
Driver impatience.
Distracted driving, including texting while driving.
Inattentive driving.
Ignorance of the speed limit, usually as a result of driver negligence.
Driving while impaired.
Driver misapprehension, including a belief that speeding is not dangerous, that the law does not pertain to them and/or that they can handle driving at high speeds.
Often, speeding drivers also believe that they will not get caught and/or do not take traffic laws seriously. Still, regardless of whether or not a driver recognizes the dangers of speeding or simply does not care, speeding is driver negligence. As a result, you may be able to collect compensation from the driver for your injuries and damages.
Common Injuries Caused by Speeding Accidents
In most instances, the chances for serious motor vehicle accidents and catastrophic personal injuries greatly increase when a negligent driver decides to speed. This is due to the fact that the force of impact is much greater at higher speeds, thus leading to more severe injuries.
Some injuries caused by driving too fast include:
Dental injuries
Internal injuries
Lacerations, including broken glass injuries
Loss of limb
Traumatic brain injuries and concussions
Our attorneys advise all victims of car crashes to seek medical attention immediately. This will not only ensure there are no underlying injuries, but also assure all injuries receive proper care. It will also provide you with necessary medical documents needed for an attorney to create a case against the negligent driver.
Hurt by a Speeding Driver? Contact Our Lawyers Today
At Riddle & Brantley, our injury attorneys believe that you deserve justice if you sustained serious injuries or lost a loved one as a result of a negligent driver's decision to speed. Our attorneys will guide you through the entire litigation process to ensure you get the compensation you deserve.
We have office locations in Goldsboro, Jacksonville, Raleigh, and Kinston, North Carolina. Additionally, our attorneys assist clients throughout the entire state and nationwide. To learn more about our law firm or schedule your free no-obligation consultation, call our firm at (800) 525-7111 today. Otherwise, contact us online and one of our intake specialists will review your case and contact you.