North Carolina Tailgating Accident Lawyer
Did Tailgating Cause Your Car Crash Injuries?
North Carolina Auto Accident Lawyers Explain Reckless Driving Practices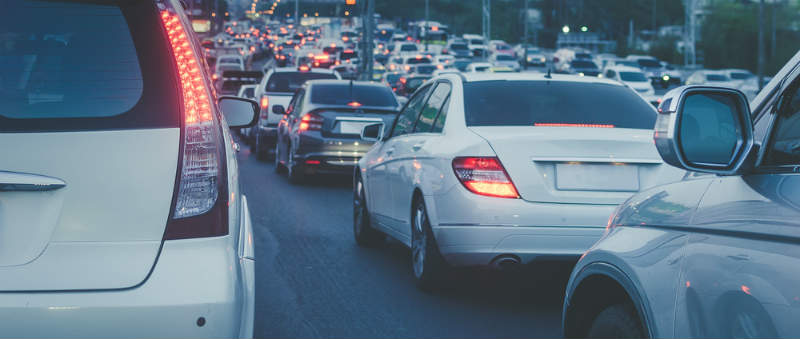 Tailgating occurs when one driver follows another vehicle too closely, which is often the result of driver negligence, recklessness or even aggression. According to the North Carolina Department of Transportation (NCDOT), tailgating causes over 5,800 motor vehicle accidents in the state every year. North Carolina General Statute section 20-152 specifically states that a "driver shall not follow another vehicle more closely that is reasonable and prudent" and shall leave sufficient space for an overtaking vehicle to enter and occupy space without danger.
Most often, following too closely results in rear end accidents, since the driver may be unable to stop in time to prevent a collision if the leading car brakes. However, aggressive tailgating can also result in other types of crashes if either driver loses control of his or her vehicle. If you have been injured or a loved one was killed in an accident because a driver was following too closely, then you could be eligible to pursue compensation in a personal injury or wrongful death lawsuit.
The auto accident lawyers at Riddle & Brantley understand the frustration of having been hit by an aggressive driver. We are dedicated to fighting for justice for North Carolina drivers who have been injured in tailgating accidents. We can use accident reconstructionists, as well as other evidence such as witness testimony and traffic camera footage, to support your case and help ensure you get the compensation you deserve from the negligent driver.
What are the Dangers of Tailgating?
As it significantly decreases reaction time, following too closely is a major factor in most rear end accidents, which are the most common kind of crash, according the Insurance Information Institute. Tailgating can also lead to multi-car pile-ups, catastrophic personal injuries and wrongful death.
Typically, tailgaters are aggressive drivers, but sometimes other elements are factors in a tailgating crash. Some of the most common causes of tailgating, which all result from driver negligence, include:
Road rage and aggression
Ignorance of safe traveling distance
Impatience, often resulting from lateness or traffic congestion
An aggressive driver who is tailgating may also make other dangerous driving decisions. These may include suddenly changing lanes, failing to signal, speeding and running red lights or stop signs. The best way to avoid a tailgating accident is to make way for the aggressive driver. North Carolina prohibits aggressive driving in General Statute section 20-141.6 and the offender is guilty of a Class 1 misdemeanor. If the guilty driver pleads guilty or is convicted of aggressive driving, then we can use this to prove liability in your car crash case.
What Should I Do If a Negligent Driver is Tailgating My Car?
Although it may be tempting to try to punish an aggressive or negligent driver by blocking their way, slowing down or slamming on the brakes, this type of behavior is negligent as well. Aside from the potential for an accident, you could incite more anger in the aggressive driver and be faced with a confrontation.
Still, North Carolina drivers should take precautions to avoid becoming a victim in motor vehicle accidents caused by tailgating. If a driver is tailgating your car, you should:
Change lanes to avoid the tailgater, if possible.
If you cannot change lanes, then brake slowly. This will encourage the tailgater to pass you as well as minimize your risk of a rear end car accident.
If the tailgater does not pass, then pull off the road as soon as you can safely do so.
When you are safe, you may call the police and make a report about the driver if you believe he/she is endangering everyone on the road.
Maintaining a safe following distance is crucial to avoid becoming the cause of a tailgating accident. Drivers should keep a distance of 10 feet from the car in front of them for every 10 miles per hour of speed. That means on highways where speed limits are 65, you should leave 65 feet between you and the car ahead.
Hurt by a Tailgater? Contact Our North Carolina Auto Accident Attorneys
Motor vehicle accidents caused by tailgating are the result of driver negligence and/or aggression, and so are always avoidable. Unfortunately, not all North Carolina drivers put safety first. Therefore, if you or a loved one sustained injuries due to a tailgater, you could have grounds for legal action.
At Riddle & Brantley, our auto accident lawyers care for our clients and will fight for the justice you deserve after a tailgating incident. We have offices throughout North Carolina, including in Goldsboro, Raleigh, Jacksonville and Kinston, and we are proud to serve clients in all the surrounding areas as well as nationwide.
Our team is here for you 24 hours a day, 7 days a week. Call our offices at (800) 525-7111 or contact us online today to schedule your free initial consultation.