North Carolina Airbag Injury Attorney
Defects Cause Your Airbag Injuries During a Crash?
North Carolina Car Accident Lawyers Explain Manufacturer Liability
An airbag is a type of automobile safety device that functions as a vehicle occupant restraining system during a collision. Upon impact, airbags inflate rapidly to help protect vehicle passengers from striking the inside of the vehicle, which can lead to serious injuries. Originally, these airbags would deploy from the steering wheel and the dashboard. More recently, automakers have started to include airbags throughout the entire vehicle. However, airbag defects can prevent these devices from working properly, increasing the risk of car accident injuries. Some defects even result in additional dangers and airbag injuries.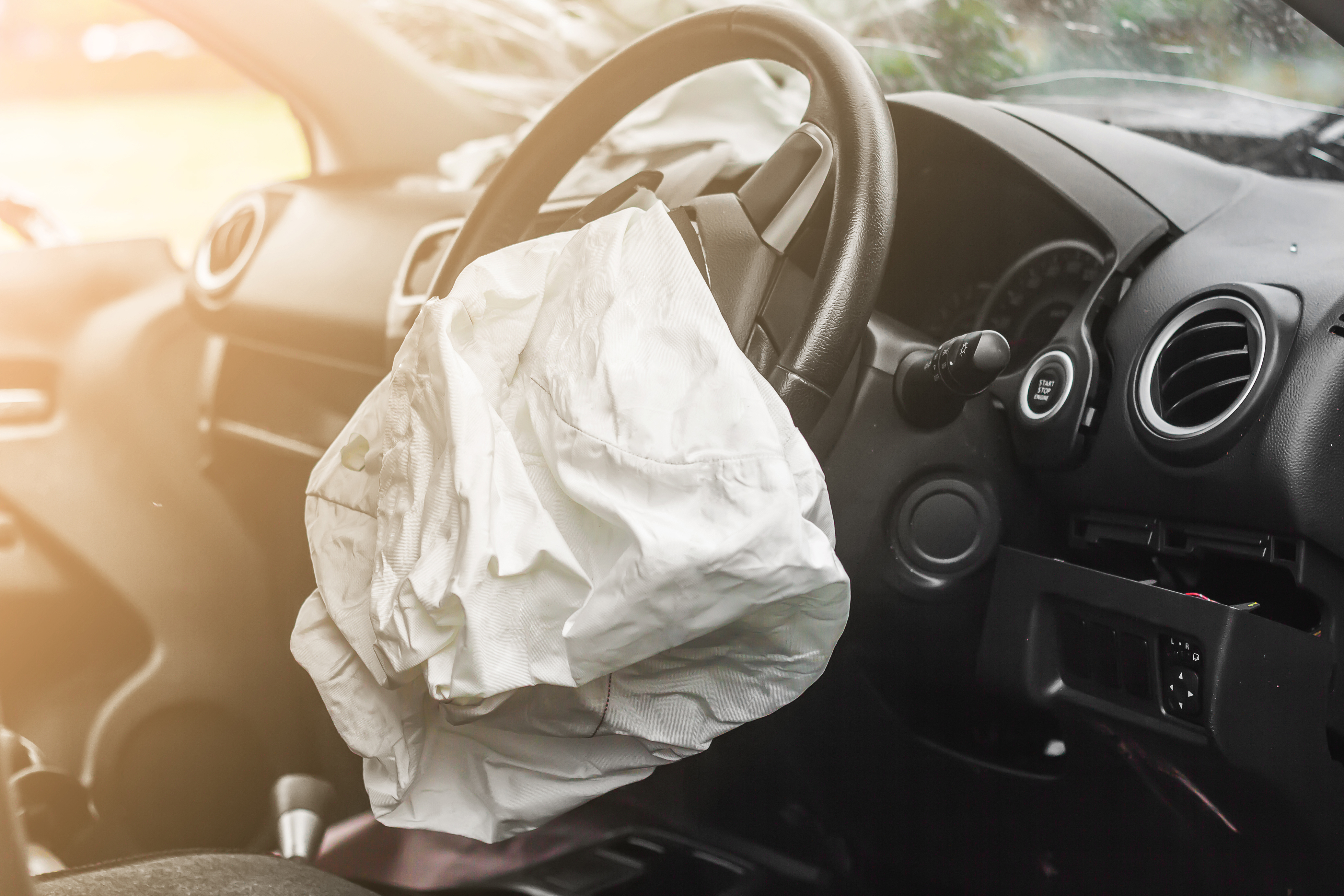 If you suffered an injury due to a faulty or defective airbag, then you may be entitled to collect compensation from the automaker and/or the airbag manufacturer. At the law offices of Riddle & Brantley, our team of North Carolina car accident lawyers has been helping injury victims throughout the state for more than 25 years. We are ready to help fight for the justice that you deserve. Most importantly, please contact us as soon as possible after the wreck so that we can advise you and help you take the necessary steps to preserve your vehicle. The vehicle and airbags need to be examined by an expert to prove the cause of the malfunction/defect and relation to the injuries suffered. Once the vehicle is repaired or destroyed, it may be too late.
What are the Different Types of Airbags?
In 1981, Mercedes-Benz introduced the first airbag in Germany as an option in its high-end S-Class. Since that time, there have been dozens of innovations in airbag technology. Today, many cars have airbags in several different locations throughout the vehicle, which help protect all occupants. A few cars even have exterior airbags to protect pedestrians in the event of a crash.
Some of the most common types of airbags include:
Center Airbag
Curtain Airbag
Frontal Airbag
Knee Airbag
Motorcycle Airbag
Rear Curtain Airbag
Seat Belt Airbag
Seat Cushion
Side Torso Airbags
Side Tubular or Curtain Airbag
As there are several different types of airbags, there are also different ways these airbags are triggered to deploy.
What Causes Airbag Deployment?
Airbags have been designed to sense the force of impact during a collision and deploy only when this force is sufficient to cause injury. Depending on the location of the airbag, deployment is possible during all types of car crashes. Additionally, frontal airbags may deploy to protect motorists from brain and neck injuries even during near-crashes. These can result from rapid deceleration of the vehicle or the vehicle striking a low object on the roadway causing it to abruptly slow down.
The sensor of the airbag is known as a MEMS accelerometer, which is a small circuit with integrated micromechanical elements. This moves in response to deceleration, which then sends a signal to the airbags telling them to deploy.
Some stages of deployment include:
Inflation. An inflator unit inside the airbag control unit ignites a rapid chemical reaction generated by nitrogen gas. This fills the airbag within a fraction of a second. There are also many other variations of chemicals which cause the airbag to immediately deploy.
Post-Deployment. Once the airbag has deployed, it will immediately begin deflating to prevent suffocation. The gas will escape through the tiny vents in the fabric. This may also release dust particles which can cause minor irritation to the throat and eyes. Additionally, this may also cause an asthma attack in some people.
Variable-Force Deployment. There are many advanced technologies being developed to deploy airbags differently based on the severity of the accident. This technology will be tailored to passenger size, posture, seatbelt usage and how close the passenger is to the actual airbag. Moreover, adaptive airbag systems may adjust the pressure within the airbag based upon the type of accident and size of the occupant.
Although they are invaluable safety features, airbag defects can cause failure or injuries during any stage of deployment.
What Types of Airbag Injuries Can Result from Defects?
When an airbag deploys, it inflates with a tremendous amount of force. However, manufacturing and/or design defects can lead to total airbag failure, leaving motorists unprotected during a wreck. Some defective airbags may explode outwards too forcefully, causing injury to the chest, neck, and brain. Our attorneys have even seen facial/nasal bone fractures from the deployment. Other airbag defects may result in delayed deployment. In these cases, a motorist may sustain initial injuries from striking the wheel or dashboard. Then, secondary injuries may result when the airbag goes off, especially if the person's head and face are close to the airbag.
In some instances, defective airbags may cause even more extensive and possibly fatal injuries. Gene Riddle successfully handled a claim several years ago where a driver's front airbag deployed, killing the driver, even though the impact was to the side and rear of the vehicle. The airbag manufacturing company Takata recently issued a series of recalls for exploding airbags, affecting millions of cars. These defective airbags can release metal shrapnel into the chests and faces of drivers during deployment.
Some of the most common airbag injuries during car crashes include:
Asthma Attacks
Bruises
Chest Injuries
Corneal Abrasions
Ear Injuries
Facial Injuries
Internal Bleeding
Lacerations
Nerve Damage
However, it is also important to note that while these safety devices are intended to protect passengers during an accident, depending on the size of the passenger, an occupant may still receive injuries in a collision. For this reason, young children should not sit in the front seat of most cars.
Airbag Injuries? Contact Our North Carolina Car Accident Lawyers Today
If you have been injured in a car accident, our North Carolina car accident attorneys at Riddle & Brantley offer free consultations. We have offices throughout North Carolina, including locations in Raleigh, Goldsboro, Jacksonville, and Kinston. However, we will visit you at home, the hospital or elsewhere for your convenience. We are available 24 hours a day, every day, to answer your questions.
Having achieved favorable verdicts and settlements for our clients, we are able to use our experience and knowledge for the benefit of our clients, while also forming lasting relationships.
For additional information about the locations we serve, or if you would like to schedule a free appointment with our attorneys, we welcome you to contact us today. All case reviews are completely free and all your information will remain confidential to our lawyers.