Typical Car Accident Settlement Amounts
"What is the Average Car Accident Settlement in North Carolina?"
Many of our client ask, "What is the average settlement in a car accident claim in North Carolina?" It may be frustrating, but the best and most honest answer is that really, there is no "average" car accident settlement. Every case is different, and the amount of compensation that a client may ultimately receive depends on the unique facts and circumstances of the case.
Remember, there are no guarantees in any car accident claim. However, a car accident lawyer can help increase the chances that you receive fair compensation in your injury case. For a FREE consultation with an experienced personal injury lawyer handling car accident claims, please call 1-800-525-7111.
The consultation is free and because we work on a contingency basis, you won't pay any upfront costs or attorney fees unless we win your case and you receive compensation.
Please call 1-800-525-7111 and let's review your claim.
Factors Influencing Car Accident Settlements
Many factors determine what an injured party ultimately receives in a car accident case, including types of car accident damages, medical bills, and the extent of the other driver's negligence.
Factors involved in determining a potential car accident settlement include:
Severity of injuries — Perhaps the most important factor in determining the value of a potential car accident settlement is the severity of the victim's injuries. Some injuries, such as cuts, scrapes, and contusions (bruising), require less medical treatment and may result in a smaller settlement. Other more severe injuries, like broken bones, traumatic brain injury, spinal cord injuries, and amputations, require extensive and expensive medical treatment (sometimes lasting a lifetime), and will typically result in a larger settlement.
Proving fault — The strength of your claim (and potentially, the amount of a potential settlement) will be based in large part on your ability to prove fault by the other driver. North Carolina is a contributory negligence state, which means that if you are even partially responsible for the accident, you may be barred from recovery. An experienced car accident attorney can help overcome contributory negligence defenses and strengthen your case by proving liability on the part of the other driver.
Lost wages — In many cases, a car accident means that the victim will be unable to work for a period of time. You may be entitled to recover compensation to make up for these lost wages in a car accident settlement.
Loss of future earnings — You may also be left unable to work in the same capacity as you could before if you suffer severe injuries in a car accident. A car accident settlement can take into account your lost earning potential and may compensate you accordingly, potentially resulting in a larger settlement.
Pain and suffering — A car accident settlement can also take into account the victim's pain and suffering, such as emotional trauma and loss of quality of life. The more pain and suffering you can document, the larger the potential settlement may be.
Seeking a Car Accident Settlement?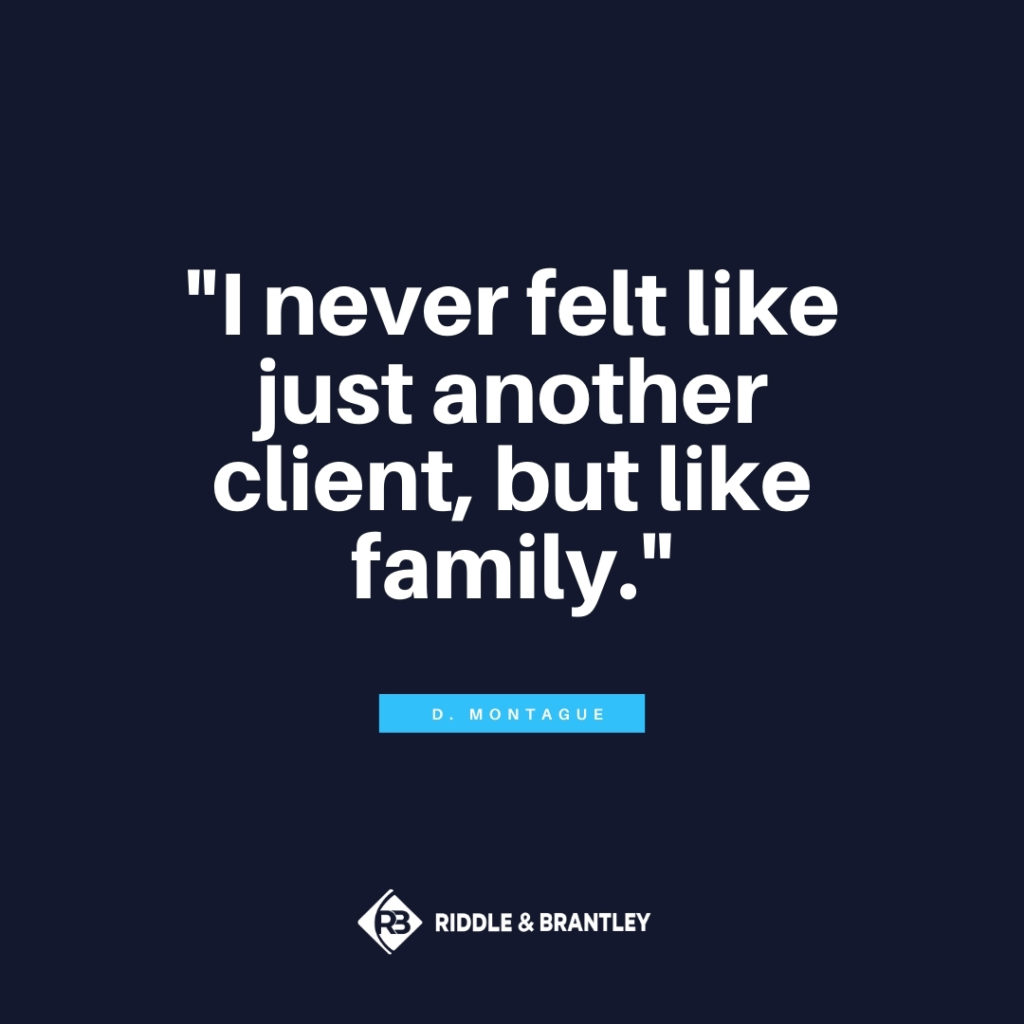 If you've been hurt in a car accident, call our experienced car accident lawyers immediately. Call 1-800-525-7111 for a FREE consultation where we can evaluate your claim, advise you on your legal options, and help prepare you for making a claim or filing a lawsuit.
We strive to treat every client like family and pride ourselves on providing the best possible client experience.
For a FREE, no-obligation consultation with an experienced car accident lawyer, please call 1-800-525-7111 or complete the fast and easy form below.
There is never any obligation, and you won't pay a dime in attorney fees unless we win your case and you receive compensation. If we don't get you compensation, you won't pay any attorney fees. It's as simple as that.
Please call 1-800-525-7111 and let's review your claim. Since 2000 alone, our attorneys have recovered more than $600 million in compensation for victims of others' negligence (see disclaimer below), including:
$2,750,000 — Riddle & Brantley recovered $2.75 million for the victim of a car accident who suffered extensive injuries due to the other driver's negligence. The car accident settlement was immediately followed by a separate $1 million declaratory judgment.
$2,250,000 — We recovered a significant settlement for the surviving family members of a young woman who was tragically killed in a head-on collision when a truck crossed the center line going at an excessive rate of speed. Attorney Gene Riddle knew the family personally and was honored to serve them in fighting for justice.
$1,625,000 — Attorney Gene Riddle and the Riddle & Brantley team were brought in by another law firm to help prove liability in this case involving a pedestrian who was struck by a vehicle while crossing a busy street. The victim suffered severe injuries, including traumatic brain injury. We brought in an accident reconstructionist to help prove fault and ultimately recovered $1.625 million in total compensation for our client.
"I never felt like just another client, but like family."
–D. Montague, Riddle & Brantley client
Please call 1-800-525-7111 today and let's review your case. If you've been hurt due to another's negligence in a car accident, you may deserve a significant settlement or verdict and we would love to help however we can.
Justice Counts.
---
*** Disclaimer: The results mentioned are intended to illustrate the type of cases handled by the firm. These results do not guarantee a similar outcome, and they should not be construed to constitute a promise or guarantee of a particular result in any particular case. Every case is different, and the outcome of any case depends upon a variety of factors unique to that case.