What is the Difference Between a Verdict and a Settlement in a Car Accident Claim?

Have you been injured in a car accident? You may be wondering, "What is the difference between a verdict and a settlement in a car accident claim?"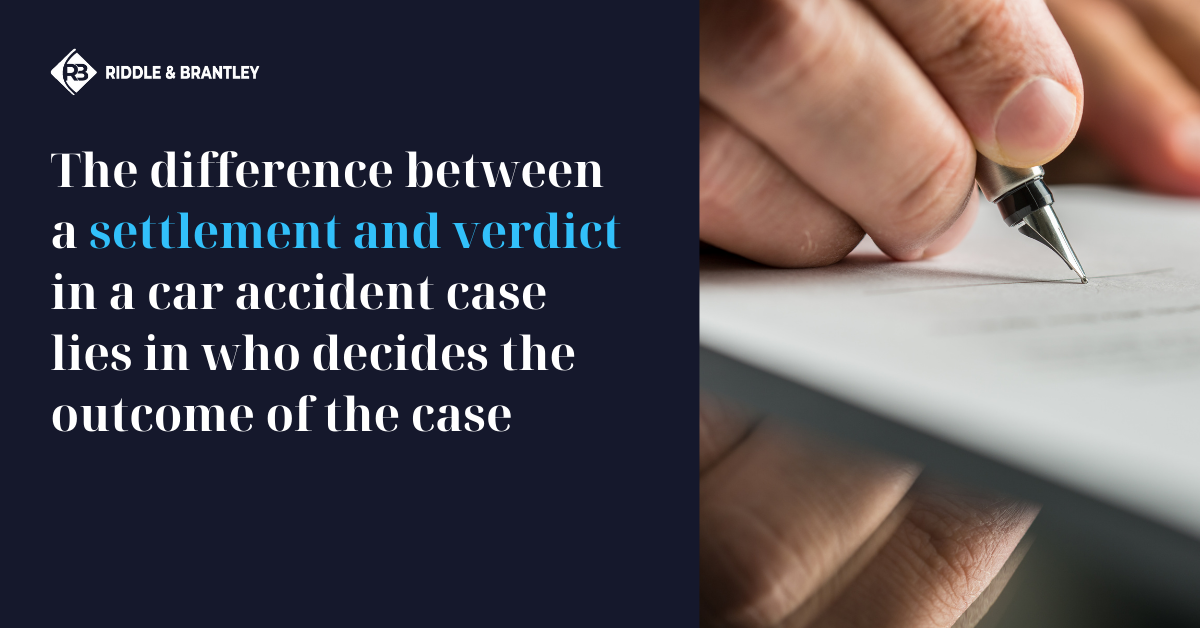 In a personal injury case, the difference between a verdict and a settlement lies in who decides the outcome of the case.
A verdict is a judgement or decision that is decided in court or in a hearing. A judge or jury renders a verdict after all of the evidence in a trial.
On the other hand, a settlement is a voluntary but binding agreement between two parties. In a car accident settlement, there is no determination from the court.
Settlements in Car Accident Cases
Most cases are settled — generally more than 90 percent of them.
Insurance companies typically want to avoid the legal expenses involved in going to trial. Many times, our clients also want to avoid the uncertainty of a trial. Sometimes two parties agree to a settlement before a lawsuit is filed. In other cases, the parties arrive at a settlement agreement only after the injured party has filed suit.
If the parties agree on a settlement, the injured party knows precisely the amount of compensation they will receive. A trial could result in a more sizeable amount by virtue of a verdict, however, it is important to note that legal fees will be higher, and there is the potential that the plaintiff may lose the case and receive nothing.
In some cases, settlements may be reached outside of normal negotiations between parties. In these cases, a settlement may be agreed to via mediation or arbitration proceedings.
Our firm has negotiated thousands of settlements in more than 35 years of fighting for justice for injured North Carolinians. We invite you to review our recent case results, including $9.45 million in total compensation negotiated in separate settlements in a major tractor-trailer accident case (see disclaimer below).
Verdicts in Car Accident Cases
In order to get a verdict in a personal injury case, a civil action must be filed and presented to the court. In North Carolina, civil trials can be bench trials or jury trials. A bench trial means the judge hears the case and renders a verdict without a jury. Either party has the right to demand a jury trial.
If the case goes to trial with a jury, the jury will be chosen and the trial will begin. Each side will present their testimony and evidence. Once arguments are concluded, the judge will give the jury instructions and send them out for deliberation. When the jury arrives at a decision, the verdict will be delivered in court.
Usually, the verdict will also state the amount of damages, if any, that the defendant must pay to the plaintiff. Finally, the judge will issue the court's judgement based on the jury's decision.
"How is a settlement reached in a car accident injury case?"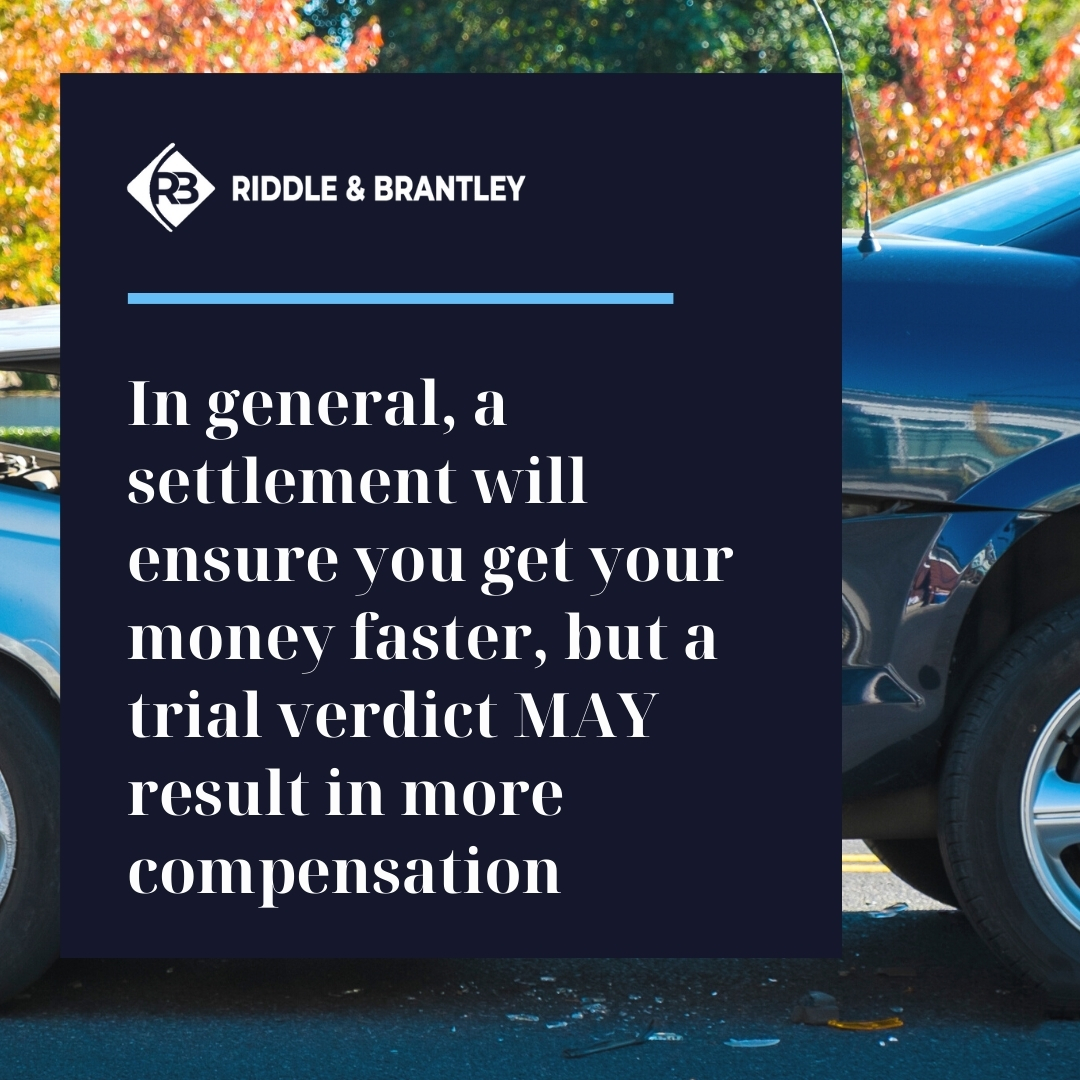 The parties may arrive at a settlement agreement at any time during a civil suit. In some cases, a settlement agreement may be made before the case is filed in court. This is called an out-of-court settlement. Many North Carolina personal injury cases end in out-of-court settlements.
In order for the case to settle, the at-fault party's insurance company must recognize the validity of the case. The costs in bringing the case may be reduced by settling out of court. In a settlement, the attorney representing the plaintiff usually presents evidence regarding the defendant's liability for the injury. If the attorney is persuasive and the insurance company believes they could lose in trial, they will usually make a reasonable settlement offer.
There are pros and cons to verdicts as well as settlements. You may want to reach a settlement agreement before a trial starts to receive compensation sooner. This can also reduce your legal costs and guarantee the financial compensation amount. A trial could result in a higher compensation amount — or it could result in no compensation at all. A trial can take much longer and if you are successful, the payout time can be longer.
Have You Been Injured in a North Carolina Car Accident?
At Riddle & Brantley we have been helping injured people in North Carolina for more than 35 years. Based on the facts and evidence of your claim, the North Carolina car accident lawyers at Riddle & Brantley will advise you of your best course of action.
If we think a settlement amount is high enough to cover all of your damages, we may advise you to take the settlement agreement. However, if the insurance company will not negotiate, or continues to offer a low-ball value for your claim, we may advise you to go to trial.
It is important to know that every case is unique. There is no one-size-fits-all approach to seeking justice and compensation in a car accident case. However, it is your case and your decision as to which avenue to choose.
If you or a loved one have been seriously injured because of another party's negligence, contact a North Carolina personal injury attorney at Riddle & Brantley.
After we evaluate your case, we will advise you of your options. At Riddle & Brantley, if you decide to hire us, we will fight aggressively so that you get a fair settlement, but if the insurance company refuses to negotiate, we may recommend filing a lawsuit and seeking a verdict in court.
"Riddle & Brantley found me all the available money from the insurance companies."
–David Howard, Riddle & Brantley
There are never any upfront fees and we don't get paid unless we get compensation for you.
Our attorneys have more than 220+ years of combined legal experience and are supported by a dedicated staff of investigators, paralegals and case managers committed to your success.
Justice Counts for you and your loved ones.
Contact us for a FREE, no-obligation consultation. We are ready to help however we can.
---
*** Disclaimer: The results mentioned are intended to illustrate the type of cases handled by the firm. These results do not guarantee a similar outcome, and they should not be construed to constitute a promise or guarantee of a particular result in any particular case. Every case is different, and the outcome of any case depends upon a variety of factors unique to that case.