What is the Duty to Mitigate Damages in a North Carolina Car Accident Case?

Car accidents can cause a wide range of injuries — from moderate to serious to life-threatening. However, even if you were badly hurt, through no fault of your own, it is essential to note that you still have a duty to mitigate damages in a North Carolina car accident.
We will explore this topic in more detail below, but in general, your duty to mitigate damages is to act reasonably to avoid or reduce the consequences of the accident.
This is known in North Carolina as the Doctrine of Avoidable Consequences.
If a plaintiff does not mitigate damages, they are still able to recover damages for their injuries. However, the amount that the plaintiff recovers may be reduced. In our many years of experience we have never had an insurance company or defendant successfully make this defense against one of our clients. Still, we want to provide you with knowledge about this possible defense.
What Does the Doctrine of Avoidable Consequences Require the Plaintiff To Do?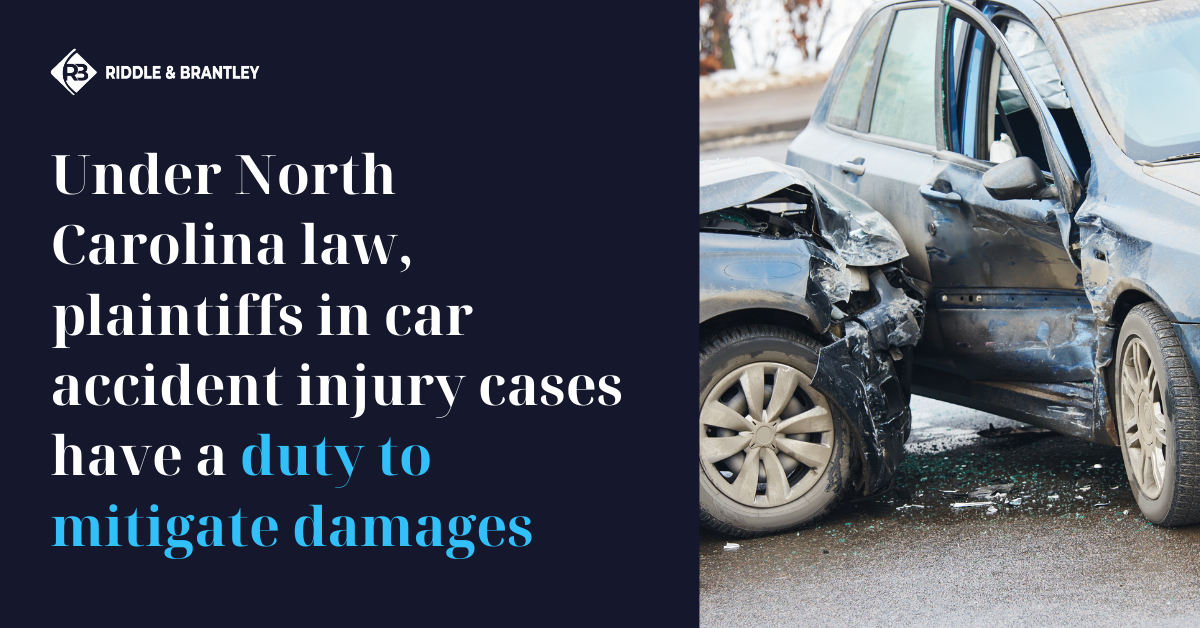 The jury instructions (those instructions a judge reads to a jury just before deliberation) discussing this issue state the following: "On this issue, the burden of proof is on the defendant. This means the defendant must prove, by the greater weight of the evidence, the amount, if any, by which the plaintiff's actual damages should be reduced because of the plaintiff's unreasonable failure to avoid or minimize his injuries."
Further, the plaintiff must "use that degree of care which a reasonable person would use under the same or similar circumstances to seek treatment, to get well and to avoid or minimize the harmful consequences of his injury."
In other words, if the plaintiff could have avoided the damages by acting reasonably — to alleviate his or her pain or suffering — he or she would not be able to recover for those damages. It is important to note that for the at-fault party's defense to work, this failure to avoid these damages must be found to have been unreasonable.
What Are Some Reasonable Steps A Plaintiff Can Take to Mitigate Damages?
Every case is unique in terms of its own fact patterns, so there is no one-size-fits-all prescription for which actions a North Carolina personal injury lawyer would recommend to a plaintiff. However, here are some of the more common scenarios where a plaintiff has an opportunity to act reasonably to minimize the consequences of their injuries:
The plaintiff should seek immediate medical attention for any known injuries or ailments.
If the plaintiff is no longer able to perform the required duties at their regular job, they should make a good-faith attempt at finding alternate employment if reasonable under the circumstances.
If there is a surgery or medical procedure recommended to the plaintiff, it could be viewed as unreasonable if the plaintiff declines to pursue it.
A qualified personal injury lawyer would advise the injured party to limit the number of doctors and physical therapy appointments that they miss. The more appointments the plaintiff misses, the more it appears that either the injury is not that serious, or the plaintiff is not making a reasonable effort to heal. 
There are no upfront costs and we don't get paid unless you do. You won't pay a dime in attorney fees unless we win your case and you receive compensation.
Hiring the Right Attorney Can Help You
The defendant in your car accident lawsuit may raise the Doctrine of Avoidable Consequences as a defense to your claim. Insurance companies seek to minimize the amount of your financial recovery and will, therefore, closely monitor what you do in the aftermath of your accident.
Having an experienced North Carolina car accident lawyer on your side can help maximize the value of your case. Our car accident lawyers at Riddle & Brantley have over 225 combined years' worth of experience.
We've recovered millions of dollars in compensation for victims of car accidents in North Carolina (see disclaimer below), and we'd love to assist you in your car accident claim if we can.
Recent wins include:
$2,750,000 – We represented a plaintiff who was seriously injured in a head-on car accident, suffering multiple fractures to his neck, legs, and arms. This was later followed by an additional $1,000,000 declaratory judgment against an insurance company granting coverage under one of the motor vehicle policies at issue.
$2,250,000 – Attorney Gene Riddle represented a family he knew personally after a young woman died in a truck accident when the other driver crossed the center line and hit her vehicle head-on. We partnered with attorney David Kirby of Kirby Edwards law firm in Raleigh to investigate the claim and settled with the insurance company for $2.25 million in total compensation.
$1,000,000 – We fought for justice on behalf of our client who suffered extensive injuries after an auto accident in Goldsboro, North Carolina. Unfortunately, our client lacked health insurance coverage, so we assisted her in applying for Medicare and helped coordinate her care with the necessary medical providers on a lien basis. We were also able to secure a reduction agreement with the client's medical providers, reducing a very large emergency room bill by 75%. We were able to negotiate with the defendant's insurance carrier to quickly secure a significant settlement in a very complex case.
Call Riddle & Brantley for a Free Consultation
Questions about the duty to mitigate damages in a North Carolina car accident case? Contact us today to schedule your free consultation. Because we work on a contingency-fee-basis, there are no upfront legal fees. We only get paid when you do.
There is no obligation and you won't pay any attorney fees unless we recover compensation for you.
You deserve justice and we would love to help you if we can.
Justice Counts.
---
*** Disclaimer: The results mentioned are intended to illustrate the type of cases handled by the firm. These results do not guarantee a similar outcome, and they should not be construed to constitute a promise or guarantee of a particular result in any particular case. Every case is different, and the outcome of any case depends upon a variety of factors unique to that case.