"Who is Liable in a Multi-Car Accident in North Carolina?"

Auto accidents can happen in the blink of an eye. In many cases, these accidents involve multiple cars and determining who exactly is at fault in a multi-car accident can be tricky. Furthermore, there might be multiple parties responsible for causing the collision. In this article, we'll answer the question, "Who is liable in a multi-car accident?"
IMPORTANT: If you were injured in a multi-car accident in North Carolina, we can help determine who is liable and we may be able to help you obtain compensation for your injuries. Please contact us today for a FREE, no-obligation consultation with an experienced personal injury lawyer today.
What is a Multi-Car Accident?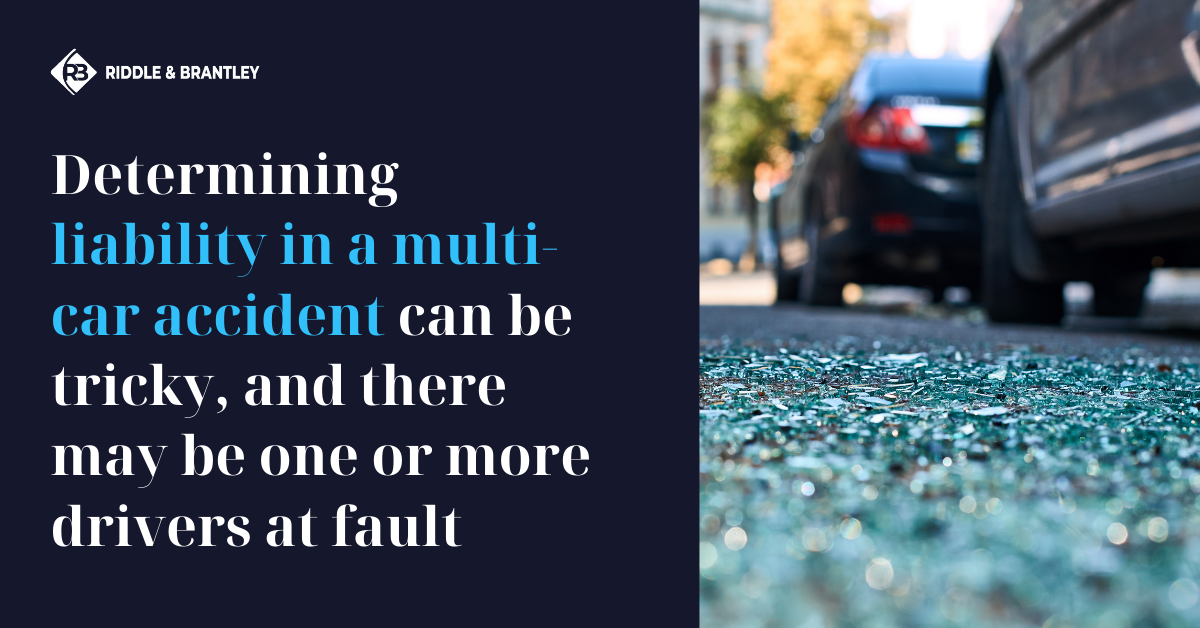 A multi-car accident means that three or more vehicles were involved in the collision.
When there are multiple parties involved in an accident, it can sometimes be difficult to determine fault. In some situations, one driver's negligence could result in a multi-car collision. In other cases, multiple drivers could be deemed to be at fault for the accident.
Whether your accident involved one at-fault or multiple at-fault parties, it is extremely important to contact an experienced car accident lawyer to help determine who is liable in a multi-car accident.
You can also complete the fast and convenient form below.
There is no obligation and we don't get paid unless you do. If we don't recover compensation for you, you won't pay any attorney fees.
Please contact us to speak with a North Carolina attorney handling multi-car accidents. We can help you determine who is liable in your multi-car accident and, if you decide to hire us, fight aggressively for your right to justice and compensation.
Determining Liability in a Multi-Car Accident
Multi-car accidents can occur in a variety of ways. One of the most common multi-car collisions we see is the multi-car rear end crash.
Generally, in these cases, a driver rear ends another car and subsequently pushes that car into a third vehicle. Fault for all multi-car accidents is determined on a case-by-case basis.
In the scenario provided above, the at-fault driver is the one that caused the first collision, thereby starting a chain reaction. However, if the second car was tailgating or speeding, then that driver could also be found negligent and contributing to the accident. It is important to note that North Carolina law applies contributory negligence for auto accidents. This means that even if a driver is deemed to be only 1% at fault for contributing to the accident, their recovery could be barred.
Contributory negligence is a complicated legal issue, which is why having an experienced auto accident attorney on your side is imperative in multi-car accident and other injury cases.
Joint and Several Liability in Multi-Car Crashes
In addition to contributory negligence, North Carolina also uses joint and several liability. Under joint and several liability, a personal injury plaintiff can collect all compensation from one at-fault party.
In other words, if there is more than one negligent party at fault for your injuries, then you can recover all of your damages from one party.
Accordingly, it is up to the defendants to decide the amount each of them should pay for your injuries. While joint and several liability can allow the claimant to recover from one sole party, issues can arise when there is not enough coverage for the damages the claimant sustained. In these situations, it might be best to file against all at-fault parties involved.
In addition, it is also possible to settle with just one at-fault party and sue the other one. This is accomplished by executing a joint tortfeasor release with just one party, specifically preserving your right to pursue compensation from the other at-fault party.
Though this is rarely done, we have successfully done this in the past for our clients.
"What happens if none of the at-fault parties has enough coverage?"
If none of the negligent parties has enough coverage to fully compensate you for your injuries, your attorney might suggest that you also file under your underinsured policy.
Our legal team has handled thousands of various claims involving multiple levels of insurance. We have the experience to help you recover for your injuries.
We will review your claim, help determine who is liable in your multi-car accident, and advise you on your best legal options.
You deserve justice and you may be entitled to compensation from an at-fault party in your multi-car accident in North Carolina.
How a Riddle and Brantley Attorney Can Help You
The legal team at Riddle & Brantley understands the long-lasting effects auto accidents can have on you and your loved ones.
After a multi-car accident or other type of auto crash, medical bills and other financial strains begin to stack up. We want our clients to focus on their recovery. If you decide to hire us, let our firm handle all of your legal matters. The car accident lawyers at Riddle & Brantley have more than 220+ years of combined legal experience handling all types of injury claims, including those involving multiple vehicles.
We can help determine who is liable in a multi-car accident in North Carolina.
With multi-car accidents there are often multiple at-fault parties and insurance companies involved. We have extensive experience dealing with various at-fault defendants and their respective insurance companies.
Once we sign your case, our dedicated legal team will start investigating your claim. At Riddle & Brantley, we have retired law enforcement officers leading all serious multi-car accident investigations. We want to make sure we hold all potential liable parties accountable and find all available coverage for your claim.
In select situations, our investigative team has been able to overturn liability determinations stated in accident reports and revealed that other parties were also negligent. For multi-car collisions, it is extremely important to do an in-depth investigation because there could be several different types of coverage.
"Riddle & Brantley found me all the available money from the insurance companies."
–David Howard, Riddle & Brantley client
You deserve justice and may be entitled to compensation.
We are more than happy to review your case and provide you with advice on how to best proceed with your case.
Let's review your case and help determine who is liable for your multi-car accident in North Carolina.
Justice Counts.