How is Fault Determined in a Motorcycle Accident in North Carolina?
Determining fault in a motorcycle accident can be difficult, and often requires a comprehensive investigation.
Insurance adjustors, often with the aid of law enforcement, will examine the circumstances and evidence of a motorcycle accident to determine which parties were responsible for causing or contributing to the crash, or if multiple parties were partly to blame. Crash site evidence, verbal admissions of the drivers, eyewitness testimony of bystanders, dashcam video, police reports, and security camera footage may all be used to determine who was at fault.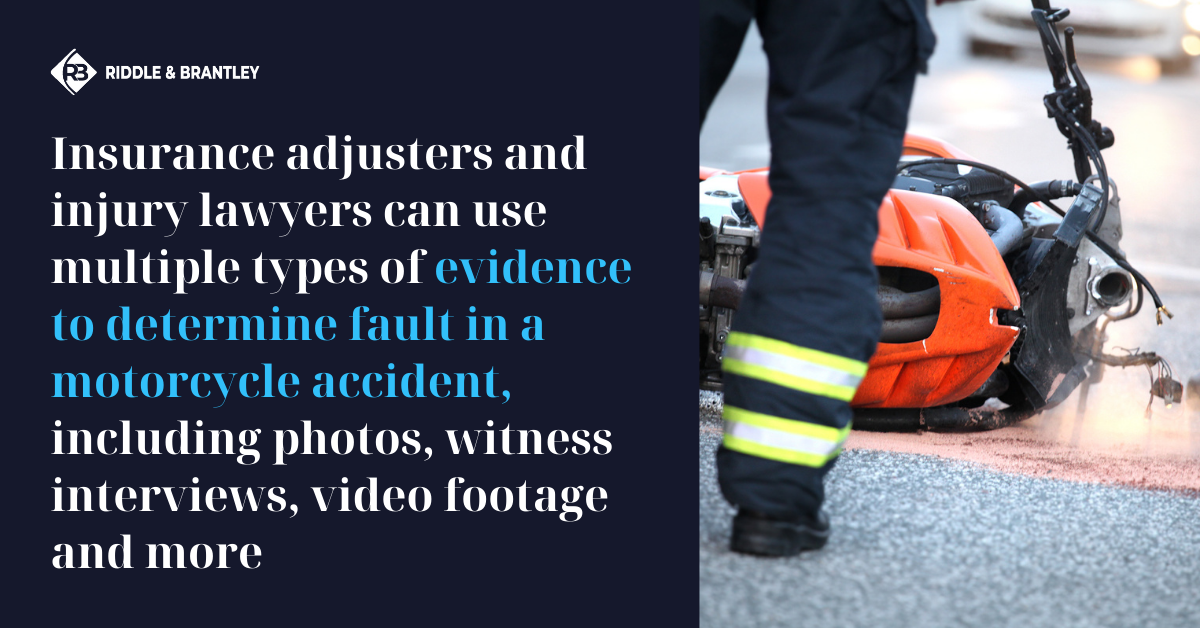 To legally be considered "at fault," a driver or motorcyclist must have acted negligently, which means that they must have failed to exercise the amount of caution that a reasonable person would have exercised under the same conditions. Personal injury law firms working on behalf of clients involved in the crash may also conduct their own independent investigations and may file a lawsuit if their findings contradict the insurer's conclusions.
At Riddle & Brantley, our experienced motorcycle accident lawyers have a proven track record securing millions of dollars in settlements and jury awards (see disclaimer below). If you were hurt in a motorcycle crash, protect your rights to compensation by calling 1-800-525-7111 for a free no-obligation consultation with a dedicated North Carolina personal injury lawyer.
You have nothing to lose by contacting us today, as you never owe us attorney fees unless we recover compensation on your behalf.
Call 1-800-525-7111 today and let an experienced North Carolina motorcycle accident lawyer review your case for free and at no obligation.
How Do I Prove That the Other Driver Was Negligent?
To legally prove that another party was negligent in a motorcycle accident, you will need to show the following:
The other driver owed you a duty. This standard is easily met, as any driver on the road owes all others the duty of following all traffic laws and regulations.
The defendant breached this duty. Examples include failing to yield on a left turn, running a red light, or speeding.
This breach is what caused your accident. A link must be established between the defendant's breach and your crash.
You were injured as a result of this crash.
How Will Your Lawyer Build Your Case?
Following your crash, your motorcycle accident lawyer will immediately begin investigating and building your case. You can consult with our attorneys at Riddle & Brantley for free by calling 1-800-525-7111.
The process of building a case often resembles a giant puzzle that your attorney puts together one piece at a time. To build your case, your lawyer may use the following evidence in a motorcycle accident case:
Visual evidence such as photographs of the accident scene, your vehicle, or your injuries, or video footage of the accident from adjacent stores, red light cameras, or even dashboard cameras.
Eyewitness testimony is often crucial in terms of enhancing your credibility or filling in any gaps in information. This can come from other passengers on your motorcycle, bystanders who witnessed the crash, or even other drivers on the road that saw and/or heard what took place.
Law enforcement will arrive at the scene of the crash as soon as possible, and the accident report filed by the police will contain your side of the story, the other driver's side of the story, and the officer's objective and informed opinion of what happened.
Your medical bills are invaluable in proving the existence and severity of your injuries. For this reason, it is always in your best interest to seek medical attention right away following a motorcycle crash, even if you do not feel that you need to see a doctor immediately.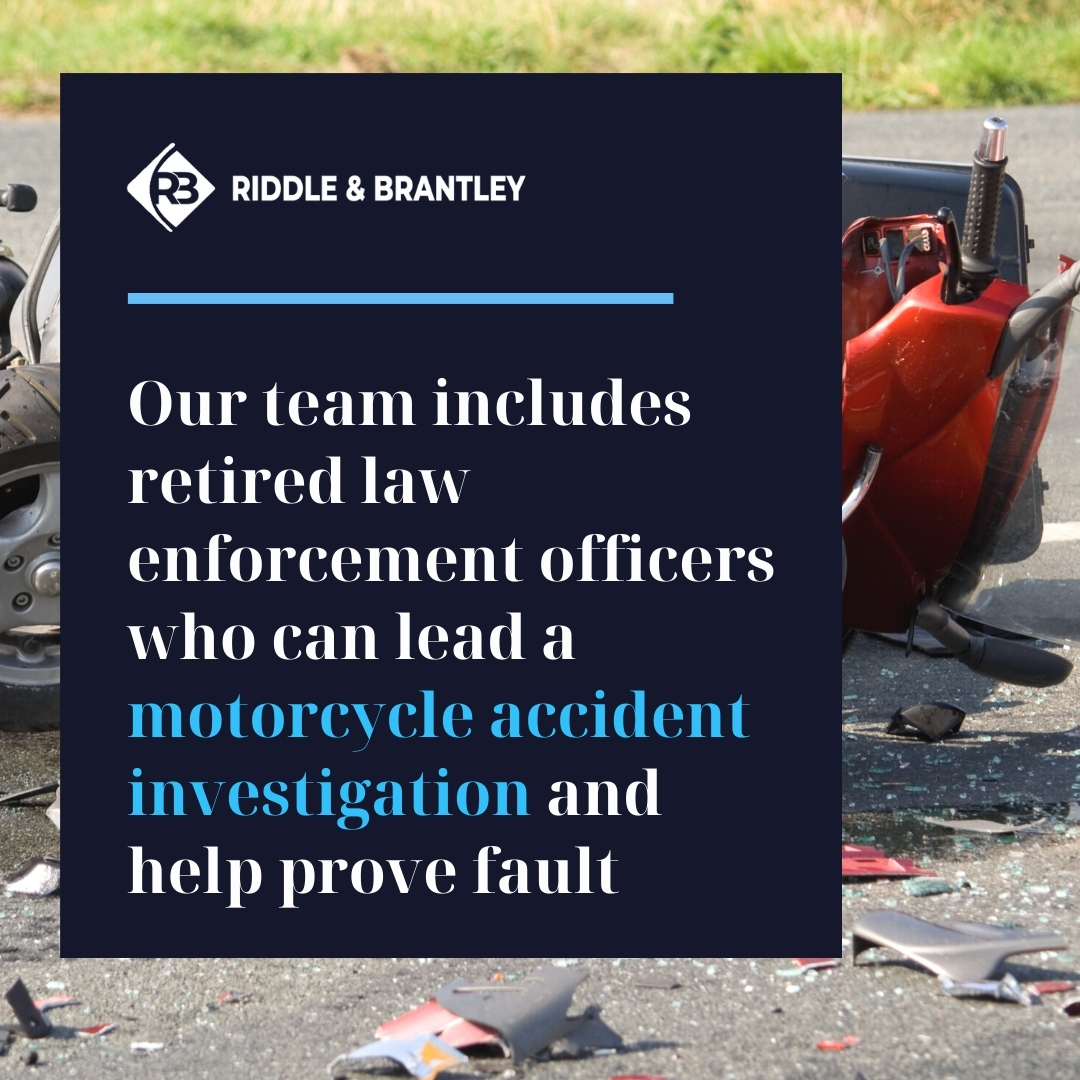 At Riddle & Brantley, our team includes several investigators who can help lead a comprehensive motorcycle accident investigation to determine fault and build your case. These investigators are retired law enforcement officers who are very familiar with investigating motor vehicle accidents in North Carolina.
In many cases, we'll even bring in outside experts like accident reconstructionists to help prove liability. In one recent case, we even subpoenaed traffic data from Google Maps.
Our Results
$1.05 Million Motorcycle Accident Settlement
In one recent case, our client was a passenger on a motorcycle and suffered memory loss, traumatic brain injury, and multiple fractures to the right eye, sternum, and back in a crash. We reached a settlement of $1.05 million, representing the maximum insurance coverage available on behalf of our client, prior to filing a lawsuit (see disclaimer below).
Schedule Your Cost-Free Consultation Today 
At Riddle & Brantley, we believe Justice Counts. Our attorneys have more than 220+ years of combined experience, and we would be happy to help make sense of your situation and guide you through the next steps forward.
To schedule your free, no-obligation motorcycle accident lawsuit consultation, call us today at 1-800-525-7111 or reach out through our easy online contact form.
"Riddle & Brantley is a version of the Legal Dream Team." 
-Elizabeth Ramos, Riddle & Brantley client
Call us today and let us help you get on the road to recovery. Justice Counts.
---
 *Disclaimer: The results mentioned are intended to illustrate the type of cases handled by the firm. These results do not guarantee a similar outcome, and they should not be construed to constitute a promise or guarantee of a particular result in any particular case. Every case is different, and the outcome of any case depends upon a variety of factors unique to that case.