Why Do I Need a Lawyer for My Motorcycle Accident Claim?
If you are concerned about the outcome of your motorcycle accident claim, it is vital that you seek out the guidance of a personal injury lawyer right away. While you are not required to hire an attorney, you will find yourself at a significant disadvantage if you take on your case yourself.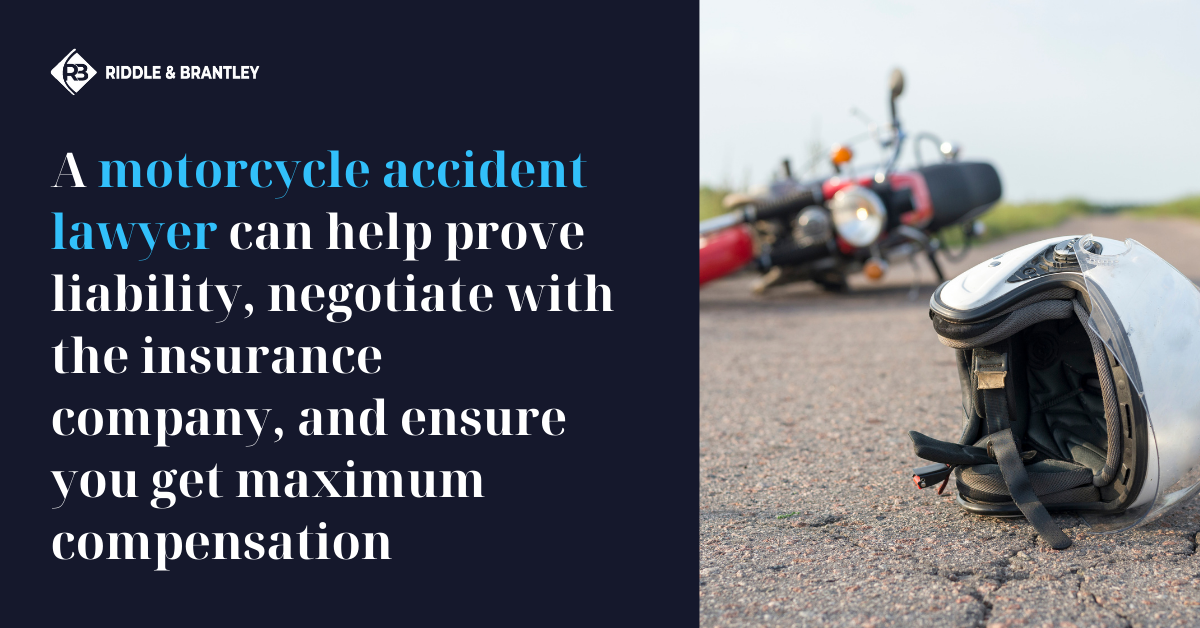 Insurance companies have armies of well-trained claim adjusters and lawyers. They know how to diminish their liability and negotiate settlements in their best interest, not yours. Let our team at Riddle & Brantley help you maximize your financial compensation and deal with the insurance company. Call 1-800-525-7111 to schedule your FREE, no-obligation consultation.
As always, the consultation is free and there are no upfront costs or attorney fees unless we win your case and you receive compensation. Call 1-800-525-7111 today and let's talk.
Establishing Liability in Your Motorcycle Accident Case
Before you can seek a monetary settlement following a motorcycle accident, you must first develop a theory of liability. Not every crash will result in a monetary award. If you cannot make a case for negligence against the other motorist, their insurance company will not be interested in paying out a settlement.
Our attorneys will investigate your case and develop a strong theory of liability. This effort starts with discussing the specifics of your accident with you and reviewing the police report. The investigation phase may also involve reviewing traffic camera footage or interviewing independent witnesses.
In some cases, we even bring in outside experts such as accident reconstructionists to help prove liability and strengthen our clients' cases. In every situation, however, the motorcycle accident investigation is guided by our experienced team of investigators. These are retired law enforcement officers on staff at Riddle & Brantley.
Serving as Your Advocate
When you hire an attorney to handle your motorcycle accident injury claim, you are also hiring an advocate. Our team of attorneys can serve as your voice throughout the litigation process. We can speak on your behalf in court and handle negotiations with your health insurance and the other motorist's liability provider.
You don't have to do this alone. Let our experienced team of North Carolina motorcycle accident lawyers help. Call 1-800-525-7111 for a free, no-obligation consultation.
Handling Your Medical Bills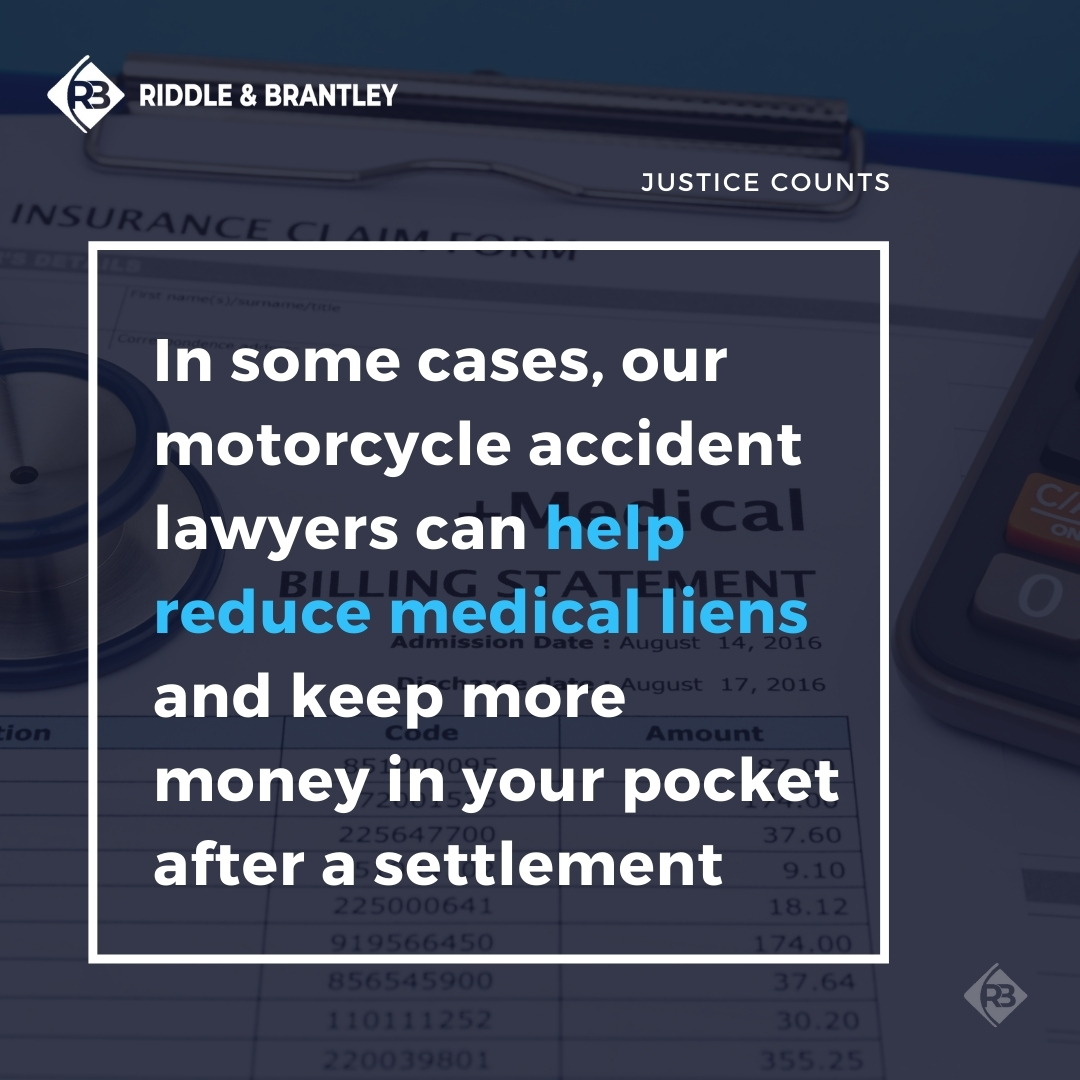 We can also assist with your motorcycle accident in North Carolina by dealing with your medical expenses. For serious injuries, you will face numerous bills from more than one medical care provider. Our attorneys can help in compiling your medical records while building your case for compensation.
In addition, we can help you manage your medical liens and resolve these bills during the settlement process. By putting your case in our hands, you remove some of the stress of the accident so you can focus on rebuilding your life.
In some cases, we've been able to successfully negotiate a reduction in medical liens so that our clients can keep more money in their pocket after a motorcycle accident settlement.
For a FREE consultation with an experienced North Carolina motorcycle accident lawyer, please call 1-800-525-7111.
The consultation is free and you won't pay any attorney fees unless we win your case and you receive compensation.
Please call 1-800-525-7111 and let's review your motorcycle accident injury claim today.
Dealing with Insurance Companies
Negotiating with the insurance companies is one of the primary ways we can help you maximize your financial recovery. Even in cases where the insurance company acknowledges their driver was at fault, carriers are unlikely to willingly offer a reasonable settlement amount.
Our approach to negotiating motorcycle accident claims has turned five-figure settlements into six-figure settlements, and in some cases, six-figure settlements into seven-figure settlements (see disclaimer below). Recently, we resolved a motorcycle accident case by obtaining a fair settlement offer from the other side and negotiating with our client's health insurance provider to reduce the amount of their healthcare lien. The result was more money in our client's pockets (See disclaimer below).
How Our North Carolina Motorcycle Accident Lawyers Can Help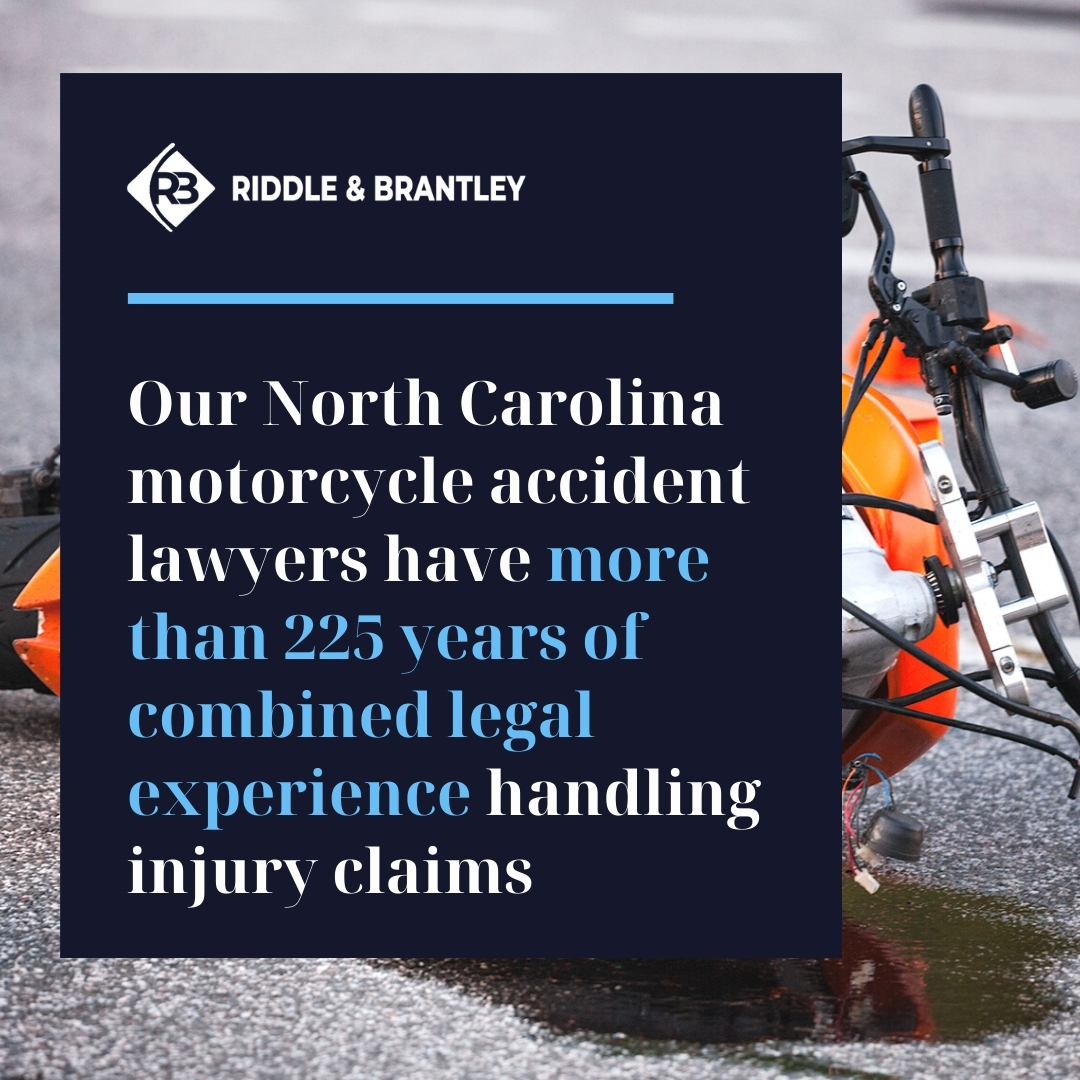 At Riddle & Brantley, we have a long track record of resolving personal injury claims. We understand that aggressively pursuing your case can help move it toward a positive outcome. We are ready to put our attorneys' 225+ years of combined experience to work for you.
Our team of attorneys is ready to pursue the party responsible for the accident and hold them and their insurance company accountable. If you are ready to learn more about your options, call 1-800-525-7111 to schedule your free consultation right away.
"Riddle & Brantley found me all the available money from the insurance companies."
-David Howard, Riddle & Brantley Client 
Do not put your claim at risk by working it on your own. Contact Riddle & Brantley for a free consultation. A motorcycle accident lawyer is ready to help you. Remember, we believe that Justice Counts!
---
Disclaimer: The results mentioned are intended to illustrate the type of cases handled by the firm. These results do not guarantee a similar outcome, and they should not be construed to constitute a promise or guarantee of a particular result in any particular case. Every case is different, and the outcome of any case depends upon a variety of factors unique to that case.