"How Do I Maximize My Personal Injury Settlement?"
A personal injury settlement is probably the furthest thing from your mind immediately after an accident, but taking steps like preserving evidence, keeping records, and seeking medical attention as soon as possible can help your claim.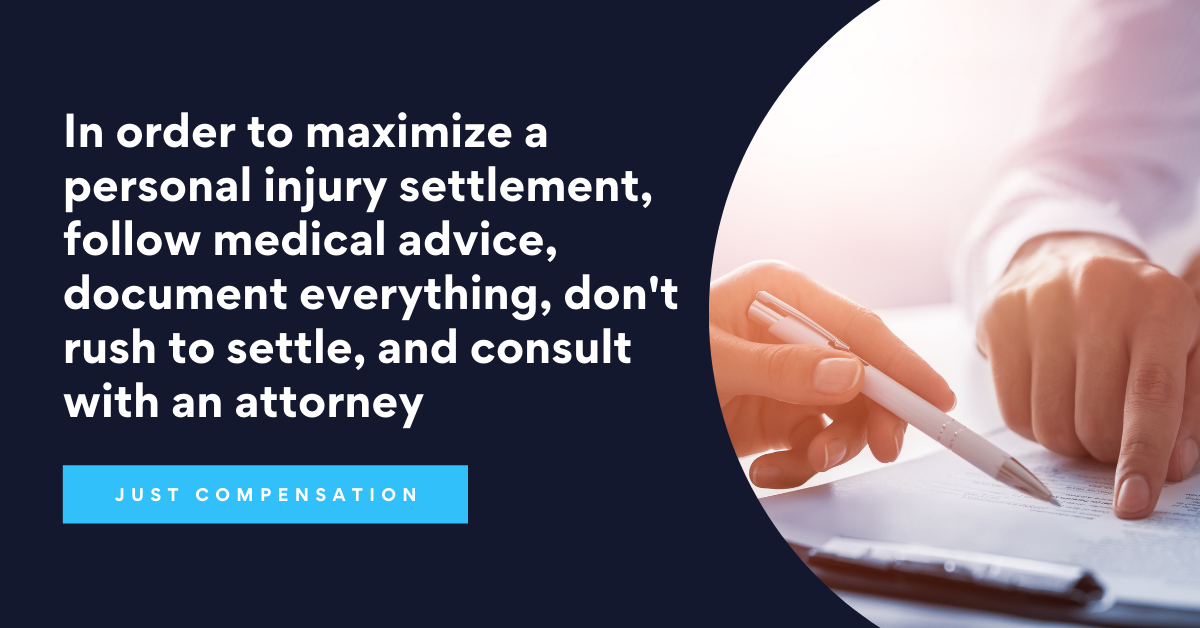 To avoid leaving money on the table, you must account for all of your losses and have a strong advocate who will not settle for less than you deserve. If you have been injured because of someone else's carelessness, a North Carolina personal injury lawyer may be able to help you receive the maximum compensation for your claim. Call Riddle & Brantley at 1-800-525-7111 for a free, no-obligation consultation today.
Steps to Take After an Accident
Here are a few steps you can take to get the most out of your personal injury claim:
Seek medical attention. Seeing a doctor as soon as possible after the accident is important for several reasons. First, it helps validate your injury. Second, some injuries are not immediately recognizable, but early diagnosis and treatment can improve the speed and completeness of healing.
Document everything. Anything physical that can corroborate parts of your claim, including ambulance bills and emergency room discharge papers, photographs of the accident site, police reports, and surveillance video, will bolster your position when it comes time to negotiate a settlement value.
Watch what you say. As a general rule, you should only speak about the accident or your injury with your attorney. This means it is smart to avoid social media and even avoid discussing your situation with friends and acquaintances. Unless privilege applies, a defense lawyer can question anyone you spoke with about the accident. Even the most unrelated Facebook or Instagram photos can be used to cast doubt on your injury. Keeping a low profile pays in the long run.
Do not rush to settle. Unless the other party engaged in fraud, there is usually never a chance to revisit a settlement amount once the claim is settled. Even though you may have medical bills and other obligations that create pressure to get settlement funds quickly, you may short-change yourself.
Know your full scope of damages. A personal injury settlement should include not only past damages but also damages for future losses. Losses that have not yet occurred are recoverable but must be shown with reasonable certainty, so you may need expert medical opinions to outline recommended medical treatment down the line, or an economist to calculate the lifetime financial impact of your time off of work or reduced earning capacity.
Prepare for trial. Most personal injury claims are settled voluntarily, without a trial, but the preparation that you put into preparing a case for trial positions it for a better settlement. Actively gathering evidence and participating in the court process lets the defendant's lawyers know you are taking things seriously and are willing to fight for what you deserve.
It may seem like a lot to manage when you have to focus on recovering from an injury, but at Riddle & Brantley, our team is here to help. We know the process and can provide a personalized analysis of your case to calculate its worth. Call (919) 778-9700 today to schedule a FREE consultation.
Highlight: ARBITRATION AWARD: $2,750,000*
ATTORNEY: DONALD DUNN
Plaintiff was seriously injured in a head-on motor vehicle collision. Our client suffered multiple fractures to his leg, arms, and neck.
The award was followed by a $1,000,000 declaratory judgment against the insurance company.
*See disclaimer below.
"I felt very confident in Riddle & Brantley representing me. I would not hesitate to recommend them at all."
-Kathleen Y.
North Carolina Personal Injury Lawyers Can Help
Insurance industry research confirms that when people who have been injured in accidents are represented by counsel, on average, they settle their cases for roughly three times the amount of money than those who represent themselves. Reasons for this include that attorneys:
Understand what cases are worth, including intangible losses like pain and suffering and long-term damages
Are experienced at identifying potential defendants
Are not easily intimidated
Understand the process and how to build a strong case
It is very difficult to settle an accident claim on your own for its full value. Rather than risk leaving money on the table, speak with a personal injury attorney at Riddle & Brantley. We believe Justice Counts. We never give up fighting for injured clients, and we never charge any attorney fees unless we win your case. Call 1-800-525-7111 today to set up a free case review.
---
* Disclaimer: The results mentioned are intended to illustrate the type of cases handled by the firm. These results do not guarantee a similar outcome, and they should not be construed to constitute a promise or guarantee of a particular result in any particular case. Every case is different, and the outcome of any case depends upon a variety of factors unique to that case.