How Long Does a Personal Injury Lawsuit Take?
If you've suffered an injury in North Carolina, you may be wondering how long it will take for your case to settle or go through the court system if it goes to trial. The short answer is that it depends. The amount of time it takes to resolve your personal injury lawsuit in North Carolina depends on the unique facts and circumstances in your case, as well as a variety of other factors — not all of which are within you or your attorney's control.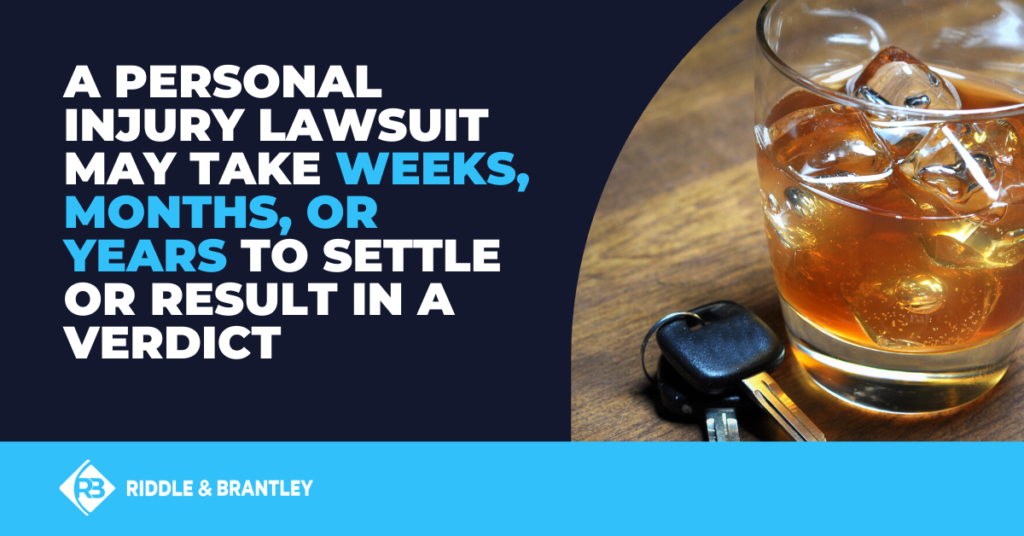 The North Carolina personal injury lawyers at Riddle & Brantley know this process can be stressful. Our attorneys strive to handle your case in a thorough and expeditious manner to help you get compensation as quickly as possible.
We know that our clients need compensation as soon as possible to pay any bills associated with the accident and get back to the life they deserve. Let Riddle & Brantley take the guesswork out of your injury case. We have helped thousands of North Carolinians get the compensation they deserve. Call us at 1-800-525-7111 or fill out the short form below for a FREE, no-obligation consultation and let's review your case.
There are no attorney fees unless we win your personal injury lawsuit and you receive financial compensation. Call 1-800-525-7111 and let's talk.
How Long Will My Personal Injury Lawsuit Take?
It is important to remember that the amount of time it takes to settle an accident case (or obtain a verdict in a trial) will depend on many factors.
Statute of Limitations in Personal Injury Cases
In North Carolina the statute of limitations for a personal injury case is 3 years from the date of the injury. Should you fail to file your lawsuit within the 3-year time span North Carolina courts will likely refuse to hear your case in the future and any right to compensation will be lost.
In death claims, the claim must be filed within 2 years of the date of death. Likewise, in most cases you will be barred from bringing a wrongful death case if the statute of limitations expires.
What Happens When Liability is Contested?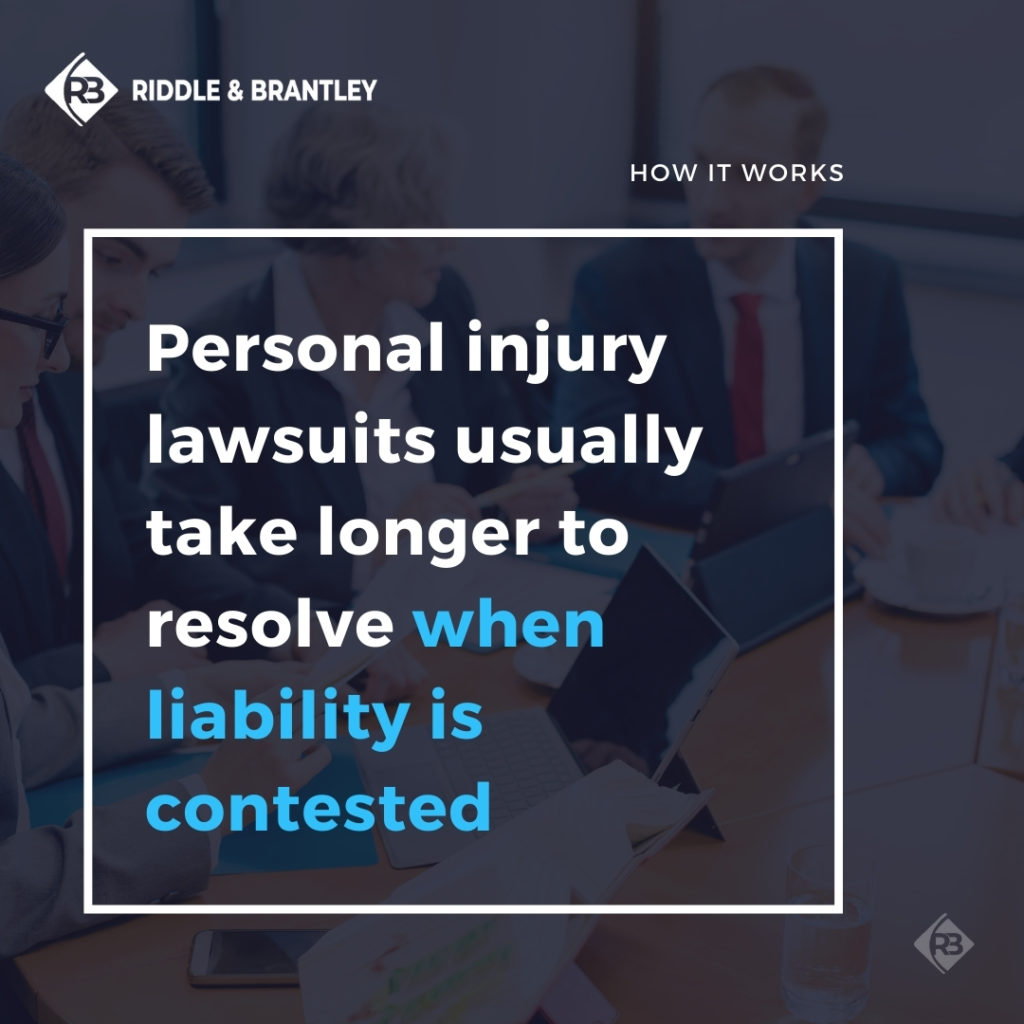 Some accidents are more straightforward than others. If another person is at fault and your injuries are clear, you may be able to settle with the person at fault rather quickly. However, If the accident involves other people or complex injuries, it could take longer to reach a settlement agreement.
In some personal injury cases, the person (or people) that you are filing a claim against may declare that you are fully or partially to blame for the accident. Should you share any degree of liability, it may affect your ability to pursue compensation. That's because North Carolina follows the rule of "pure contributory negligence," in which a plaintiff is barred from recovering compensation if they are even partially at fault for the accident.
However, there are ways to overcome a contributory negligence defense. At Riddle & Brantley, our North Carolina personal injury attorneys are experienced in proving fault, and in many cases we are able to successfully overcome the defendant's claim that the plaintiff contributed to the accident.
Last Clear Chance
One of the ways you can counter a contributory negligence defense is with the "Last Clear Chance" doctrine. Under this doctrine, if you can prove that the defendant had the "last clear chance" to avoid the accident, you can still recover compensation.
Gross Negligence
You can also defeat a contributory negligence defense by proving "gross negligence" on the part of the defendant. Gross negligence is typically defined as "willful or wanton" conduct that results in injury.
Our firm has experience using both the last clear chance and gross negligence doctrines to overcome the contributory negligence defense in North Carolina personal injury cases.
When liability is contested, it can mean that a personal injury lawsuit will drag on for even longer. That's why it's important for you to contact a personal injury lawyer right away, so he or she can immediately begin investigating your case and preparing the strongest argument possible.
 The consultation is free, and we don't get paid unless you do — if we don't recover compensation for you, you won't pay any attorney fees. It's as simple as that. Call 1-800-525-7111 and let's review your claim.
Do NOT Settle Quickly with an Insurance Company
If you're worried about how long a personal injury lawsuit or claim will take, it may be tempting to accept a quick settlement from the insurance company. However, this is almost always a mistake.
Insurance companies may reach out to victims of an accident to settle the claim quickly. It is wise to speak with a knowledgeable personal injury attorney who will represent your best interests before accepting any insurance settlement. Insurance companies generally try to increase their profits by offering the lowest settlement amounts possible.
In many cases, victims have expensive medical bills and may have to take time off work to recover. Furthermore, injuries that you were not expecting often show up weeks later. Once you accept a quick settlement from the insurance company, you cannot recover any other monetary compensation. So be sure to talk with an experienced personal injury attorney before accepting a quick settlement — even if it means that your personal injury case may take a little longer.
"When Should I Accept a Settlement?"
Settling a personal injury case may take a couple of months to over a year. Sometimes it is smart to settle the claim quickly with the at-fault person's insurance company (but as we said above, it's always best to consult with an experienced attorney first so you don't accept a low-ball offer).
When parties to a lawsuit settle out of court, they avoid a lengthy trial and the expenses and stress that go along with it. Taking a case through trial, on the other hand, can take years and settlements are quicker and more private. If the at-fault person does not have adequate insurance or the insurance payout is unfairly low, accident victims may need to file a lawsuit.
Worried About How Long Your Personal Injury Case Will Take?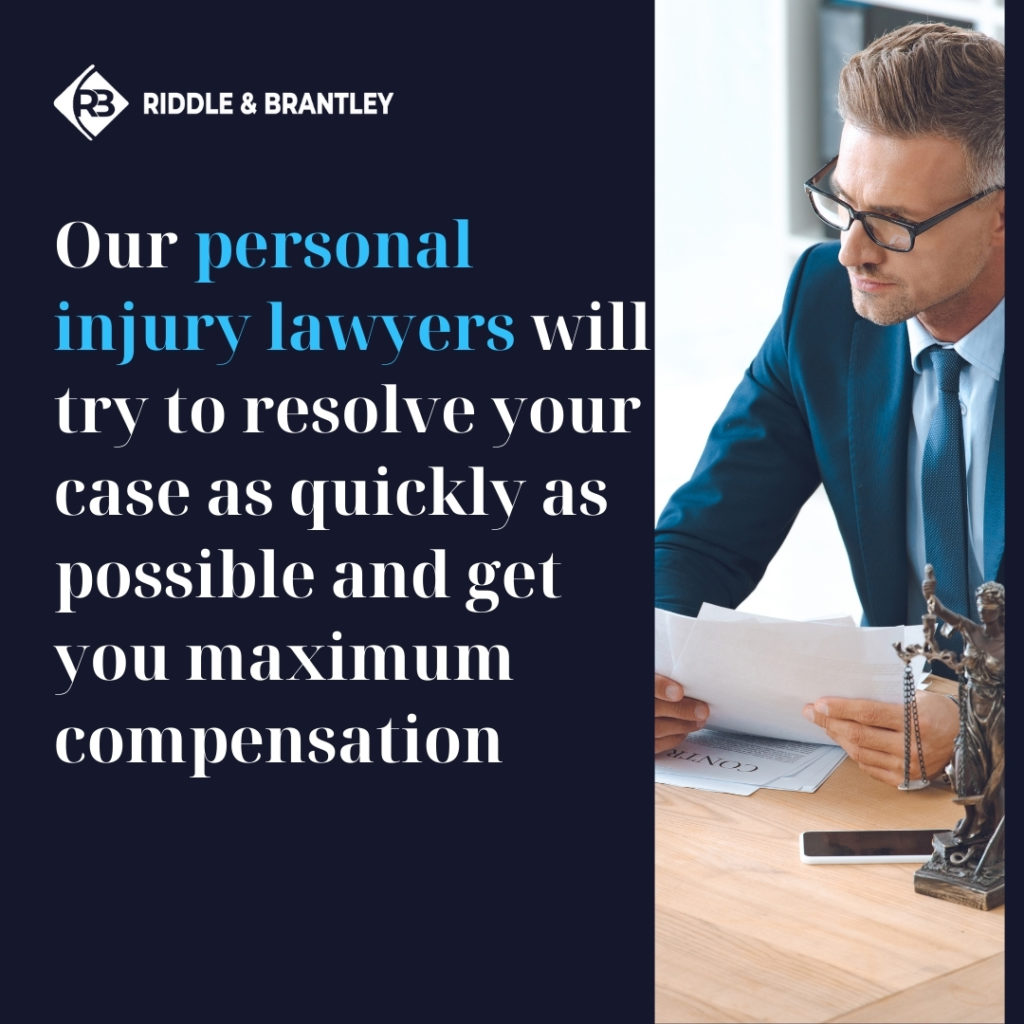 A personal injury lawsuit or claim may take weeks, months, or even more than a year to resolve. And because insurance companies will try to pay as little as possible, it's important to talk with an experienced attorney to help protect your legal rights and advise you on your best available options.
A settlement may get you compensation faster… but filing a lawsuit and taking a case to trial may be necessary if the insurance company is unwilling to negotiate a reasonable offer. Riddle & Brantley is ready to help. The consultation is always free, and we don't get paid unless we recover compensation for you.
Since 1985, we've recovered millions of dollars in compensation for our deserving clients, including over $600 million since 2000 alone (see disclaimer below).
In one recent case, we recovered more than $9 million on behalf of surviving relatives of a family of four who were killed in a terrible North Carolina highway crash (see disclaimer below). In this case, we subpoenaed Google Maps data in order to help prove liability.
Riddle & Brantley has been helping the injured in North Carolina for over 35 years. Our reputation speaks for itself. Let us help you. Please call 1-800-525-7111 or fill out the short form below for a FREE, no-obligation consultation.
"I felt very confident in Riddle & Brantley representing me. I would not hesitate to recommend them at all."
–Kathleen Y., Riddle & Brantley client
Don't wait — the longer you wait to contact us, the harder it may be to win your case and get you the compensation you deserve. Call 1-800-525-7111 and let's talk.
Justice Counts for you and your loved ones.
---
*** Disclaimer: The results mentioned are intended to illustrate the type of cases handled by the firm. These results do not guarantee a similar outcome, and they should not be construed to constitute a promise or guarantee of a particular result in any particular case. Every case is different, and the outcome of any case depends upon a variety of factors unique to that case.