Raleigh Personal Injury Lawyer
Do you need a personal injury lawyer in Raleigh?
If you've been injured in an accident in Raleigh or the surrounding area, an experienced Raleigh personal injury attorney can help make all the difference in getting you the justice and compensation you deserve.
At Riddle & Brantley, our Raleigh personal injury lawyers have been serving clients in the Triangle since 1985. Our attorneys live in Raleigh and the surrounding areas, and we are committed to fighting for justice for our fellow North Carolinians.
With convenient offices in Raleigh (we are on Glenwood Avenue and directly across from the Crabtree Valley Mall) and other surrounding NC cities, we are ready to fight for you.
For a free, no obligation consultation, please call us at 1-800-525-7111 or fill out the form below. There is no upfront cost and no attorney fee unless we win your case and get you financial compensation.
Raleigh is the second largest city in North Carolina, home to NC State University and the Carolina Hurricanes.  It is ranked as one of the best places to live in the United States by Money Magazine, U.S. News & World Report, and more.  464,000 residents call Raleigh home and 1.2 million people live in the Raleigh Metropolitan Statistical Area.  Unfortunately, as in any big city, accidents and injuries are also common here. The Raleigh skyline is littered with many construction projects where accidents occur. Highways I-40, I-440, US 70, US 64, US 1 and I-540 all run through and around Raleigh, and the busy highways can be dangerous for drivers and commuters alike.
We handle all types of personal injuries in the Raleigh area, including:
Car, truck, motorcycle, and pedestrian accident injuries
Premises liability injuries (injuries like slips and falls occurring on another person or business's property such as a restaurant or grocery store)
Workplace injury/Workers Compensation
Animal attack injuries, including bites by dogs, cats, and exotic animals
Sexual assaults/Excessive force by police
Defective medical device injuries
Defective consumer product injuries
Dangerous Over the Counter or prescription drug injuries
and many more…
We also handle mass tort claims, including injuries allegedly caused by exposure to Roundup weed killer, asbestos exposure, defective 3M military earplugs, Johnson & Johnson talcum powder / baby powder, Valsartan, Prozac, and more.
Every situation is different, and personal injury cases can get complicated very quickly.
In order to obtain the best possible settlement or judgment, you'll probably want a lawyer experienced in North Carolina personal injury law and familiar with Raleigh.
The nine personal injury attorneys at Riddle & Brantley have almost 200 years of collective legal experience, and have won multiple five, six, and seven-figure settlements and judgments for Raleigh-area clients, including:
Truck Accident / Wrongful Death | $5.45 million — Attorneys Gene Riddle and Kurt Dixon represented the family of four victims killed when a tractor trailer rear-ended their vehicle on a North Carolina highway. After completing a through crash site investigation, two truck drivers and a pavement marking company were determined responsible. After filing suit, Gene and Kurt obtained a settlement of $5.45 million from the two truck drivers' insurance companies. Litigation against the pavement marking company is still pending.
Auto Accident |$ 2.25 million — A speeding truck crossed a center line and hit the Plaintiff's vehicle head-on, resulting in both the deaths of both parties. Attorney Gene Riddle immediately organized a comprehensive accident investigation, which determined the truck driver responsible. After preparing a complaint and advising the Defendant's attorney of his intent to file, Gene obtained a $2.25 million settlement through mediation.
Personal Injury | $880,000 — Our client was accidentally shot with a .22 caliber gun while exiting a stopped vehicle. After suffering a traumatic spinal cord injury (but he was not paralyzed), our client's original claim was denied. Riddle & Brantley attorneys Gene Riddle and Kurt Dixon took the case, filing suit against the Defendant. Despite liability being disputed by the Defendant's insurance company, the suit was ultimately settled prior to trial for $880,000.
To learn more about our track record of success, check out more Riddle & Brantley case results.
*** Disclaimer: The results mentioned are intended to illustrate the type of cases handled by the firm. These results do not guarantee a similar outcome, and they should not be construed to constitute a promise or guarantee of a particular result in any particular case. Every case is different, and the outcome of any case depends upon a variety of factors unique to that case.
What exactly does a personal injury lawyer do?
A personal injury lawyer does far more than bring cases to trial, although that is sometimes necessary in order to get justice for the client.
Personal injury laws in North Carolina are complex and can take weeks, months, or even years. An experienced attorney will be able to navigate the entire process for you.
Our Raleigh personal injury lawyers can handle every aspect of your injury claim or lawsuit, including:
Accident investigations
Interviewing witnesses
Obtaining police reports and medical records
Calculating damages
Preparing you for deposition and official statements
Communicating with law enforcement and involved government agencies
Negotiating with the insurance company
Mediation or arbitration
Court filings
Trial
Helping find appropriate treatment and manage medical payments
Setting up trusts for long-term care
And much more…
Have you been injured in or around Raleigh, NC?
If you've been injured in the Triangle, contact one of our experienced Raleigh personal injury attorneys. Just call 1-800-525-7111 or complete the form below for a FREE, no-obligation legal consultation.
As always, there are no attorney fees unless we recover financial compensation for you.
We are a local law firm 100% committed to getting justice for North Carolinians. Our roots in Raleigh run deep.
"We're committed to the people of Raleigh and will fight for justice in every case." -Gene Riddle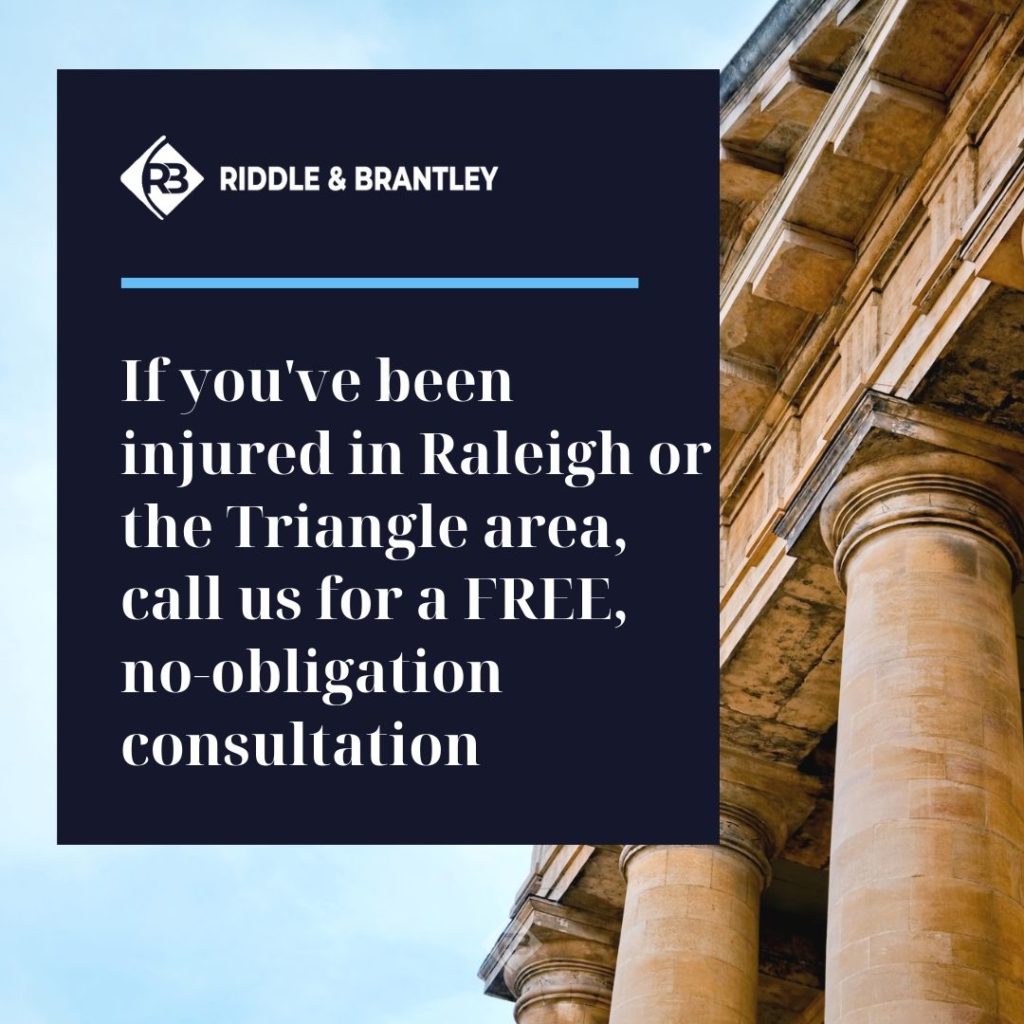 Collectively, our nine personal injury, workers compensation, and wrongful death attorneys have almost 200 years of combined legal experience. Riddle & Brantley lawyers are recognized for excellence, ranked among North Carolina Super Lawyers and Top Trial Lawyers of North Carolina. Several of our attorneys are members of the Million Dollar Advocates Forum and Multi-Million Dollar Advocates Forum in recognition of high-value settlements and judgments won for our clients. (see disclaimer below)
From accident scene investigation to witness interviews, pre-trial litigation to settlement or trial, and everything in between, we will handle all aspects of your injury case so you can focus on what's most important — your recovery.
You deserve justice, and we would love to help.
Contact our Raleigh personal injury lawyers today for a FREE consultation: call 1-800-525-7111 or complete the form below.
*** Disclaimer: An attorney must meet certain requirements to join these organizations or receive these awards. For more information on Membership Criteria for Million Dollar Advocates Forum and Multi-Million Dollar Advocates Forum, visit our Membership Criteria page. These awards and memberships should not be construed as a promise or guarantee of a similar result. Each case is different and must be evaluated separately.