Are North Carolina Truckers Required to Keep Logbooks and Records?
Truck drivers and trucking companies are required to follow many rules and regulations. Many of our clients involved in truck accidents ask, "Are truckers required to keep logbooks and records?"
The short answer is that yes, truckers are required to maintain logbooks and records of their driving schedules.
The Federal Motor Carrier Safety Regulations (FMCSR) include laws that monitor interstate commercial truck drivers to promote highway safety. These rules include alcohol and drug tests, Hazmat regulations, hours of service logbooks, inspection history, and driver qualification files.
How Are Drivers Punished for Failure to Follow FMCSR Regulations?
Drivers sometimes falsify their logbooks in order to log more hours, make faster deliveries, earn more money, and avoid penalties from their employers. Truckers who are caught face serious penalties, including state fines, suspension, diminished carrier safety rating, and even criminal punishment.
Worse yet, failure to abide by these regulations increases the risk of an accident that would could result in catastrophic injuries or fatality. Should an accident occur, the truck accident lawyers at Riddle & Brantley can use the required logbooks to determine what happened and prove liability.
When negligence can be proven, victims and their families may be eligible for compensation and we would love to help however we can.
We have experts in Federal Motor Carrier Safety Guidelines and Accident Reconstruction experts on standby to investigate the truck accident and help us prove violations of safety guidelines and prove negligence.
These experts have been vital to us in winning past cases. In one recent case, these experts collected and used data obtained from cell phone towers to prove negligence on the truck driver and help us win our case.
How Many Hours Can North Carolina Truckers Record in Their Logbooks? 
Driver fatigue is one of the leading causes of truck accidents. To combat this, the Federal Motor Carrier Safety Association (FMCSA) has limited drivers to a maximum 14 hours of driving, followed by 10 consecutive hours off. Drivers are not allowed more than 70 hours of driving in eight consecutive days. These laws can vary, as lobbyists from the trucking industry have put a lot of pressure on Congress to relax the restrictions.
For more information, please check out our article on hours of service rules.
Laws were recently amended to allow for increased driving capacity during the coronavirus pandemic — drivers were allowed to extend the 14-hour maximum by up to two hours when adverse driving conditions arise. The mandatory 10-hour rest break could be split into two short off-duty periods. A driver who informs the carrier that immediate rest is needed must be given at least 10 consecutive hours off before being required to return to service.
What's in a Trucker Logbook?
A truck driver's logbook keeps track of:
Hours of service and break periods
Cargo weights and travel destinations
Instances of bad weather, disasters, and adverse traffic conditions
Commercial vehicle maintenance schedule and inspection records
These notes must be in the driver's own handwriting, but employers are also required to maintain supporting documents to verify the accuracy of their drivers' logs.
Many commercial vehicles are also equipped with "black boxes," which record data that can be used to determine the exact circumstances surrounding an accident.
How Can I Find Out If a Logbook Has Been Falsified or a Driver Has Committed a Crime?
At Riddle & Brantley, our personal injury attorneys work with a trusted network of investigators to determine the cause of a crash. We even have retired law enforcement officers on staff to assist in investigating truck accident cases.
We can also obtain other documentation and evidence to be assessed against the truck driver's logbook in search of discrepancies. This evidence might include:
Secondary paper logbooks or electronic logging devices
Employer files
GPS or Qualcomm tracking systems
Service records at the repair facility
Inspection forms
Time-stamped bills, receipts, or toll booth records
What Can I Do If I've Been in an Accident With a Semi-Truck in North Carolina?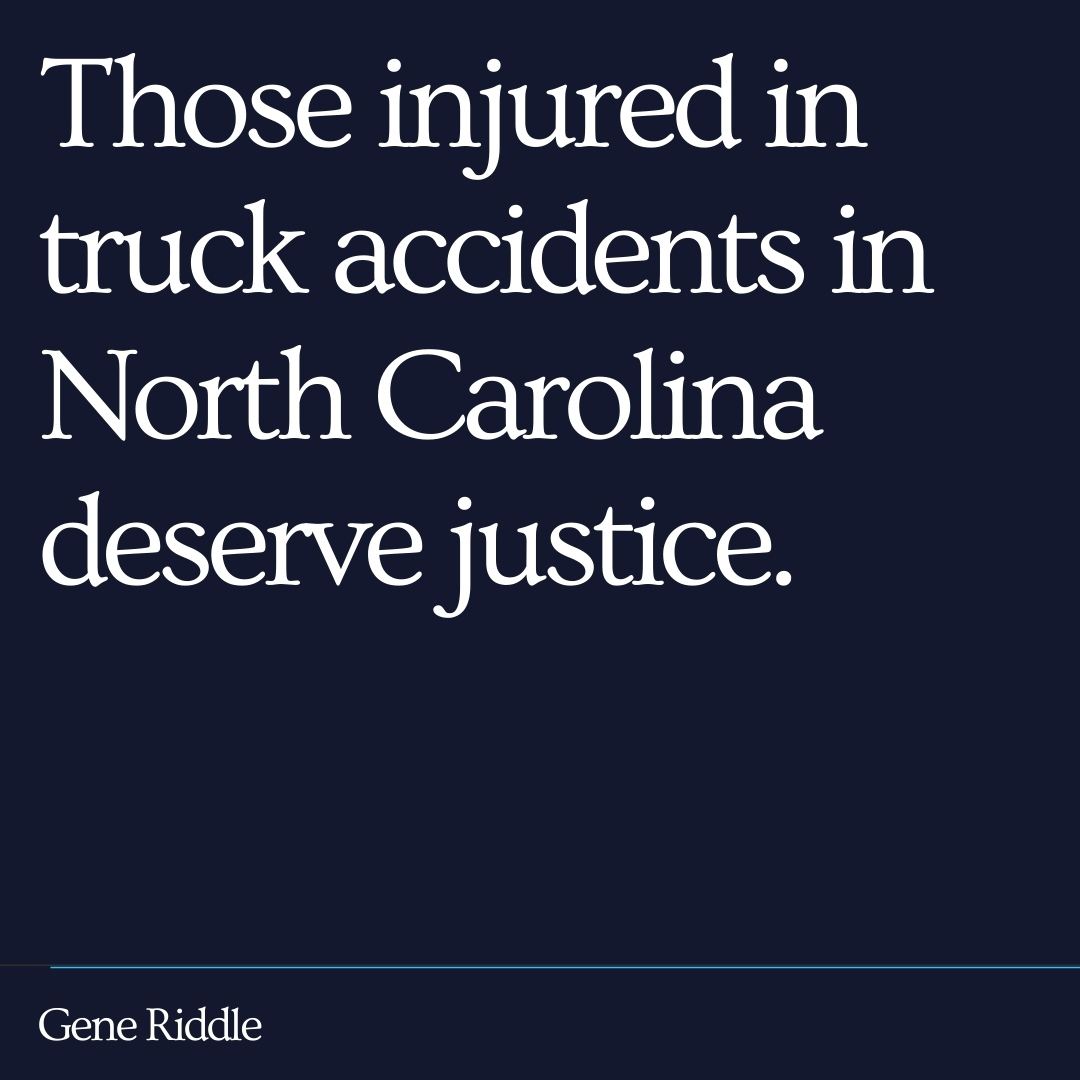 With more than 220+ years of combined experience, our resourceful attorneys are ready and able to pursue maximum compensation. Attorneys Gene Riddle and Kurt Dixon recently secured more than $9 million in compensation for surviving loved ones of a family of four who were killed in a tragic tractor-trailer accident near Fayetteville (see disclaimer below).
For more recent case results, we invite you to review our settlements and verdicts (see disclaimer below).
"They made a hard time in my life easier to endure."
–Melissa C., Riddle & Brantley client
Our team works on a contingency basis, meaning you will not be charged attorney fees unless we win your case.
We believe Justice Counts for ALL North Carolinians, and we would love to help however we can.
---
*** Disclaimer: The results mentioned are intended to illustrate the type of cases handled by the firm. These results do not guarantee a similar outcome, and they should not be construed to constitute a promise or guarantee of a particular result in any particular case. Every case is different, and the outcome of any case depends upon a variety of factors unique to that case.