"Do I Need a Police Report After a Truck Accident in North Carolina?"
Truck accidents can be complex. There is often a lot of evidence to be sifted through, and it can take a comprehensive investigation to understand what happened and who is at fault. Among the evidence used to determine fault in a truck accident is the office police report, also called an accident report.
If you've been injured and are wondering, "Do I need a police report after a truck accident?", the answer is not necessarily, but it can make investigating your truck accident claim and seeking compensation for your injuries easier. 
IMPORTANT: If you've been injured in a truck accident, it is important to cooperate with law enforcement and obtain a copy of the official police report after the accident. A truck accident lawyer can help obtain the report, which may prove invaluable in helping determine liability and pursuing a personal injury claim. 
Reach out to Riddle & Brantley for expert guidance on a wide range of truck accident lawsuits.
What is a Police Report? 
A police report is essentially the summary of the officer's observations and conclusions regarding an auto accident. It is a vital piece of evidence in most accident injury claims.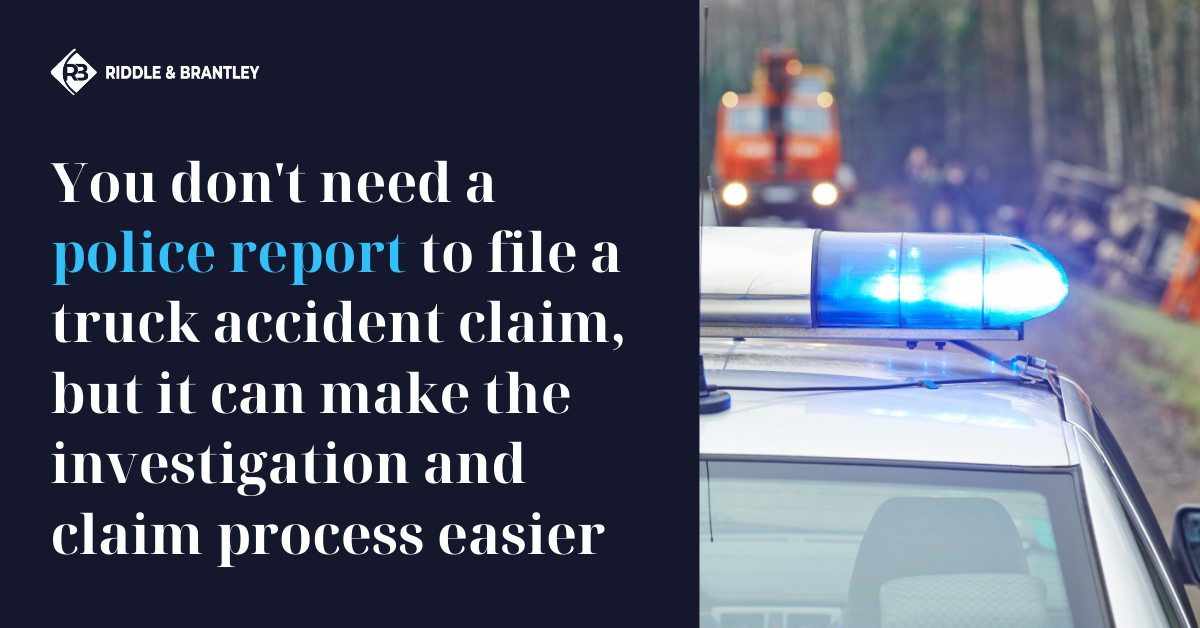 You don't need a police report to make a truck accident injury claim, but having one will provide important facts regarding the accident, and can help resolve the case in a shorter amount of time. This is why it is so important to contact law enforcement immediately after an accident and cooperate with officers responding to the scene.
Remember, anything you say can and will be used against you. When answering an officer's questions for the police report, be honest and straightforward. However, do not admit fault to the officer or insurance company — instead, talk with an experienced truck accident attorney as soon as possible. 
There is no obligation and we don't get paid unless you do. If we don't recover compensation for you, you won't pay any attorney fees.
What is in a Police Report for a Truck Accident?
The official police report in a truck accident has a lot of important information concerning the facts and circumstances of the crash.
Included in a typical truck accident police report is:
Date, time, and location of the truck accident
Identifying information for all parties involved in the accident
Witness names and contact information
Conditions at the accident scene, including weather, lighting, and roadway
A diagram of the accident scene
Official statements from those involved
Any citations / violations determined by the officer(s)
An opinion regarding the cause of the accident and/or determination of fault
Some truck accident police reports will also include photos and a more detailed summary of injuries suffered by those involved.
"How do I get the police report for a truck accident in North Carolina?" 
You have the right to obtain a copy of the official accident report after a truck or other auto accident.
You can generally obtain the police report in two ways:
By requesting it from the law enforcement office (there may be a small fee)
By requesting it from the insurance company (they may have it already and provide you with a copy)
A truck accident lawyer can also help you obtain the official police report.
At Riddle & Brantley, we routinely obtain accident reports and other records for our clients.
"Can I dispute the police report in a truck accident?"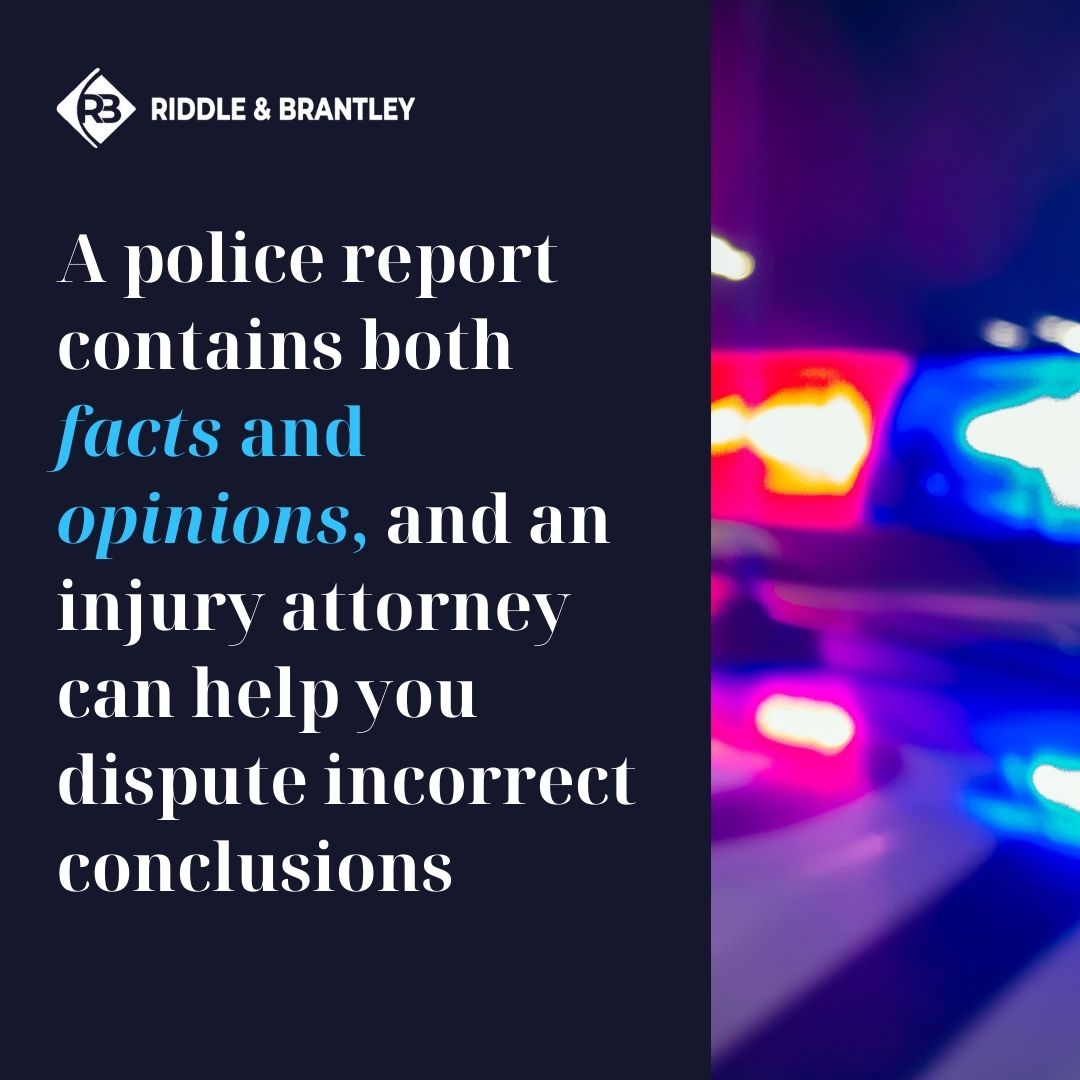 Keep in mind that a police report in a truck accident includes both facts and opinions. This is why in many cases, the findings of an attorney or insurance company's truck accident investigation may be different than the findings of the police report.
Police reports are not necessarily 100% accurate, and in some cases, you may be able to challenge an officer's conclusions or argue that a different party was at fault. Our firm has handled many cases involving such discrepancies and errors.
If you believe the police report in your truck accident is not accurate, talk with an experienced truck accident lawyer at Riddle & Brantley about your concerns.
We can review the police report, conduct our own truck accident investigation, and help determine who is truly at fault.
We can review the accident report in your truck crash and help determine your best legal options for pursuing compensation.
Have You Been Injured in a North Carolina Truck Accident?
If you've been injured in a truck accident, you may be entitled to compensation. The experienced truck accident lawyers at Riddle & Brantley have been serving North Carolinians and visitors to our state since 1985, and we've recovered millions of dollars in compensation for those injured in truck and tractor-trailer accidents (see disclaimer below).
"Riddle & Brantley found me all the available money from the insurance companies."
–David Howard, Riddle & Brantley client
Remember, you may be able to obtain compensation in a truck accident claim even if you don't have an official police report, or you believe the officer's conclusions are mistaken.
Recent settlements in truck accident cases include:
$9,450,000 — Our attorneys fought for justice after a family of four was tragically killed in a tractor-trailer accident on a highway outside Fayetteville, North Carolina. We brought in outside experts and even subpoenaed traffic data from Google Maps to prove liability in the case, and filed multiple lawsuits. We secured $9.45 million in total compensation in separate settlements with a truck insurance company and pavement marking company.
$2,250,000 — Attorney Gene Riddle represented the family of a young woman who was killed in a head-on collision with a truck that crossed the center line. We brought in outside experts and partnered with attorney David Kirby of the Kirby Edwards law firm in Raleigh to investigate the case, and ultimately secured $2.25 million on behalf of our clients.
$1,800,000 — We represented a truck driver who lost his left leg below the knee after being hit by another truck while on the job. Attorney Gene Riddle pursued settlements with both the truck insurance company and the workers' comp carrier, negotiating $1.8 million in total compensation for the injured victim.
*** Disclaimer: The results mentioned are intended to illustrate the type of cases handled by the firm. These results do not guarantee a similar outcome, and they should not be construed to constitute a promise or guarantee of a particular result in any particular case. Every case is different, and the outcome of any case depends upon a variety of factors unique to that case.
There is no cost for the consultation and you won't pay any attorney fees unless we win your case and you receive compensation.
Justice Counts for those injured due to others' negligence and we would love to help you get the justice and compensation you deserve if we can.