Should I Accept a Settlement in My Truck Accident Case?
According to the North Carolina DMV, there were over 4,7000 tractor trailer accidents in 2019. Injuries sustained from auto accidents involving tractor trailers are often very serious and may require long-term or lifetime care. Unfortunately, some insurance companies regularly try to resolve liability claims as quickly and for as little money as possible. Should you accept an insurance settlement after your truck accident?
THE SHORT STORY: Although it can seem like a good option to settle your truck accident claim, hiring an experienced attorney can help ensure that you obtain fair compensation. In this article, we'll try to answer your question, "Should I accept an insurance settlement offer after a truck accident?"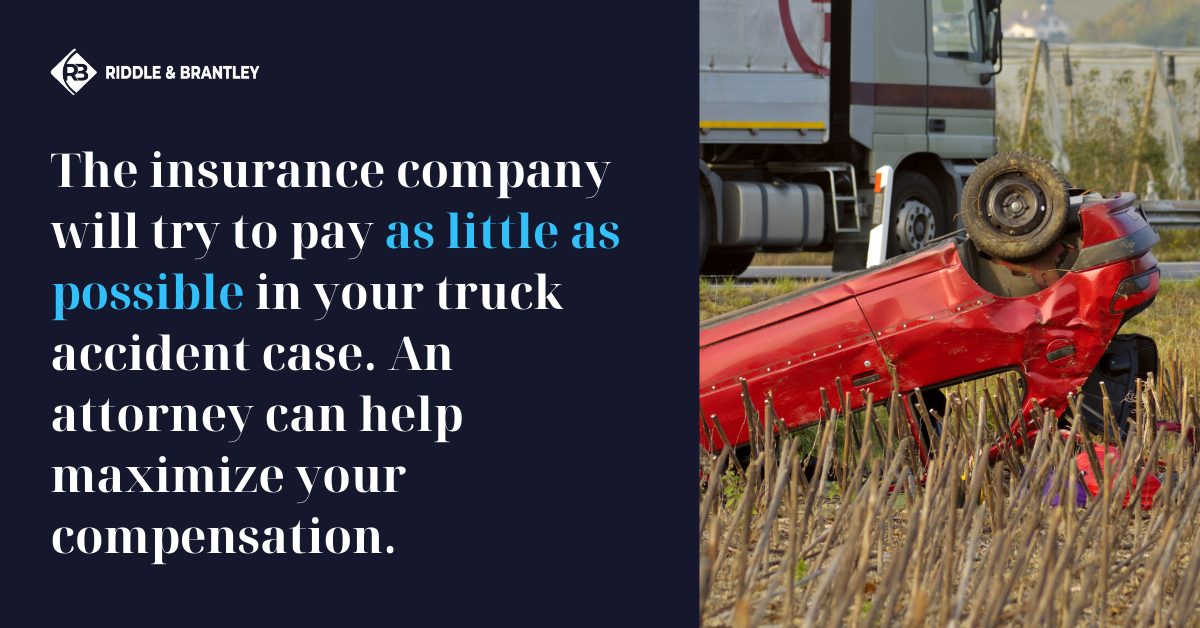 The adjuster handling your claim may promise to be fair with you. However, it is important to remember that insurance companies operate on a for-profit business model. In many cases, insurance adjusters aim to settle without losing money or fully paying claims.
Don't gamble with your potential compensation when you've been injured in a truck accident. If you're wondering if you should accept an insurance settlement, talk with a Riddle & Brantley attorney today.
Reach out to Riddle & Brantley for expert guidance on a wide range of truck accident lawsuits. We can advise you regarding your potential truck accident settlement, and help determine your best legal path for pursuing maximum compensation.
There are no upfront costs and no attorney fees unless we win your case.
"Why should I hire a truck accident lawyer?"
At Riddle and Brantley, we understand how stressful and exhausting dealing with an insurance company can be. Our firm wants you to focus on your recovery and let us handle the intricacies of truck accident claims.
Accidents involving trucking companies can be very complicated because liability can be difficult to prove and it is often contested by the defendant and/or insurance company.
Further complicating these cases, accidents involving tractor trailers often involve multiple parties, which may include:
Trucking companies
Truck and or trailer manufacturers
Shipping companies
Truck drivers
Owners of the inventory being transported
Our firm has experience in finding all of the possible insurance coverage available and can help ensure you get the insurance settlement you deserve.
We even have retired law enforcement on staff to assist in every aspect of our truck accident investigations. Once you hire us, our investigative team begins researching all prospective liable parties. According to Gene Riddle, our standard is to "leave no stone unturned."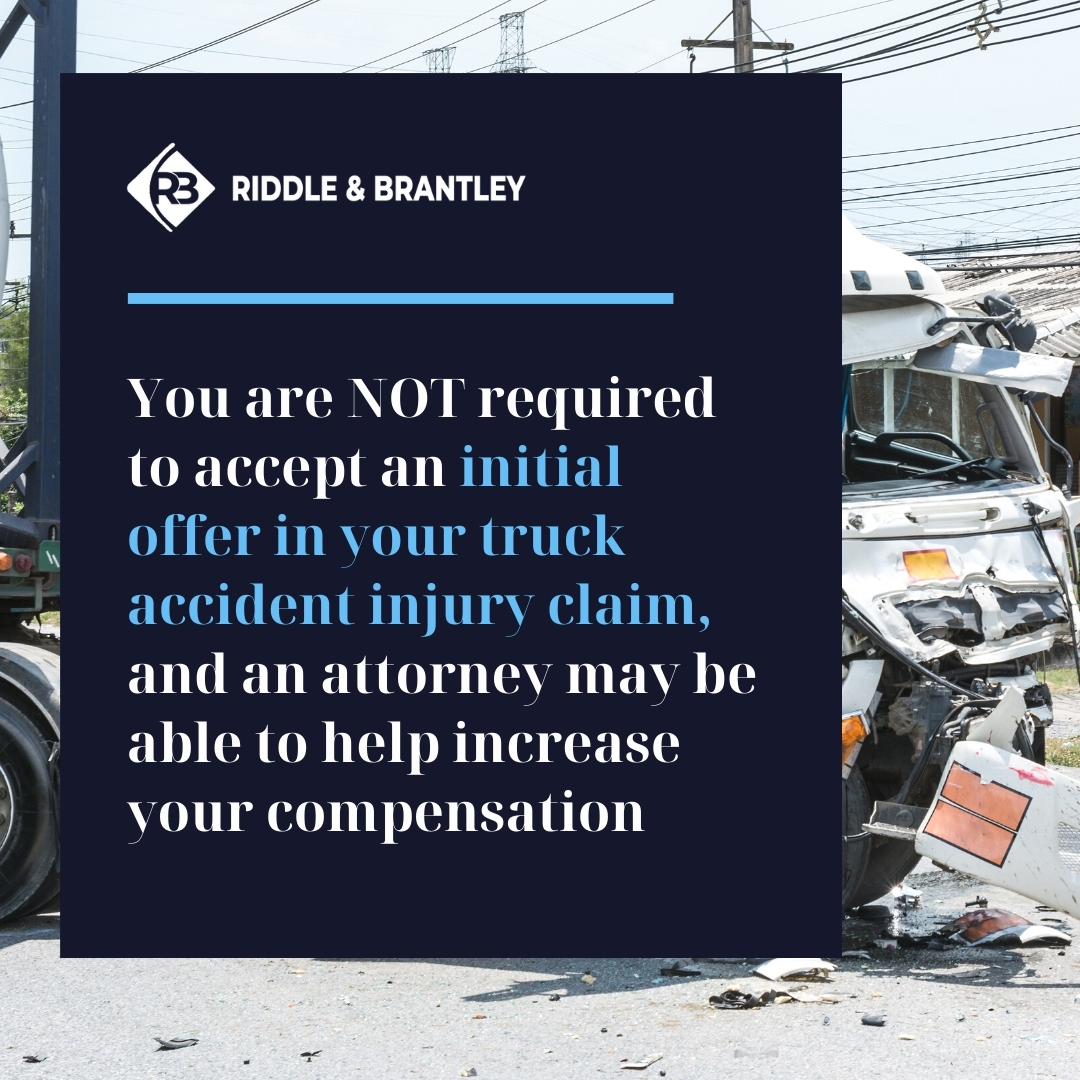 If you're wondering if you should accept the insurance company's initial settlement offer in your truck accident case, we encourage you to contact us first for a FREE consultation.
We want to make sure that our team assesses every potential claim against all liable parties and ensure our clients receive fair compensation for their damages.
David Howard, a former client expressed his appreciation to our firm for holding all responsible parties liable: "Riddle & Brantley found me all the available money from the insurance companies."
If you're wondering, "Should I accept the insurance settlement after my truck accident?", you may be able to get more compensation working with an attorney at Riddle & Brantley. Call 1-800-525-7111 today and let's review your claim.
As always, the consultation is free and you won't pay any attorney fees unless we win your case and recover compensation for you.
"The insurance company already offered me a settlement. Should I take it?"
If you decided to handle your truck accident without representation, it is imperative that you carefully read and understand what exactly you are agreeing to.
Additionally, do not sign any document that you don't understand or believe is unfair.
If you believe that the adjuster's offer is not sufficient, our personal injury attorneys may be able to help you increase your settlement amount.
We understand the strategies and "tricks" that insurance companies often use to weaken your claims. Our truck accident lawyers and staff can help you navigate through this difficult process and fight to get you an adequate settlement.
Some of our clients tried to settle their claims without representation but hired our firm after the insurance company failed to provide an adequate offer. If you feel that the insurance adjuster provided an insufficient settlement, or you're struggling with whether to accept an initial settlement offer, contact our firm for a free consultation.
Over the years, our attorneys have helped many clients receive a better offer than the insurance company's first proposal.
Don't gamble with the potential benefits you need and deserve. Call 1-800-525-7111 today and let's review your claim.
Results for Victims of Truck Accidents in North Carolina
With more than 220+ years of combined legal experience, Riddle & Brantley attorneys have obtained significant compensation for injured truck accident victims (see disclaimer below), including:
9,450,000 Truck Accident & Wrongful Death — Our trial attorneys represented a family who lost loved ones in a tragic truck accident. This lawsuit involved multiple insurance companies and resulted in two separate lawsuits being filed. The attorneys obtained a $5.4 million settlement from the two trucking companies involved. Additionally, our attorneys settled a separate claim against a liable pavement marking company for $4 million.
This case serves as a good example of why it is important to hire an attorney. Here, our investigative team discovered multiple parties were at fault.
Additionally, we reached these settlements after two years of extensive investigation, legal work and filing two lawsuits. Settling a truck accident claim can take some time, so it is important to contact an experienced personal injury attorney as soon as possible.
1,800,000 Truck Accident Settlement — This case involved our client, a tractor-trailer driver, who was hit head on by a dump truck. Our client sustained severe injuries which resulted in him losing his left leg. Attorney Gene Riddle obtained two settlements totaling 1.8 million from both the workers' compensation carrier and truck insurance company.
2,000,000 Settlement Truck Accident — Our client was severely injured after an 18-wheeler pulled out in front of her. Her injuries were so traumatic she was airlifted to the hospital. Unfortunately, she did not survive, but attorney Gene Riddle helped her two sons seek the justice they deserved, ultimately securing a $2 million settlement.
*** Disclaimer: The results mentioned are intended to illustrate the type of cases handled by the firm. These results do not guarantee a similar outcome, and they should not be construed to constitute a promise or guarantee of a particular result in any particular case. Every case is different, and the outcome of any case depends upon a variety of factors unique to that case.
Speak with a North Carolina Truck Accident Attorney Today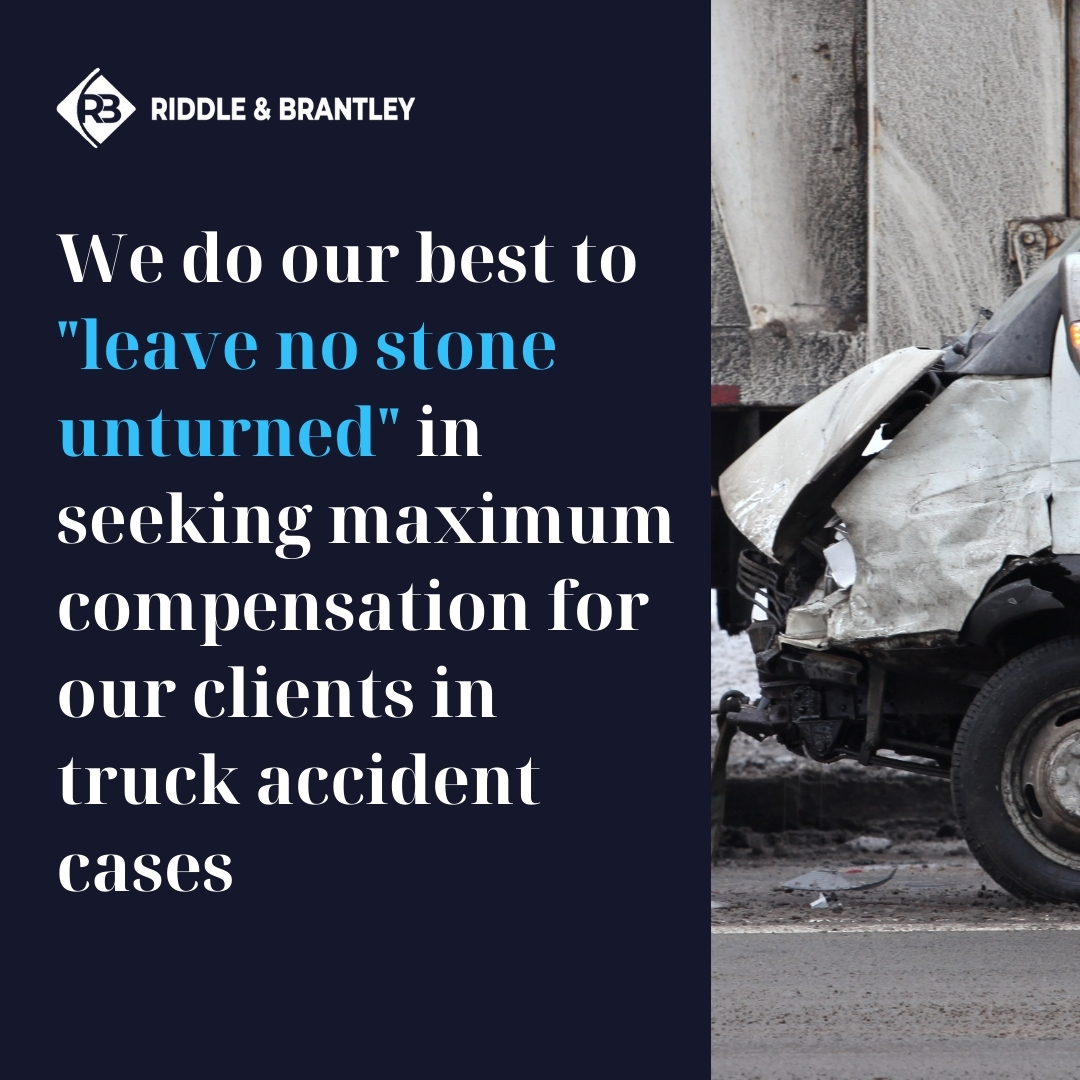 Have you or a loved one recently received a low settlement offer from an insurance company? Maybe you're wondering, "Should I accept the insurance company's settlement offer in my truck accident case?"
Has the insurance company told you "You don't need an attorney"?
Often these statements and initial settlement offers are used by the insurance company to resolve your claim for as little money as possible.
Contact the experienced personal injury attorneys at Riddle and Brantley to discuss your legal options.
We provide free consultations and work on a contingency basis, which means we don't get paid unless your claim is successful.
Remember, we encourage you not to accept an initial settlement before first consulting with an attorney. Call 1-800-525-7111 today and let's talk.
We would love to help you and your loved ones if we can.