What if the Truck Driver in My North Carolina Accident Was DWI?
In North Carolina, it is illegal to drive a vehicle while impaired or with an alcohol concentration of 0.08 or higher. When driving a commercial vehicle, the alcohol concentration limit is 0.04. Those who have a commercial driver's license (also known as a "Class A" license or "CDL") are held to a higher standard on the road. But what if the other driver in your truck accident case was DWI?
The greater restrictions on CDL holders also apply when the driver is off the clock and driving for non-commercial reasons.
One of the most powerful charges a CDL driver can face is Driving While Impaired (DWI). The consequences for the driver are elevated even if the case never results in conviction.
So, what if you are hit by an impaired truck driver?
Consequences of DWI for Truck Drivers
There are consequences for an impaired CDL driver long before the case goes to trial.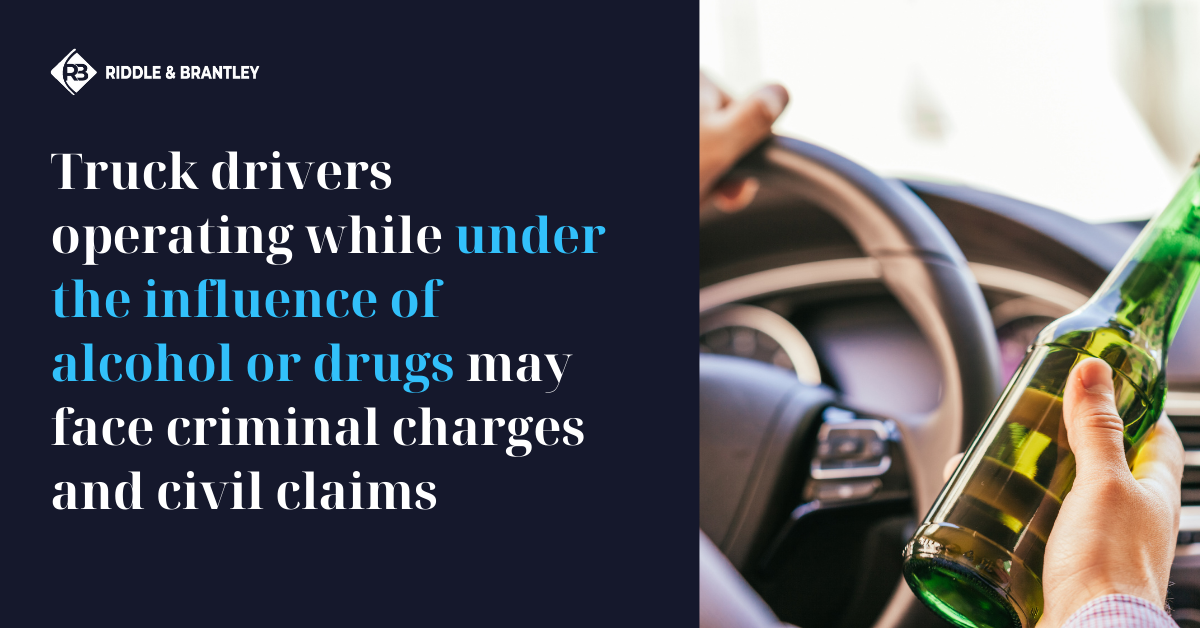 If a person operating a commercial truck has a breath or blood test of 0.04 or higher, this will trigger a 30-day license suspension and an automatic one-year disqualification to drive a commercial vehicle. If the driver has any previous convictions for DWI, hit and run, or driving with a suspended CDL, this could result in a permanent CDL suspension.
It is difficult to work as a commercial truck driver with a record of DWI conviction or civil revocation.
These drivers are seen as high risk to employers and insurance companies. In some instances, certain restrictions are placed on the drivers by the Department of Motor Vehicles (DMV) which will limit the opportunities for the commercial driver.
Commercial drivers have an enormous responsibility in the community. One negligent action may result in a catastrophic truck accident. Truck drivers are held to very strict rules.
Rules for truck drivers in North Carolina include:
The driver must have a commercial driver's license (CDL) and endorsements for the specific class of vehicle.
The minimum age to get a CDL to operate on an interstate is 21 years old and 18 years old if working only in North Carolina.
Every driver must have a biannual exam which tests for any medical condition that poses a safety risk.
All public transit drivers must submit to drug and alcohol testing.
A commercial driver with a blood alcohol concentration of .04 or greater can be charged with Driving While Impaired (DWI).
The hours of service laws in North Carolina limit driving to 11 hours after 10 hours off-duty and 70 hours in an eight-day period for drivers carrying property. Furthermore, they restrict driving to 10 hours after eight hours off-duty for drivers carrying passengers, with certain exceptions.
Truck Accidents Involving DWI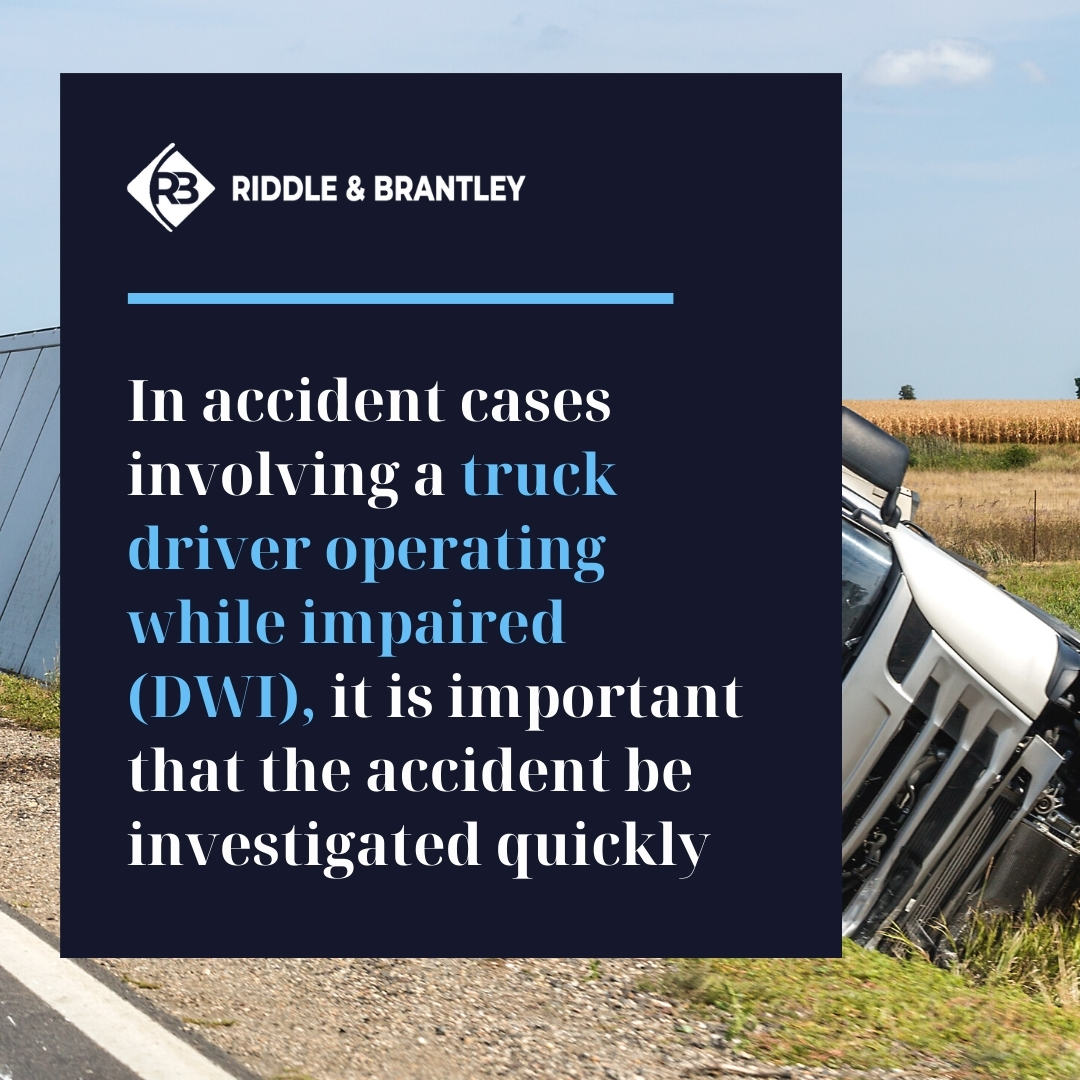 A truck accident always carries the possibility of injury or death. Many of the worst accidents are caused by impaired drivers. Despite the many years of public safety campaigns to reduce the rate of drunk driving accidents and fatalities, some truck drivers continue to drive while impaired.
Any driver conviction on a drunk driving charge is a criminal offense. Drivers convicted of driving while impaired (DWI) face penalties which include fines, imprisonment, a criminal record, and other negative consequences.
If you are in a truck accident and suspect the truck driver is impaired, it is important that the evidence is gathered quickly.
As time passes the drunk driver will become sober, and then it could be impossible to prove fault on that premise.
An experienced truck accident lawyer will look for the following evidence:
Any police reports with BAC (blood alcohol test) test results or visual evidence of being impaired
Any audio or video footage from the responding officer's body or dash cameras
All witness statements
Any surveillance video from nearby homes or businesses
Statements from all drivers and passengers
Accident reconstruction reports from experts
Have You Been Injured in a Truck Accident Involving a Drunk Driver?
If you or a loved one has fallen victim to an impaired truck driver and been injured, you have a right to take legal action. No amount of money can restore a life or change a life-altering injury, but it can provide needed support to face the new challenges of an altered way of life due to being hit by an impaired truck driver.
Experienced Truck Accident Lawyers Ready to Fight for You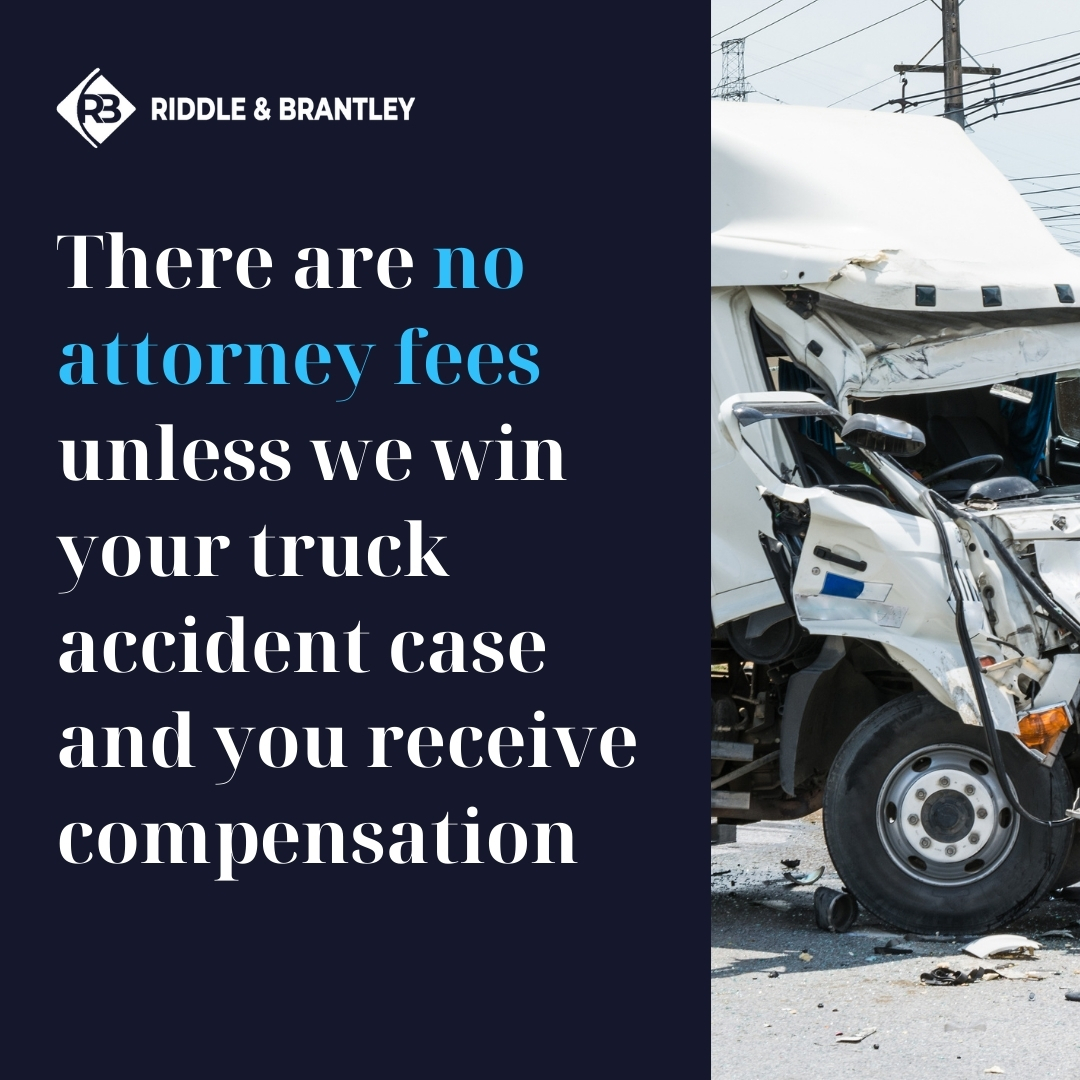 Our truck accident attorneys have over 220+ years combined legal experience to help you get the compensation you deserve after a crash with an impaired driver of a commercial truck.
An accident with a commercial truck can be catastrophic and even deadly. If the driver of the truck is impaired, it can be a recipe for disaster.
"They made a hard time in my life easier to endure."
–Melissa C., Riddle & Brantley client
We are here to help. Justice Counts for you and your loved ones.