What is a Rogue Trucking Company?
Most commercial trucking companies (sometimes called "carriers") are well managed and follow the law and safety protocols. However, some carriers do not, and these are called "rogue" trucking companies.
In this article, we'll answer the question, "What is a 'rogue' trucking company?" and share some tips for how to protect your legal rights if you're injured due to the negligence of a truck driver or rogue trucking company.
IMPORTANT: If you've been injured in a truck accident, don't wait to contact an experienced truck accident attorney. 
What is a Rogue Trucking Company?
Essentially, a "rogue" trucking company is a commercial trucking carrier with a history of unsafe operations, safety violations, poor truck maintenance, or other negligence.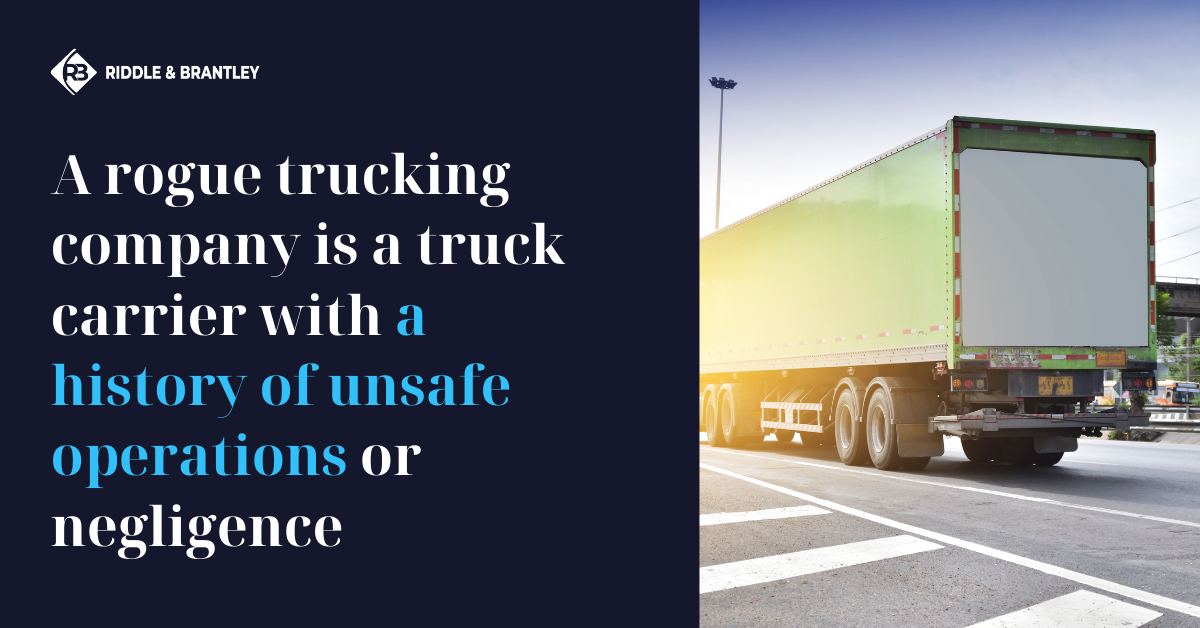 Sometimes, a rogue trucking company is actually a "shell" or "sham" company that is set up specifically in order to avoid the legal consequences of unsafe business practices. Rogue truck companies sometimes rely on illegitimate business practices in order to hide their owners and drivers' identities and evade the law.
The injuries and damage caused by rogue truck companies can be catastrophic.
Unfortunately, rogue trucking companies do operate on the roadways, and drivers are at risk.
Examples of negligence by a rogue trucking company include:
Violations of federal "hours of service" laws and regulations
Violations of Federal Motor Carrier Safety Regulations
Operating a commercial truck without a Commercial Driver License (CDL) from the North Carolina Department of Transportation (NCDOT)
Operating a commercial truck and carrying specific types of cargo without the proper endorsement from NCDOT
Violations of restrictions concerning specific cargo types and vehicle requirements
Violations of local laws or ordinances
Improper or inadequate hiring, training or supervision of a driver
"I was injured in an accident involving a rogue trucking company. What can I do?"
Because many rogue trucking companies "hide" behind shell or sham companies, and play other "tricks" to avoid detection, it can be difficult to pursue injury claims against them.
This is why it is important that you contact an experienced truck accident lawyer immediately. The longer you wait, the harder it may be to identify the rogue trucking company responsible for the accident — and recover the compensation you need and deserve.
There is no obligation and you won't pay any attorney fees unless we recover compensation for you.
We have accident investigators on staff who can immediately begin investigating the accident scene. We also frequently bring in outside experts like accident reconstructionists to help prove liability.
We can investigate the facts and circumstances of the truck accident and help determine the identity of the truck driver and the rogue truck company that owns and operates the truck.
Experienced Truck Accident Lawyers in North Carolina
If you've been injured due to negligence by a rogue trucking company or a truck driver employed by one of these companies, we can help.
In more than 35 years serving the people of North Carolina, our truck accident lawyers have secured millions of dollars in compensation (see disclaimer below) for victims of truck accidents, including:
$9,450,000 — When a family of four was killed in a terrible tractor-trailer crash, attorney Gene Riddle and the Riddle & Brantley team fought for justice. We investigated the accident, bringing in accident reconstructionists and even obtaining traffic data from Google Maps in order to prove liability. Prior to trial, we secured $9.45 million in total compensation in separate settlements.
$2,000,000 — An elderly woman ultimately succumbed to injuries suffered in an accident involving an 18-wheeler. We brought in outside experts to prove liability in the case and secured $2 million in total compensation on behalf of the victim's surviving sons.
$1,800,000 — Our client suffered terrible injuries including the eventual loss of his left leg below the knee when he was hit by another truck while driving a truck on the job. Attorney Gene Riddle handled the matter and was able to secure $1.8 million in separate settlements with the workers' compensation carrier and the truck insurance company.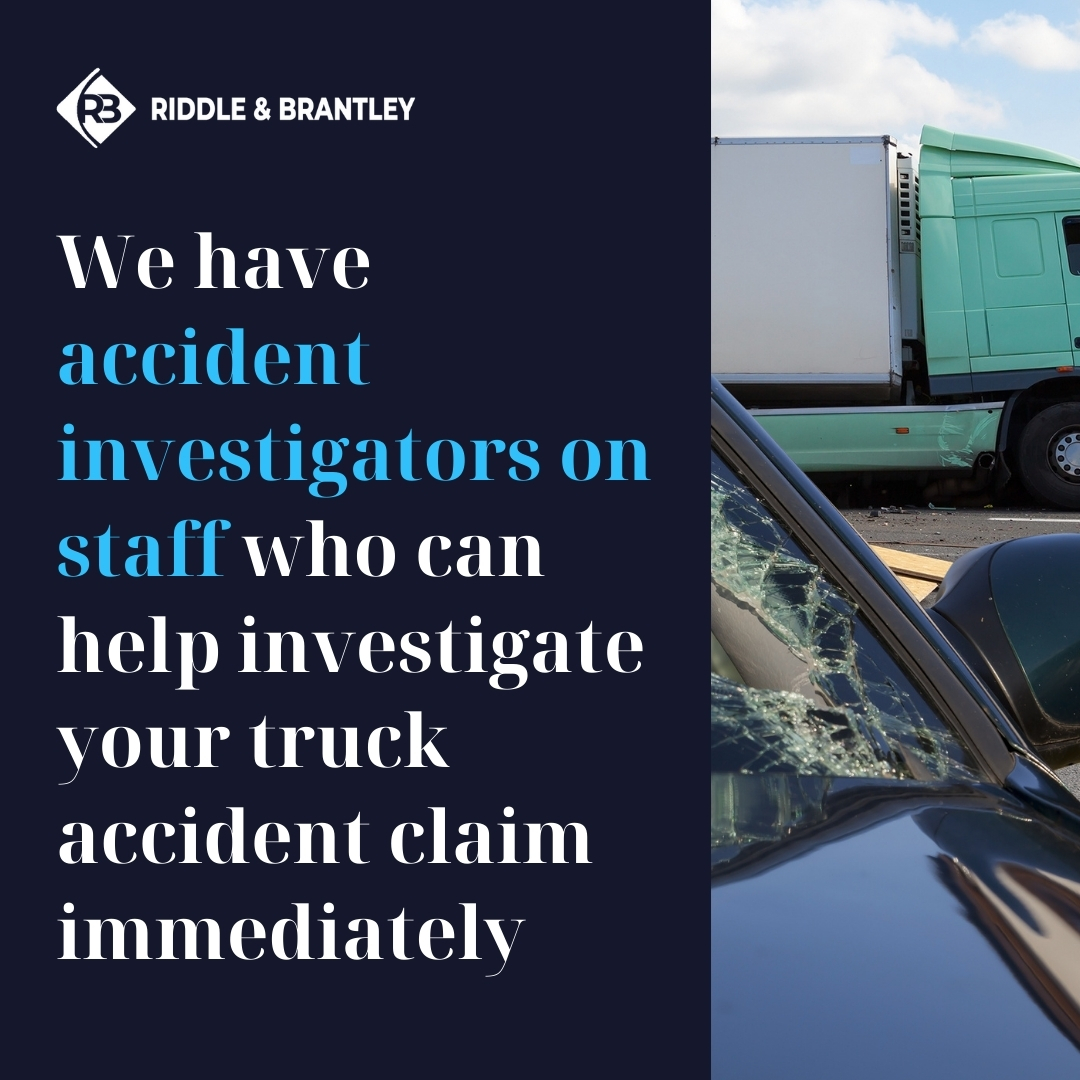 *** Disclaimer: The results mentioned are intended to illustrate the type of cases handled by the firm. These results do not guarantee a similar outcome, and they should not be construed to constitute a promise or guarantee of a particular result in any particular case. Every case is different, and the outcome of any case depends upon a variety of factors unique to that case.
There is never any obligation and we don't get paid unless you do. If we don't recover compensation for you, you won't pay any attorney fees.
Please call 1-800-525-7111 today and let's talk. You deserve justice, and you may be entitled to compensation. We would love to help you if we can.