Why Are Truck Accidents So Dangerous in North Carolina?
In more than 35 serving injured clients in North Carolina, our truck accident lawyers have seen all kind of accidents and injuries. We're often asked, "Why are truck accidents so dangerous?"
Any accident involving commercial vehicles, including 18-wheelers, dump trucks, garbage trucks and others, poses dangers for other vehicles sharing the road.
Death or catastrophic injuries resulting from accidents involving these large trucks are real possibilities. The occupants of large trucks are much less likely to be hurt in an accident as the people in smaller vehicles.
According to NHTSA in 2018 there were 4,951 people killed in crashes involving large trucks. This is almost a 1% increase from 2017. Moreover, 71% of the people killed in large truck crashes in 2018 were occupants of other vehicles.
"Why are truck accidents in North Carolina so dangerous?"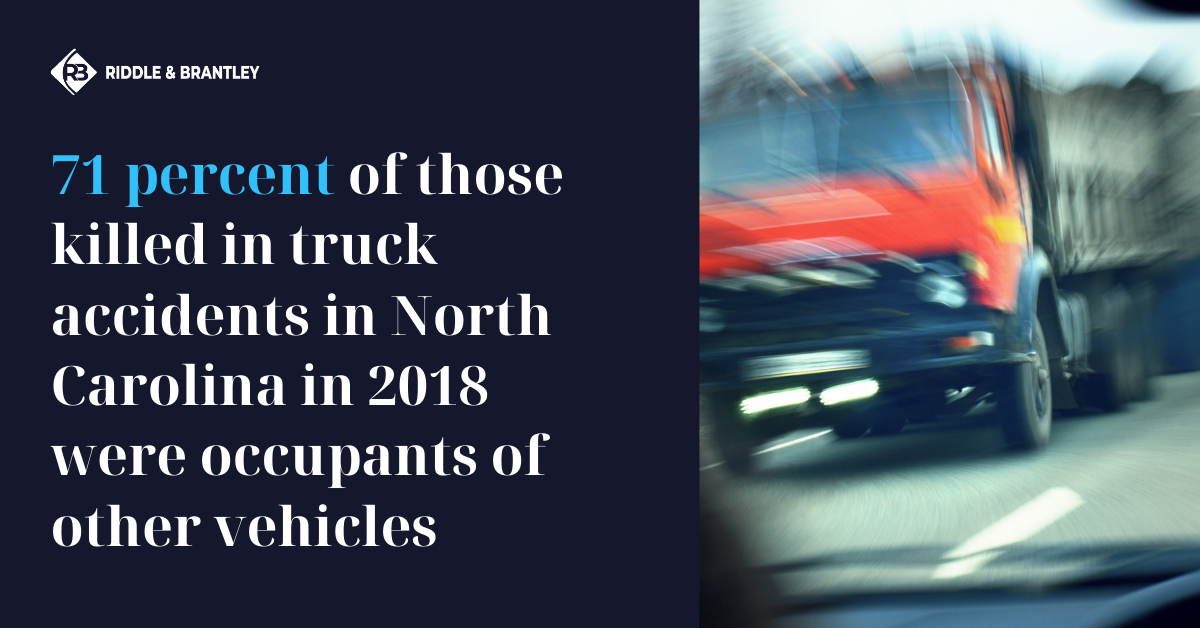 Commercial trucks, including tractor-trailers, dump trucks, and 18-wheelers are all much larger and heavier than other vehicles.
When a large truck and smaller vehicle collide, the smaller vehicle sustains the most damage. Also, given the enormous weight of a large truck, it takes a much longer distance to stop.
Passenger vehicles usually suffer a lot more damage during a collision with a heavy truck. This increases the risk of catastrophic injury and even death to the occupants of the passenger vehicle. Large tractor-trailers can crush a passenger vehicle if it runs over or flips the other vehicle.
Common injuries from truck accidents include:
Fractures (broken bones)
Chest injuries or internal organ damage
Neck injuries
Brain injuries (including traumatic brain injuries)
Head and skull injuries
Spinal cord and back injuries
Amputation (loss of limbs)
Paralysis or semi-paralysis
Burns
Soft tissue injuries
And others…
Every truck accident case is unique. Potential damages in a truck accident injury claim depend on several factors, such as the severity of the injuries and the amount of financial loss.
Many victims of commercial truck accidents have permanent injuries and disabilities. It may become hard to care for themselves or return to work. The after-effects of a large truck accident may be enormous in terms of personal injury, mental suffering, and financial loss.
"Should I pay upfront costs to hire a lawyer after a truck accident in North Carolina?"
A truck accident claim or lawsuit should not cost you any upfront money. The lawsuit should ease your financial burden so you can focus on your recovery from the accident.
At Riddle & Brantley, our truck accident lawyers are ready to help however we can.
The consultation is always free, and we don't get paid unless you are compensated for your injuries.
"How much is my truck accident lawsuit worth?"
Truck accidents are very dangerous, and the consequences can be catastrophic.
Nevertheless, all accident cases are different and must be handled individually. The amount of money you may be able to recover depends on many variables.
However, if you decide to hire us, our truck accident attorneys will do their best to win you the maximum possible damages for your case.
Potential damages may include:
Medical expenses
All future medical expenses
Loss of income
Loss of earning capacity
Physical, mental and emotional pain and suffering
Loss of quality of life
Loss of companionship
Loss of consortium
Property damage or replacement
The nine most common truck accident causes are:
Distracted driving
Truck driver fatigue
Lane shifting
Speeding, load shift, cargo overload
Dangerous or defective road conditions
Collision in trucker's lane
Improper truck maintenance or vehicle system failure
Mechanical failure
Driver inexperience
Truck accidents can be very dangerous.
The following are important things to do immediately after a truck accident:
Call 911
Seek immediate medical attention if needed
Never admit fault
Never give a statement to the insurance company without first talking with an experienced truck accident lawyer
Talk with the officer handling the accident and make sure you are honest as well as accurate — remember, anything you say can be used against you
Gather all important documents and make a list of any damages, documenting everything possible
Contact an experienced truck accident lawyer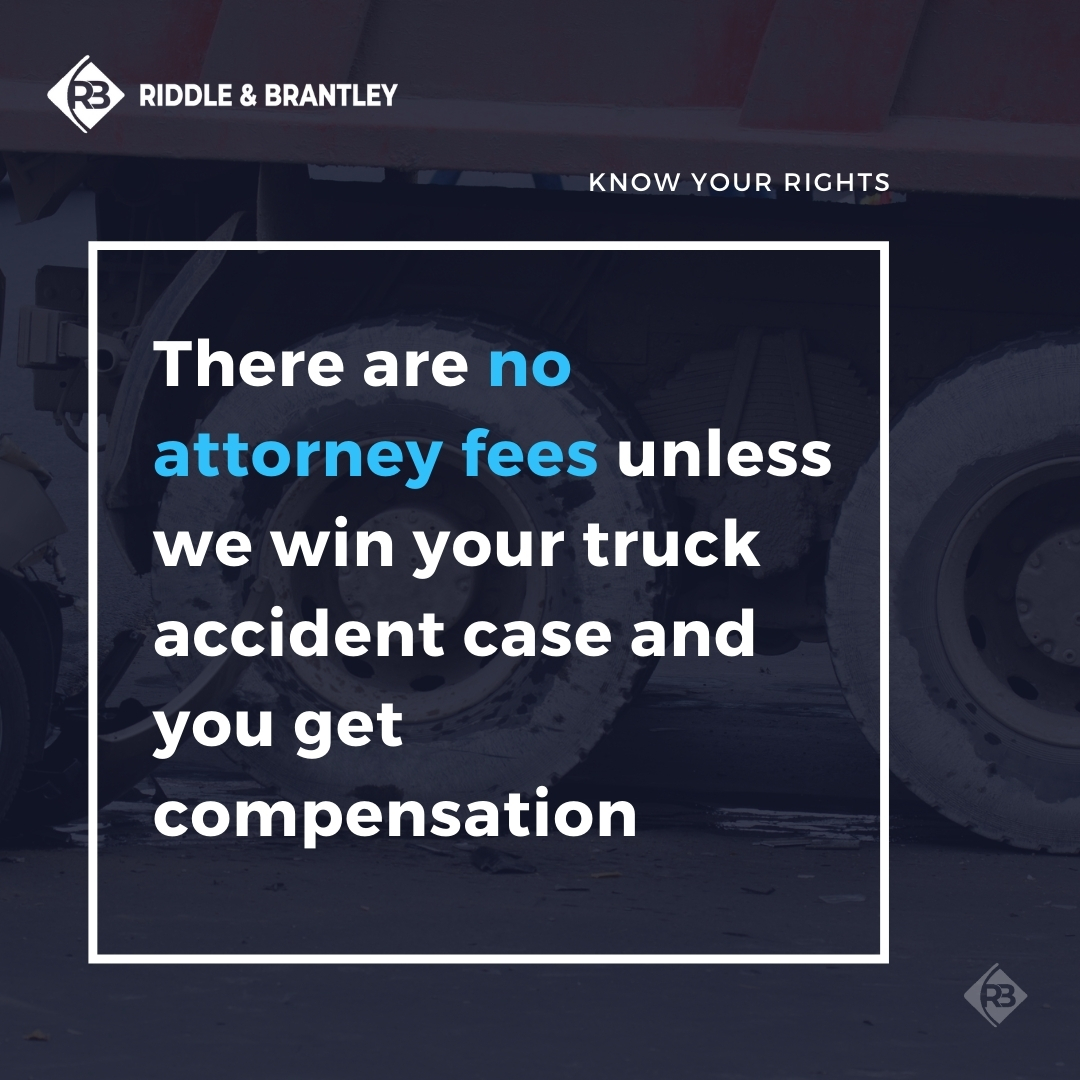 There is no obligation and you won't pay any attorney fees unless we win your case and you receive financial compensation.
Justice Counts and we would love to help you and your loved ones however we can.
Reach out to Riddle & Brantley for expert guidance on a wide range of truck accident lawsuits.