What is a Medicare Set Aside in Workers' Compensation Law?
Medicare Set Aside: The Short Version
A "Medicare Set Aside" or "MSA" is essentially a trust fund created as part of a workers' compensation settlement that allows money for future medical treatment to be set aside for reimbursing Medicare. In this situation, Medicare will only begin paying medical expenses resulting from the workplace injury after the MSA has been fully depleted.
"What Happens If I Need Medical Care After a Workers' Comp Claim Settles?"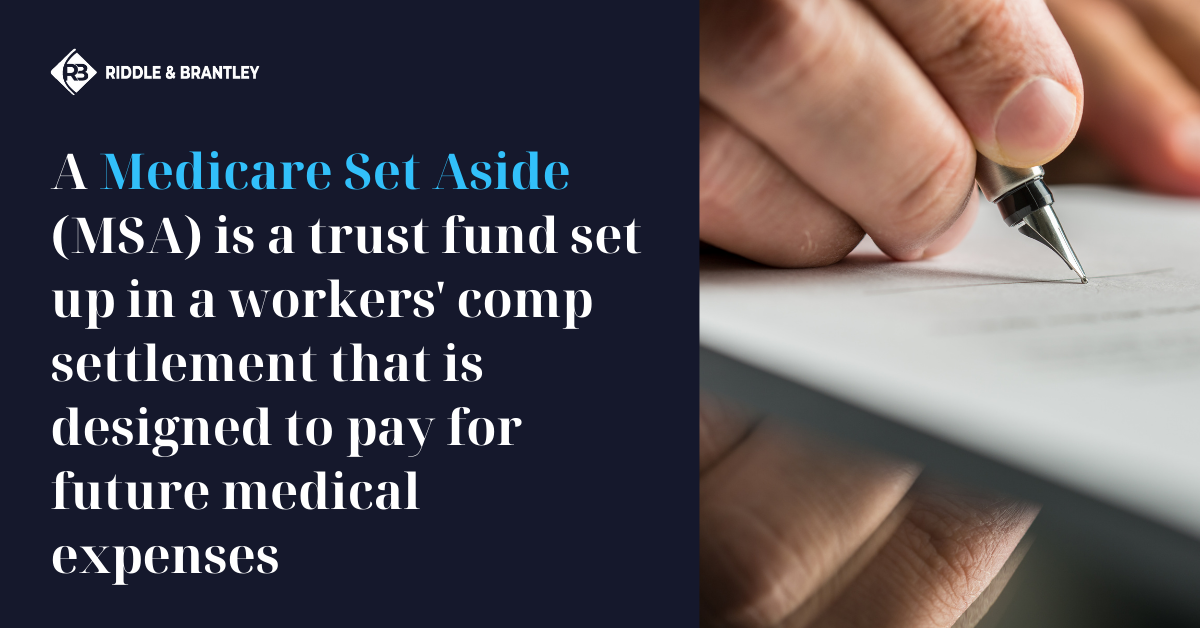 If you are thinking about settling your North Carolina worker's compensation claim, you are probably wondering what will happen if you need additional medical care after your case settles.
Most worker's compensation settlements include an agreement that the injured worker waives his or her right to future medical care under the North Carolina Workers' Comp Act. And getting seen by a doctor when you do not have health insurance can be expensive or even impossible. So, many people who settle their worker's compensation claims try to obtain health insurance, Medicaid, or Medicare coverage to pay for future medical care. If you are considering settling your worker's compensation claim, and think you might be eligible for Medicare in the near future, you need to be very careful about the terms of your settlement.
If you are not careful and diligent, your workers' compensation settlement might bar you from turning to Medicare to pay for future medical care. This where a Medicare Set Aside (MSA) account comes into play.
The Centers for Medicare and Medicaid Services (CMS) has promulgated an extensive and sometimes complicated set of rules and regulations addressing workers' compensation settlements and their effects on Medicare eligibility.
Medicare Set Aside: What's the Point?
The overarching theme is that CMS tries to ensure that insurance companies and injured workers do not settle workers' compensation claims and shift the burden of expensive future medical care onto the Medicare system. For that reason, they have set out a series of guidelines for how Medicare's interests must be taken into account.
In some instances, it is permissible to simply address in the language of the worker's comp settlement agreement how the parties have considered Medicare's interests. This is most common when it's been concluded that it is unlikely that Medicare will be asked to shoulder the burden of future medical care. But in other situations, it is wise to create a Medicare Set Aside Account, or "MSA".
Medicare Set Aside: The Long Version
An MSA is basically an account where some money is set aside to be used for future medical care. There are many varieties of MSA's. Some Medicare Set Asides are professionally managed and the injured worker is given a card to use like a health insurance card. Others are more informal, and might consist of nothing more than some money placed into an interest bearing checking account.
Some MSA's have a lump sum of money placed into them at the time of settlement.  Some require the worker's comp insurance company to deposit money in every year. However it is done, the idea of any MSA is that an injured worker should use these funds to pay for medical care that would have otherwise been paid by the workers' compensation carrier if the worker's compensation claim had not settled.
Protecting Your Current or Future Medicare Benefits After a Workers' Comp Settlement
If the parties follow the CMS guidelines in creating and operating the MSA, then the injured worker will not risk disqualifying him or herself from Medicare coverage. 
Having an MSA can be very important because sometimes injured workers end up needing more medical care than anyone anticipated at the time of settlement. If an injured worker spends down the money in his MSA, he will then probably want to turn to Medicare and ask Medicare to pay for future medical care. Having a properly crafted MSA makes it likely that Medicare will agree to pay for that medical care.
LEARN MORE: For answers to other common workers' compensation questions, please visit our workers' compensation FAQ page.
Consult with a Workers' Comp Attorney
Workers' compensation claims, settlements, and Medicare Set Asides can be extremely complicated. You don't have to do this alone. Let an experienced North Carolina workers' comp lawyer at Riddle & Brantley help.
For a FREE consultation with an experienced North Carolina workers' compensation attorney, please call 1-800-525-7111.
The consultation is free, there is no obligation, and you won't pay any attorney fees unless we win your case and you receive workers' compensation benefits.
"I was more than happy with the outcome of the workers' compensation case that was settled and won on my behalf."
–Linda M., Riddle & Brantley client
Board-Certified Specialists
At Riddle & Brantley, our workers' comp team is led by two Board-Certified Specialists in Workers' Compensation, Chris Brantley and Adam Smith. Both Chris and Adam have demonstrated significant experience and expertise handling workers' comp cases, and have been recognized by the North Carolina State Bar with this specialization designation.
Don't wait — the longer you wait the harder it may be to win your case and get you the workers' compensation you need and deserve.
Results for Our Clients
Riddle & Brantley's North Carolina workers' compensation attorneys have extensive experience handling settlements involving Medicare Set Aside accounts.
In one recent case we handled, attorney Gene Riddle was able to secure a $786,000 settlement for an injured worker, along with a provision for a Medicare Set Aside fund to pay for future medical expenses (see disclaimer below).
Justice Counts.
---
*** Disclaimer: The results mentioned are intended to illustrate the type of cases handled by the firm. These results do not guarantee a similar outcome, and they should not be construed to constitute a promise or guarantee of a particular result in any particular case. Every case is different, and the outcome of any case depends upon a variety of factors unique to that case.