What is Maximum Medical Improvement in NC Workers' Compensation Law?
If you've been injured on the job and are unable to work, Riddle & Brantley knows that navigating the fine print of a workers' compensation claim on your own can be a daunting task. One reason that these claims are difficult to navigate is because they rely on complicated, unfamiliar words and legal jargon. As injured workers progress through their workers' compensation claims, one particularly confusing term that they frequently encounter is maximum medical improvement, otherwise known as MMI.
MMI is a very important concept in workers' comp law and an experienced North Carolina workers' compensation lawyer can help guide you through this stage of your workers' comp claim. Although the idea behind MMI may be simple in theory, in reality, the determination of whether an employee has reached MMI can have significant consequences on the outcome of that employee's workers' comp claim.
In this blog post, we explain what MMI is and what role it plays in your workers' compensation claim in North Carolina.
What is Maximum Medical Improvement (MMI) in a Workers' Comp Claim?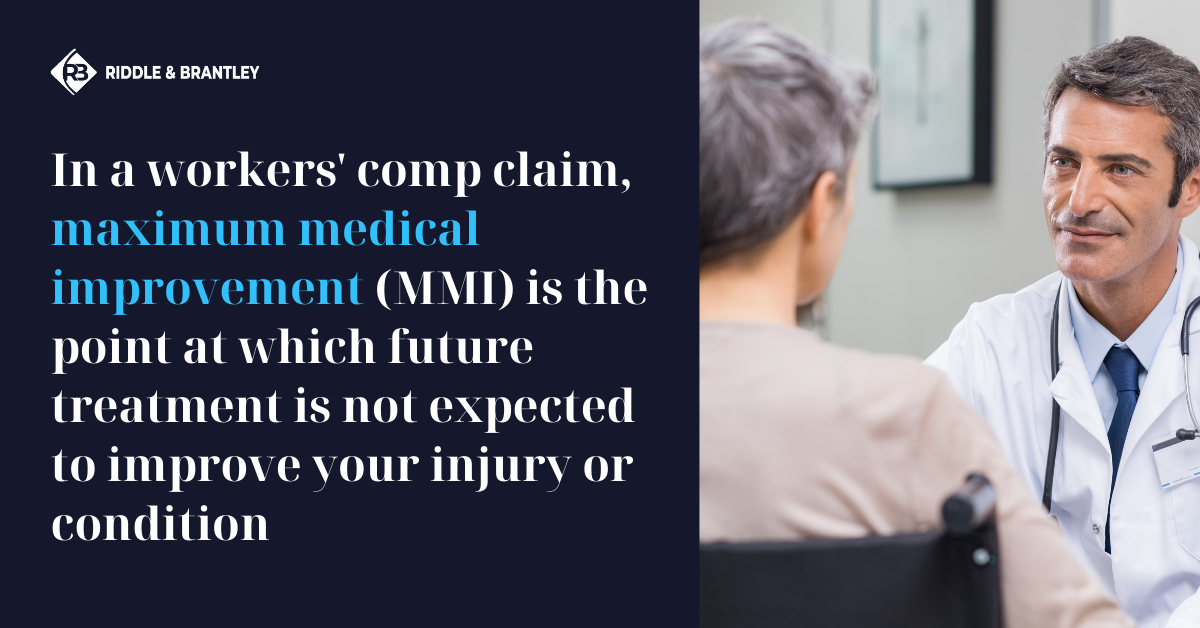 At the heart of all workers' comp claims lies the idea that an employee who has been injured on the job should receive reimbursement by his employer (or their insurance company) for his medical treatment related to this injury.
Most frequently, an injured employee is unable to work while he receives treatment to recover from his injuries. It is the employer's responsibility (or the responsibility of its worker's compensation insurance company) to provide an injured employee with medical treatment that will cure the employee of his injury, sufficiently reduce his pain, or help the employee recover to a point where he can physically return to work. Therefore, a major priority in every workers' comp case is to get the employee the medical care he needs to recover physically from his injury so that he may return to work in the future.
This raises two important questions:
How do you determine when an employee has fully recovered from his or her injuries to be able to return to work, especially if they are life-altering?
Who makes this determination?
This is where "maximum medical improvement" (MMI) factors into a workers' compensation claim. MMI is a technical term used to describe the point at which an injured employee's condition has stabilized to the point where he will no longer benefit from further medical treatment.
MMI is used as a benchmark to determine whether an employee has recovered enough from his injuries to return to work, or whether some other accommodations need to be made to care for the employee long-term. Remember, though: MMI does not mean the employee healed to the physical condition he or she was in before the accident – just that the employee has healed to the maximum extent as he or she is likely to get, given the injuries and condition.
"Who decides if I have reached MMI?"
The private doctor who is directing the employee's medical treatment is the one to determine when an injured worker has reached MMI and whether that employee is ready to return to work.
When a doctor concludes that an injured worker has reached MMI, he or she is making the determination that any injury sustained by the employee has stabilized to the point that it is not likely to further improve with medical treatment.
It is important to note that a doctor's determination that an employee has reached MMI does not mean the employee's case is over, or that his medical treatment will immediately end and his claim to benefits will cease. Nor does the doctor's determination mean that employee's wage replacement disability benefits will stop. MMI is simply an important stage in the workers' comp process because it gives the employee a sense of finality with regard to the future of his injury and when he can expect to return to work.
An experienced North Carolina workers' comp lawyer will know how to navigate through this next phase of the claim process to ensure that you can continue to pursue any benefits to which you may be entitled.
For a FREE, no-obligation consultation with an experienced workers' comp lawyer, call 1-800-525-7111 or complete the fast and easy form below.
The consultation is free and we don't get paid unless you do. If we don't recover workers' compensation benefits for you, you won't pay any attorney fees.
"What if I still need medical treatment after I reach maximum medical improvement?"
If your injuries require long-term medical care well into the future just to maintain your current health and quality of life, your employer may be required to pay for this treatment through workers' compensation.
Although many employees with work-related injuries successfully recover after following a medical treatment plan, some employees suffer injuries so significant or life-altering that they require continued medical treatment for the remainder of that individual's life. Therefore, an employer may be held responsible for paying an injured employee's medical expenses over the course of an employee's lifetime if stopping that medical treatment will cause the employee's medical condition to regress.
"After I've reached MMI, what happens to my workers' comp case?"
MMI is an important stage in the workers' compensation process because it ushers in several options for how the employee can proceed with the remainder of their claim. When a doctor makes a determination as to MMI, he will also assign the employee a permanent disability rating (PDD). A PDD rating is a percentage rating applied to the injured parts of an employee's body.
Once assigned a PDD, the employee has several options for how to proceed with their workers' compensation claim.
These options include:
If the injured employee believes that his or her injury is worse than the doctor assessed or may benefit from additional treatment, the employee may request a second opinion. A second opinion from another doctor can result in a change in the employee's PDD rating and the compensation he or she receives.
The injured employee can accept the PDD rating and elect to receive a payment based on this rating.
The injured employee can work with his or her attorney to settle the workers' comp claim in whole (this is sometimes called a "clincher agreement").
If he or she wishes to return to work, the injured employee can begin looking for other employment that aligns with his or her current injury and disability.
Need a North Carolina Workers' Comp Attorney?
As an employee approaches maximum medical improvement (MMI), he or she and an experienced attorney need to develop a plan for how to move forward with the workers' comp claim. An experienced NC workers' comp lawyer can review your claim to determine if there are opportunities to obtain a higher PDD rating or ratings for additional body parts. Your attorney can also review your claim to ensure you are being given fair compensation for your workplace injury.
Riddle & Brantley's Board-Certified Workers' Compensation Specialists have decades of experience helping injured North Carolina workers receive the full amount of benefits owed for their workplace injuries.
We want to help you get the full and fair amount benefits you deserve.
If you have other questions about the workers' comp claim process, we invite you to review our workers' comp FAQ page, as well.
At Riddle & Brantley, we know that a workplace injury can put your life on hold.
Our Board-Certified Workers' Compensation Specialists have devoted decades of practice to defending and advocating for injured employees and know how to advise you through this frequently confusing process. We have recovered millions of dollars in compensation for victims of workplace accidents and are proud to advocate for the injured (see disclaimer below).
We also have a Board-Certified Specialist in Social Security Disability on the team. A Riddle & Brantley disability lawyer can handle any claims or appeals necessary if your workplace injury results in long-term disability, as well.
Justice Counts.
---
*** Disclaimer: The results mentioned are intended to illustrate the type of cases handled by the firm. These results do not guarantee a similar outcome, and they should not be construed to constitute a promise or guarantee of a particular result in any particular case. Every case is different, and the outcome of any case depends upon a variety of factors unique to that case.