Workers' Compensation for Construction Accident Injuries
Have you been injured in a construction accident? Are you seeking workers' compensation for a construction accident?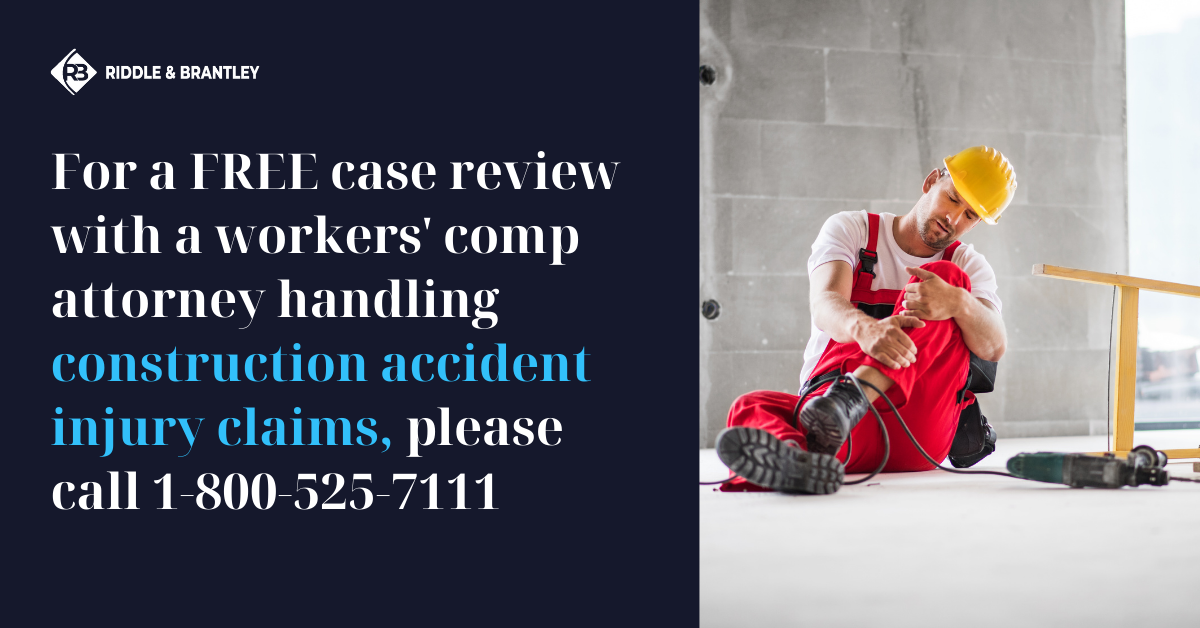 Working on a construction job site can be dangerous. A typical construction worksite can involve many subcontractors all trying to work at the same time, in the same confined area, with high-powered tools and equipment. Even a small mistake or safety violation can result in serious injury. And sometimes construction accident injuries occur even if everyone does everything right, because accidents happen.
In this article, our workers' compensation lawyers will review how workers' comp for construction accidents works in North Carolina, and explain what you can do if you've been injured and are filing a workers' compensation construction accident claim.
Workers' Compensation for Construction Accidents in North Carolina
In North Carolina, you can have a valid workers' compensation claim for a construction accident even if no one did anything wrong.
The workers' compensation system was designed and set up so injured workers could receive compensation when they are hurt on the job, without having to prove that the injury was someone else's fault. In fact, you can receive workers' comp benefits in North Carolina even if you were at fault in causing your construction accident injury.
The workers' compensation system is set up as a compromise between employers and injured workers. In this trade off, injured worker's typically do not need to prove how they were injured, and employers do not risk being sued for pain and suffering.
There are certainly exceptions. If an employee is intoxicated or on drugs, his worker's compensation claim might well be denied. And if an employer is found guilty of an OSHA violation, they might be responsible for additional penalties.
"Third Party Claims"
Additionally, North Carolina allows for "third-party claims." This is when the person responsible for your injury was not your direct employer. So for example, if you are hit by a car while you are on the job, and the driver of that vehicle is not a fellow employee of your same company, you might have both a workers' comp claim against your employer, and a "third-party claim" against the person who hit you, and their employer or insurance company. This can be very important since workers' comp claims pay limited benefits, like 2/3 of your wage loss rather than 100% of your wage loss, and since pain and suffering is available in third-party claims but not in workers' comp claims.
Common Types of Accidents in Construction Accident Workers' Comp Claims
In more than three decades serving clients involved in workplace accidents, our attorneys have handled all types of construction accident injury claims.
Our attorneys have handled workers' comp for construction accident claims involving injuries such as:
Falls
Falls are some of the most common causes of injuries on construction job sites. Often, recommended fall prevention equipment is not available to all employees and subcontractors, and there are many opportunities to fall from elevated heights on a typical job site. Workers' compensation for construction accident claims involving injuries from falls are common in North Carolina.
Falling Objects
Construction sites can be hectic work environments, with tight deadlines to finish a job, so the next team of subcontractors can move in and perform their set of duties. If one part of a job doesn't complete on time, the next one can be impacted, and so on. As a result, employees sometimes push to finish jobs and take shortcuts, and sometimes objects are dropped from heights as a result. And even when all safety precautions are taken, items can be dropped or dislodged, and the result can be an injured employee who was standing somewhere below.
In North Carolina, our attorneys have handled many construction accident workers' compensation claims involving injuries suffered from falling objects.
Equipment Accidents
On most construction sites, there are numerous pieces of high-powered industrial equipment. Workers can be injured on saws, drills, nail-guns, or jackhammers. Or they can be run over by forklifts, lulls, or other types of vehicles operating on site. Workers' comp for construction accidents involving equipment accidents or malfunctions are common in North Carolina.
Electrocutions
Many employees find it impractical to work on a hot construction job site wearing bulky personal protective gear. As a result, they can be very susceptible to injury by electrocution. Electric shock injuries can be very serious, and result in injury from both the actual electric discharge, and also by the secondary blowback, where the employee might be thrown off a ladder or onto a sharp object by the electrocution. These types of workers' comp claims for construction accidents are also common in North Carolina.
Chemical or Liquid Burns
Employees and subcontractors on construction job sites are often working around many dangerous substances, and being in the wrong place at the wrong time can result in serious chemical or liquid burns. These injuries are also eligible for construction accident workers' compensation claims.
Slips, Trips, and Falls
Construction job sites often involve uneven surfaces, rocky ground, and wet flooring or ground. Many injured workers tell us they do not even know what caused them to fall, and that they just remember waking up on the ground. In North Carolina, insurance companies will try to deny claims if they believe your slip and fall was the result of an idiopathic condition, like a stroke or a simple black out. In truth, most strokes and blackouts are brought on by the work environment, such as working strenuously in extreme heat. But our caselaw also provides that if the cause of a fall on a construction job site simply cannot be determined, the injured worker can be entitled to construction accident worker's compensation benefits under the presumption that the fall or trip was due to some hazard unique to a job site.
Lifting Injuries
Many construction workers are hurt when they try to lift a heavy object. For some body parts, an injured worker must show that a lifting injury constituted an "accident" and prove that there was something unusual about the way he or she was lifting an item. But for neck and back injuries, there are a different set of rules. These rules are arcane and complex, and the way you describe an incident can make all the difference in the world. It is important to know what an adjuster is looking for when they ask you questions like, "So was there anything out of the ordinary that day while you were lifting that box?"
Do You Have a Claim for Workers' Compensation for a Construction Accident?
If you've been injured while on the job, you may have a claim for workers' compensation for your construction accident injury, and our work injury lawyers would love to help.
Since 1985, our firm has recovered millions of dollars in compensation for injured workers, including a recent case in which we secured $2.475 million for a construction worker who suffered a debilitating head injury in a fall from a platform (see disclaimer below).
For a FREE consultation with a work injury lawyer handling construction accident workers' comp claims, please call 1-800-525-7111 or complete the fast and easy form below.
There is never any obligation and you won't pay any attorney fees if we don't get you the workers' comp for your construction accident injury that you need and deserve.
Justice Counts for work injury victims and we're ready to help however we can. For a FREE, no-obligation case review and consultation, with a workers comp lawyer handling workers' compensation for construction accident claims, please call 1-800-525-7111.
---
*** Disclaimer: The results mentioned are intended to illustrate the type of cases handled by the firm. These results do not guarantee a similar outcome, and they should not be construed to constitute a promise or guarantee of a particular result in any particular case. Every case is different, and the outcome of any case depends upon a variety of factors unique to that case.