Paragard Infection: Do You Have an Injury Claim?
Paragard, a t-shaped IUD, provides a long-term option for women to use as a form of contraception. The device, comprised of copper and plastic, is inserted into the uterus and can stay for up to 10 years. While many women don't have any issues with the copper IUD, there are reports of patients getting infections from Paragard.
Have you or a loved one suffered an infection during Paragard use or after removal?
Paragard Infection Risk and Complications
Paragard infections can occur in one of two ways:
If the IUD becomes dislodged, it can puncture the uterus, leading to infection
If pieces of the IUD break and are left behind after removal, leading to infection
Symptoms of infection potentially caused by Paragard include:
Abdominal pain
Vaginal discharge, potentially with a foul odor
Pain when urinating
Pain during intercourse
Fever
Irregular menstruation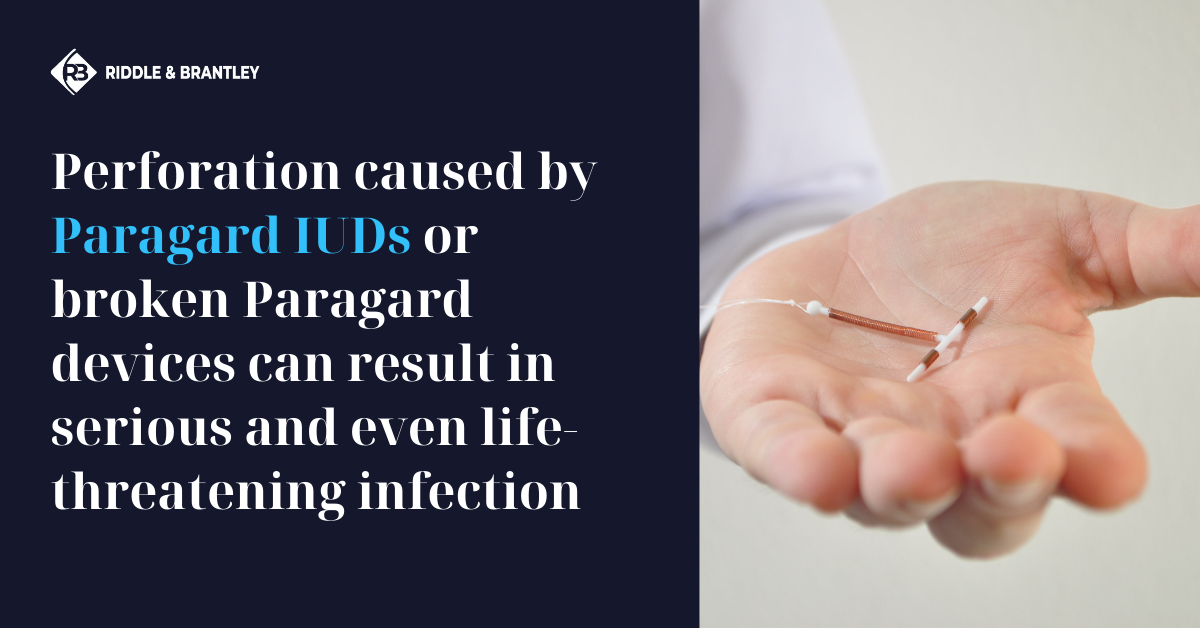 If you've experienced any of these symptoms of potential Paragard infection, contact your doctor immediately.
We are currently investigating Paragard infection injury claims.
If you sustained an infection or severe complications from Paragard, you might be entitled to significant financial compensation — call 1-800-525-7111 today for a FREE, no-obligation consultation.
Speak with one of our experienced Paragard injury attorneys today to learn if we can help. Call 1-800-525-7111 today and let's talk.
We provide free consultations and as always, we don't get paid unless we win your claim and you receive compensation.
Riddle and Brantley offers an array of free claim evaluation options including in-person consultations, phone conferences, or video meetings. We can also consult with you via email or text message.
Additionally, you can fill out the claim evaluation form below.
We believe that all women who suffered from problems from Paragard are entitled to justice and we would love to fight to help you obtain just compensation if we can.
Types of Complications Paragard Can Cause
Paragard IUDs can potentially cause infection and many other types of complications and injuries.
Inflammatory Disease
IUDs can cause pelvic inflammatory disease. This complication generally occurs within the first 20 days of having the IUD inserted. According to Healthline, when left untreated pelvic inflammatory disease could lead to permanent organ damage and even infertility. Please consult with a health care provider if you show any symptoms of pelvic inflammatory disease.
Perforation (Tearing)
In addition to pelvic inflammatory disease, another very serious complication that might arise is uterine perforation, also known as "tearing."
This occurs when the IUD punches through the uterine wall or cervix. Perforation occurs either during placement or when Paragard moves or "migrates" after implantation. Once the uterus has perforated, Paragard must be surgically removed. If not fixed, perforation can cause damage to other nearby organs.
Broken Paragard
Under some circumstances, serious complications appear after Paragard has been surgically removed. During the Paragard removal process, some remnants of the device can break off from the IUD and are consequently left in the body.
The general practice for removing Paragard is for a medical professional to pull on the threads of the IUD. However, health care providers allege that in some cases, the IUD is not fully intact after its removal. Additionally, pieces of Paragard may break off even without a removal attempt. When pieces of Paragard are left inside, they can become embedded inside the uterus. Surgical removal may then be required.
All of these conditions can lead to Paragard infection, which can damage other organs and is potentially life-threatening.
Side effects and serious injuries from broken or dislodged Paragard devices may include:
Chills
Fever
Abdominal pain
Heavy bleeding
Exhaustion
Scarring
Nausea or vomiting
Extreme pelvic pain
Infertility
Ectopic Pregnancy
If you believe that you sustained an infection or other injury after removal of a Paragard IUD, please call 1-800-525-7111 for a FREE, no-obligation consultation.
You won't pay any attorney fees unless we recover compensation for you in your Paragard injury claim.
Please call 1-800-525-7111 today and let's review your claim.
Do You Have a Paragard Infection or Injury Claim?
If you suffered infection (or other injury) after implantation or removal of a Paragard IUD, you may be entitled to compensation.
For a FREE consultation with an experienced Paragard lawsuit lawyer, please call 1-800-525-7111 today or complete the fast and convenient form below.
There is never any obligation and you won't pay any attorney fees unless we recover compensation for you.
"This settlement changed me and my family's lives."
–Linda B., Riddle & Brantley client
Since 1985, Riddle & Brantley's defective medical device attorneys have recovered millions of dollars in compensation for victims of injury due to manufacturers' negligence and other injury victims (see disclaimer below).
We are proud of the words our clients use to describe their experience working with our attorneys and staff:
"Every time I've needed them, they were there for me." -Tyronnie T.
"It was nice to see Riddle & Brantley put me and my needs first." – Colley
"They made a hard time in my life easier to endure." –Melissa C.
Justice Counts and we would love to help you get the compensation you deserve in your Paragard infection or other injury claim or lawsuit.
Please call 1-800-525-7111 and let's review your claim.