Paragard Problems and Lawsuits
Paragard problems continue to pile up as more allegations are made that Paragard IUDs are not safe.
Lawsuits alleging that Paragard causes serious injury have been consolidated into multi-district litigation (MDL) and we anticipate hundreds more to be filed in the weeks and months ahead. Alleged Paragard problems include the fact that many women have reported serious injuries due to broken Paragard IUD devices, which often occur during Paragard removal surgery.
If you've experienced Paragard problems such as injury due to a broken Paragard or removal surgery, you may be entitled to compensation — please call 1-800-525-7111 today for a FREE, no-obligation consultation.
There is no obligation and we don't get paid unless you do. If we don't recover compensation for you, you won't pay any attorney fees.
Please call 1-800-525-7111 today and let's review your potential Paragard claim.
What Are the Problems with Paragard?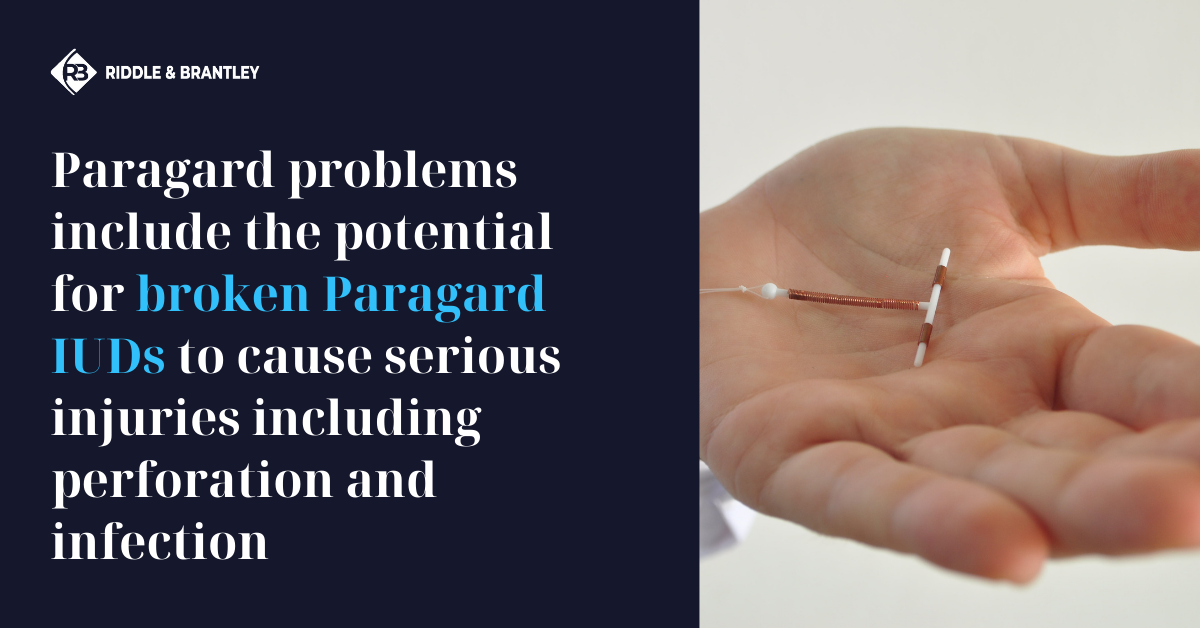 Paragard is a popular copper intrauterine device (IUD) used for birth control that was first approved by the Food and Drug Administration (FDA) in 1984. It is the only non-hormonal birth control device approved by the FDA in the United States. Instead of using hormones to prevent pregnancy, the Paragard IUD is wrapped in copper, which is toxic to eggs and sperm.
Since the device was approved in 1984, Paragard problems have been reported by many patients and doctors.
The Paragard prescription label summarized some of the device's problems, including a warning that the IUD may cause perforation, or tearing of the uterus.
Injuries potentially caused by a broken Paragard or Paragard removal include:
Tearing (peforation of the uterus)
Embedment (embedding of the IUD in the uterus)
Scarring
Ectopic pregnancy (pregnancy complication)
Brain injury (PTC)
Organ damage
IUD migration (unintended movement)
In 2019, the FDA issued a warning letter to a Paragard manufacturer, saying that the manufacturer's advertisement for Paragard misrepresented the risks of the IUD.
Paragard is manufactured by The Cooper Companies, which bought the brand from the original manufacturer, Teva Pharmaceuticals, in 2017. The companies have denied any wrongdoing, but are accused of failing to alert consumers to potential Paragard problems and injury risks.
These manufacturers now face MDL (multi-district litigation) in the Northern District of Georgia.
For a FREE consultation concerning a potential Paragard MDL injury claim, please call 1-800-525-7111.
There is no obligation and you won't pay any attorney fees unless we win your case and you receive compensation.
Please call 1-800-525-7111 to speak with an experienced Paragard lawsuit lawyer today.
"Do I qualify for a Paragard lawsuit?"
You may have a claim against Paragard if you meet the following criteria:
You must have or previously had Paragard inserted
You must have already had or scheduled Paragard IUD removal surgery
You must have had a complication before or after surgery
Compensation may be available to women who have suffered problems due to Paragard, including injuries and complications associated with a broken Paragard device or removal surgery. In certain cases, Paragard complications have required hysterectomies.
For a FREE consultation with an experienced Paragard IUD lawsuit lawyer, please call 1-800-525-7111.
We will review your claim, advise you on your eligibility for a Paragard lawsuit, and if you decide to hire us, fight tirelessly for your right to compensation.
Please call 1-800-525-7111 and let's review your claim.
"They made a hard time in my life easier to endure."
­-Melissa C., Riddle & Brantley client
Experienced Paragard Injury Lawyers 
Since 1985, our injury attorneys have been holding potentially negligent manufacturers accountable for dangerous medical devices. Our attorneys have more than 220+ years of combined legal experience fighting for injured victims and we would love to help you if we can.
Our team is led by attorney Gene Riddle, who has handled thousands of injury cases over more than 35 years. He has been recognized for his achievements and experience by such prestigious organizations as Multi-Million Dollar Advocates Forum, The National Trial Lawyers Top 100, and Super Lawyers, to name a few (see disclaimer below).
We believe Justice Counts and are committed to seeking justice for women who have suffered injury potentially due to defective Paragard IUDs. If Teva Pharmaceuticals continued to market its product despite known Paragard problems, we believe that's wrong and we would love to help you fight for justice and compensation for your injuries and suffering.
"They turned a heartbreaking situation completely around."
–Tonya Taylor, Riddle & Brantley client
For a FREE consultation with an experienced Paragard lawyer, please call 1-800-525-7111 or complete the fast and easy form below.
There is never any obligation and you won't pay any attorney fees unless we recover compensation for you in your Paragared injury claim.
Please call 1-800-525-7111 today and let's review your case.
---
*** Disclaimer: The results mentioned are intended to illustrate the type of cases handled by the firm. These results do not guarantee a similar outcome, and they should not be construed to constitute a promise or guarantee of a particular result in any particular case. Every case is different, and the outcome of any case depends upon a variety of factors unique to that case.