5 Places You Might Be Exposed to Deadly Weed Killer Paraquat
How Paraquat Exposure Can Happen Anywhere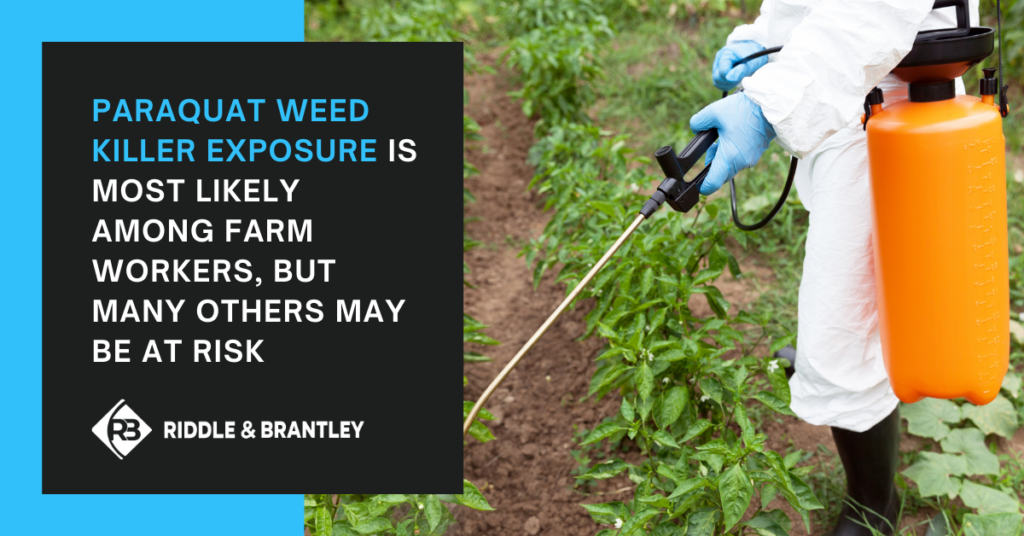 Paraquat is a dangerous, highly toxic chemical. It is also one of the most commonly used herbicides, despite being banned in over 30 countries. Studies now show that exposure to this herbicide may substantially increase the risk of developing Parkinson's disease. 
At Riddle & Brantley, we provide aggressive legal representation for individuals who have been exposed to the highly poisonous chemical Paraquat, potentially resulting in a Parkinson's disease diagnosis. With over 220+ years of combined experience, we know what it takes to hold potentially negligent manufacturers accountable and are here to help you get justice for your injuries.
Contact our office today at 1-800-525-7111 to determine if you qualify for a Paraquat lawsuit. We handle cases on a contingency fee basis, meaning you pay no attorney fees unless we recover money on your behalf. 
What Is Paraquat?
Paraquat is a highly toxic herbicide that has been used for commercial purposes since the early 1960s. The weed killer is sold under several names, including Gramoxone. Syngenta and Chevron are major manufacturers of paraquat weed killer. It is registered through the Environmental Protection Agency (EPA) as a "Restricted Use Pesticide" that can only be used by certified and trained applicators. 
Paraquat ingestion is known to cause severe injury or death. As noted by the EPA, one sip of the dangerous substance can prove deadly. Research indicates that prolonged exposure to Paraquat dichloride may cause Parkinson's disease, a degenerative motor disorder.
Where Does Paraquat Exposure Happen Most Often?
Despite its restricted use, Paraquat exposure can occur in a number of ways. It is not only agricultural workers and farmers that are subjected to the harmful effects of the pesticide. The substance seeps into the soil, contaminating crops, soil, and water sources.
1. Commercial Farmland
The most common place that Paraquat exposure occurs is at commercial farms. The herbicide is used on agricultural land throughout the United States. It is used on over 100 different types of commercial crops, including soybeans, corn, and cotton. In fact, Paraquat use has become more common due to increasing controversy surrounding Roundup (Riddle & Brantley also handles Roundup lawsuits).
Commercial farmers and certified Paraquat applicators may be at high risk of developing Parkinson's. Long-term exposure to the weed killer has been linked to this disease. 
If you were an agricultural worker diagnosed with Parkinson's or suffer from symptoms similar to the disease, you may be eligible for compensation. Contact our office to speak directly with a Paraquat lawsuit lawyer. The consultation is free and we don't get paid unless you do. It's as simple as that.
2. Residential Communities in Rural Areas
Residential communities located near agricultural land where Paraquat has been used are at high risk for exposure. Studies show that not only do these individuals living near farmland have an increased risk for developing Parkinson's disease, but they also have an increased risk for developing early-onset Parkinson's. 
Environmental factors have long been associated with the development of Parkinson's but only recently has there been discovered a link between exposure to a particular chemical and the disease.
3. Contaminated Water Sources
Because Paraquat is sprayed onto crops, it can seep into the soil and contaminate nearby water sources. People who either drink from these waters or fish from potentially contaminated waters are at risk for Paraquat exposure.
4. Playgrounds and Schools
In addition to residential communities, playgrounds and schools located near farmlands run the risk of Paraquat exposure. Rural areas, in particular, are in danger. During the mixing and application process, particles from the deadly herbicide are released into the air, putting everyone in the vicinity at greater risk of developing Parkinson's or related symptoms.
Playgrounds and schools, like nearby residential properties, may also be exposed through Paraquat drift and overspray, in which the herbicide is unintentionally spread over areas adjacent to farms.
5. Non-Agricultural Settings
Paraquat is legal in the U.S. for non-agricultural uses. While it is primarily used as an herbicide on commercial crops, it is also used and stored in a number of other ways. 
According to a Petition filed by the Michael J. Fox Foundation, non-agricultural use sites include: 
Rights-of-way

Pastures

Commercial buildings

Storage yards
While the EPA has updated the risk assessment for Paraquat, it has not banned the substance. The dangerous pesticide is still applied through the air and on the ground. An aerial application can be particularly hazardous to nearby residential communities, schools, and businesses.
Paraquat Litigation
Lawsuits are currently being filed against the manufacturers and distributors of Paraquat, including Syngenta and Chevron. Anybody who has been diagnosed with Parkinson's disease or has symptoms after being exposed to Paraquat is strongly encouraged to contact our office for a free, no-obligation consultation 
Symptoms of Parkinson's Disease include:
Tremors

Slowed movement

Difficulty walking

Stiffness and muscle rigidity

Lack of balance or coordination

Vision problems
There is no cure for Parkinson's disease. The movement disorder is progressive, meaning that it continues to get worse over time. While it can be challenging to determine what caused the disease, a thorough investigation could help determine if environmental toxins like paraquat may have increased your risk for developing the disorder.
It is important to note that both Syngenta and Chevron have denied any liability, negligence and/or wrongdoing. However, many legal analysts believe that the case against paraquat manufacturers is strong, and potentially significant paraquat settlements and/or verdicts may be on the horizon.
Justice for Injured Parties
At Riddle & Brantley, we represent people who have suffered harm because of another person or company's negligence or wrongdoing. Parkinson's is a lifelong condition that can require substantial medical assistance. If your Parkinson's was the result of Paraquat exposure, you might be entitled to compensation to cover your medical bills, lost wages, pain and suffering, and more.
Contact our office at 1-800-525-7111 for a free, no-obligation consultation. Our legal team has recovered hundreds of millions of dollars on behalf of clients in North Carolina and nationwide (see disclaimer below). Justice Counts. Call our office to get started.
---
*** Disclaimer: The results mentioned are intended to illustrate the type of cases handled by the firm. These results do not guarantee a similar outcome, and they should not be construed to constitute a promise or guarantee of a particular result in any particular case. Every case is different, and the outcome of any case depends upon a variety of factors unique to that case.