Michael J. Fox Foundation Urges Congress to Ban Herbicide Paraquat Due to Parkinson's Risk
Despite Health Concerns, the Dangerous Herbicide Paraquat Is Still Widely Used Throughout the U.S.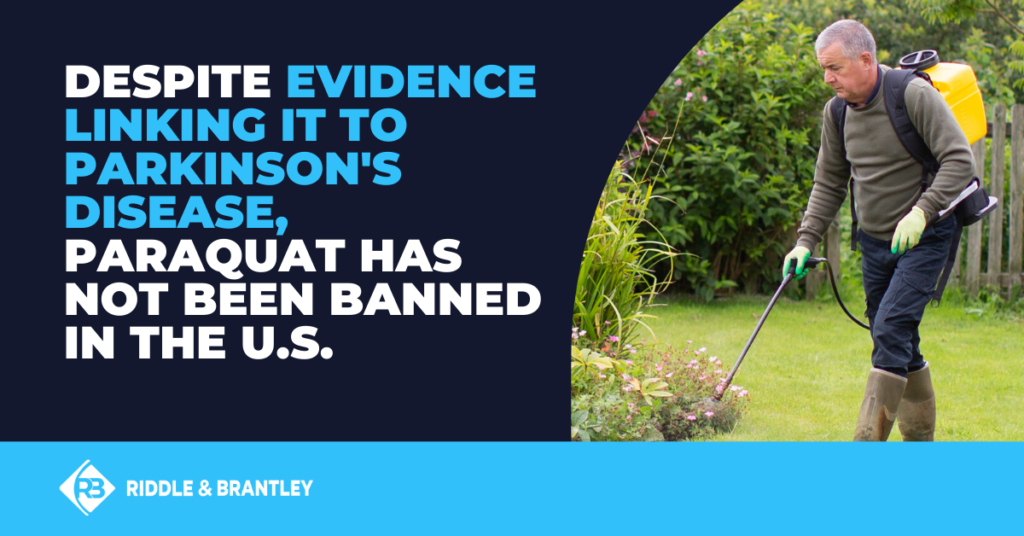 Exposure to the herbicide Paraquat dichloride has been linked to an increased risk of Parkinson's disease. The Michael J. Fox Foundation is urging lawmakers to ban the dangerous substance. If successful, the bill would require the Environmental Protection Agency to cancel the registration for all uses of this toxic pesticide.
At Riddle & Brantley, we represent individuals in paraquat lawsuits who may have suffered from Parkinson's disease as a result of exposure to this unsafe chemical. Paraquat is a known toxin that is commonly used on crops across the country. 
If you have been diagnosed with Parkinson's disease after being exposed to Paraquat, contact our office at 1-800-525-7111 for a free, no-obligation consultation. 
Have Other Countries Banned the Use of Paraquat?
Over 30 countries have banned the use of Paraquat. The United States, however, has not banned the dangerous toxin. Despite growing health concerns, it remains one of the most widely used herbicides in the country. 
Paraquat dichloride has been classified by the United States Environmental Protection Agency (EPA) as a Restricted Use Pesticide (RUP). The chemical is considered highly toxic and is known to cause significant health problems. The EPA advises anyone that comes into contact with Paraquat to seek medical assistance immediately. 
The Michael J. Fox Foundation is currently urging lawmakers to take action, joining with the Unified Parkinson's Advocacy Council to get the dangerous substance banned in the United States.
How Did Michael J. Fox Get Parkinson's Disease?
It may never be known how Michael J. Fox developed Parkinson's disease. Unfortunately, many people diagnosed with Parkinson's never know the underlying cause. Research indicates that Parkinson's can be caused by a single factor or a combination of factors.
Known causes of Parkinson's include:
Environmental exposures

– Studies have shown that Parkinson's may be caused by exposure to pesticides such as Paraquat and other toxins. Head injuries are also believed to cause Parkinson's.

Genetics

– Certain genetic mutations are believed to increase the risk of Parkinson's disease in a person. According to the Michael J. Fox Foundation, genetics explains around

30% of Parkinson's risk

.

Gender and Age

– Age is the

greatest risk factor

for developing Parkinson's. Men are also more frequently diagnosed with the disease.
The exact cause of Michael J. Fox's Parkinson's remains unknown. He received a diagnosis of young-onset Parkinson's disease at age 29, well before the average age of diagnosis, which is around 60. 
It is important to seek legal representation if you believe that an environmental factor such as exposure to the herbicide Paraquat was the cause of your Parkinson's or symptoms similar to Parkinson's. Our Paraquat lawsuit lawyers can help determine if you qualify for compensation.
For a free, no-obligation consultation, call 1-800-525-7111 or complete the fast and easy form below. There are no upfront costs, and you won't ever pay any attorney fees unless we win your Paraquat lawsuit and you receive compensation.
Experienced Representation for Paraquat Lawsuits
Parkinson's is a lifelong, degenerative disease that affects a person's movement. It is alleged that manufacturers knew or should have known about the dangers of Paraquat, and that they failed to warn consumers. These companies must be held accountable. 
At Riddle & Brantley, we are dedicated to fighting for those injured because of another person or company's negligence or wrongdoing. If you were diagnosed with Parkinson's after Paraquat exposure, you need an attorney that has the experience to get the justice you deserve. Contact our office at 1-800-525-7111 for a free, no-obligation consultation. 
"They turned a heartbreaking situation completely around."
–Tonya T., Riddle & Brantley client
Justice Counts.