Potential Paraquat Settlement Amounts
Paraquat, a popular herbicide (weed killer), has recently been linked to an increased risk of neurodegenerative diseases from regular exposure, including an increased risk for Parkinson's disease. If you or a loved one were exposed to Paraquat-containing herbicide and have been diagnosed with Parkinson's disease, you may be wondering about possible Paraquat settlement amounts.
IMPORTANT: While there have not been any Paraquat lawsuit settlements yet (and defendant manufacturers including Syngenta and Chevron deny all claims of negligence and/or wrongdoing), previous settlements in other product liability cases may offer clues as to what plaintiffs might anticipate in the possible event that these cases do settle. Legal analysts expect that Paraquat lawsuits may settle, resulting in potentially significant compensation for those who have suffered from Parkinson's disease possibly due to Paraquat weed killer.
If you have been exposed to Paraquat and later developed Parkinson's disease, you may qualify for a lawsuit.
Please call 1-800-525-7111 today to speak to a Riddle & Brantley Paraquat lawsuit lawyer for a FREE, no-obligation consultation consultation.
We don't get paid unless we recover compensation for you in a potential Paraquat settlement amount. If you don't receive compensation, you won't pay any attorney fees. That's our promise to you.
Call 1-800-525-7111 and let's review your Paraquat Parkinson's disease claim.
What Kind of Settlement Can I Expect from a Paraquat Lawsuit?
IMPORTANT: As of 2021, Paraquat manufacturers deny any wrongdoing, and to date, there have been no Paraquat settlements. Potential Paraquat settlement amounts are not guaranteed and the outcome of every lawsuit depends on the unique facts and circumstances of the case.
As with any mass tort settlement, the potential Paraquat settlement amount that each claimant receives in a possible settlement depends on a variety of factors such as:
The final "global" settlement amount
The number of plaintiffs involved
The severity of each plaintiff's injuries
The strength of the evidence supporting the plaintiff's case
Potential Paraquat Settlement Amounts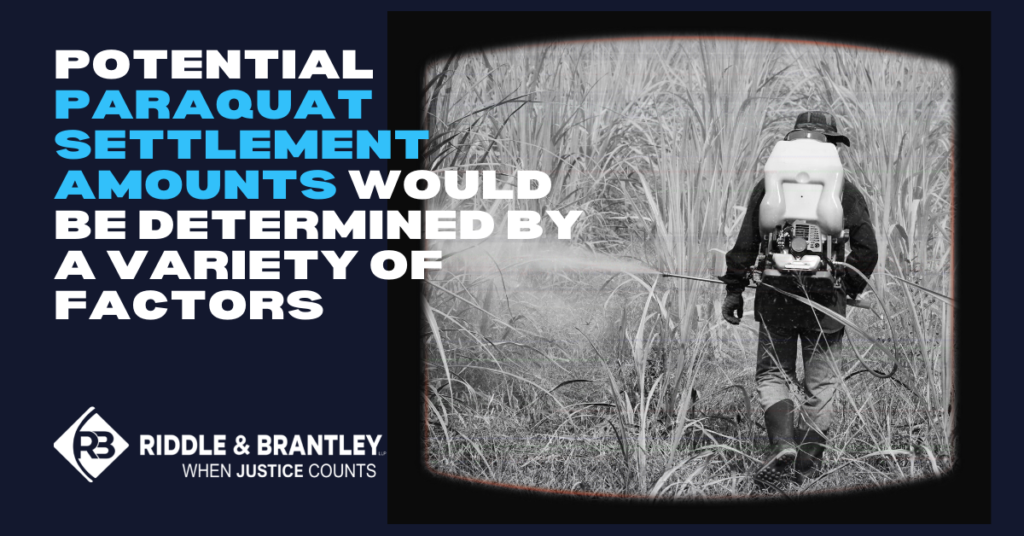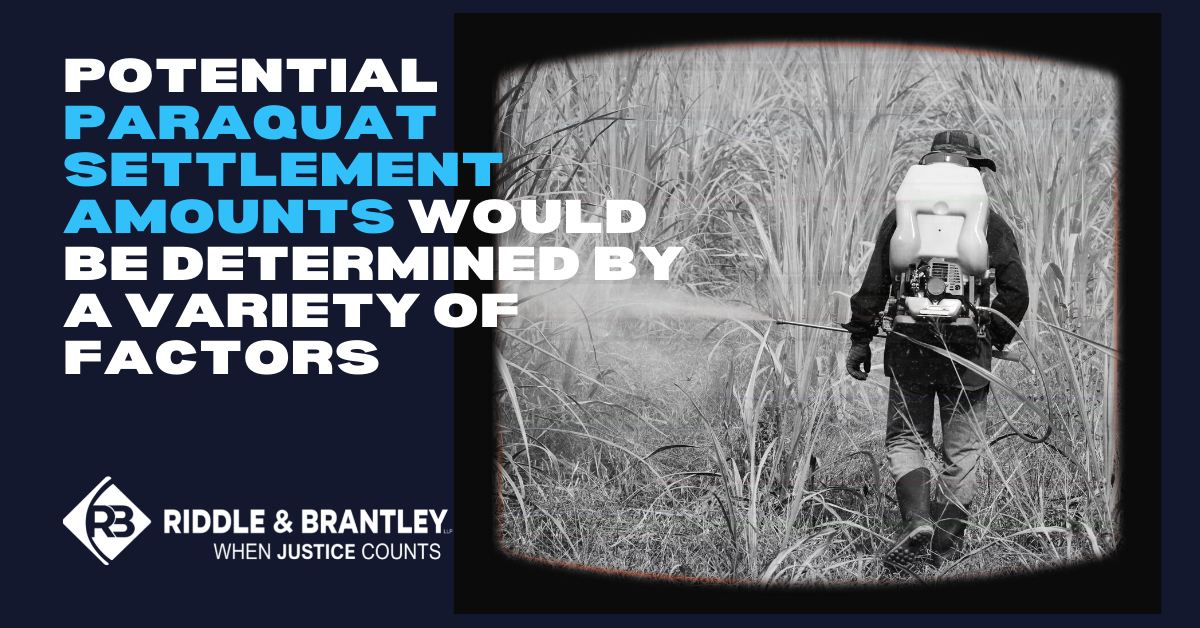 Remember, there have been no Paraquat settlements as of mid-2021 and the defendant manufacturers are vigorously contesting the allegations. There are never any guarantees in any lawsuit, and there may not be a Paraquat settlement at all.
However, we can look at some similar, recent product liability lawsuit settlements to get an idea of what kind of Paraquat payouts may be agreed to in a potential (but not guaranteed) settlement.
Roundup (2021)
Bayer, the manufacturer of Roundup weed killer, agreed to a $9.6 billion settlement of thousands of Roundup lawsuits alleging that the glyphosate-containing herbicide causes cancer. According to a report in the New York Times, potential Roundup victims may receive payouts in the $5,000 to $250,000 range, depending on the unique facts and circumstances of each case.
Roundup cases are similar in many ways to Paraquat lawsuits, in that they allege that a popular herbicide caused serious health problems. Paraquat use has actually increased in recent years due to the controversy and potential health risks associated with Roundup.
Johnson & Johnson (2020)
Johnson & Johnson has been the defendant in lawsuits over several of its products. Most notably, in 2020, they agreed to pay out over $100 million to settle over a thousand lawsuits alleging that the company failed to warn consumers that their talc-based baby powder contained cancer-causing asbestos. The settlement was the first in the baby powder cancer lawsuits, and Johnson & Johnson denies any wrongdoing. Legal analysts anticipate that a potential global settlement in ongoing talcum powder cancer lawsuits (not guaranteed by any means) could cost the company millions more.
Note that none of these settlement amounts are guaranteed, but they can give you an indication of the kind of settlement amounts that are available in lawsuits similar to Paraquat.
"Do I Qualify for a Paraquat Lawsuit?"
To qualify for a Paraquat lawsuit (and a potential but by no means guaranteed Paraquat settlement amount), you must have been exposed to Paraquat and later developed Parkinson's disease.
According to a study done by the American Parkinson Disease Association, the people at highest risk for dangerous amounts of Paraquat exposure are:
Farmers
People exposed to farm animals
People who live on farms
People with known exposure to pesticides
People who drink well water
People who live in a rural area
Our firm is currently evaluating claims by:
Paraquat herbicide applicators, including manual sprayers and those operating tractors equipped to spray herbicide
Farm owners and workers at farms using Paraquat
Nearby property owners and residents who may have been exposed due to herbicide drift, herbicide overspray, or runoff
Rural schoolchildren who attended schools adjacent to farms spraying Paraquat
Even if you don't work directly with pesticides like Paraquat, phenomena like "pesticide drift" can cause exposure if you live in a residential area near commercial farming operations.
To find out if you may qualify for a Paraquat lawsuit (and a possible but not guaranteed Paraquat settlement payout), call Riddle & Brantley today at 1-800-525-7111 to speak with one of our experienced Paraquat lawyers in a FREE consultation.
If you believe you have been exposed to Paraquat and later developed Parkinson's disease, you may be entitled to compensation.
IMPORTANT: Defendant manufacturers like Syngenta and Chevron deny any negligence and/or wrongdoing, and there have been no Paraquat settlements as of mid-2021. No settlement is ever guaranteed, and the outcome of any case depends on its unique facts and circumstances.
Why Riddle & Brantley?
At Riddle & Brantley, we have over 220+ years of experience fighting for clients injured due to others' negligence. And with our team, you will never pay ANY attorney's fees unless you receive compensation, and your consultation is 100% free and comes with no obligation.
Since 2000 alone, our team has recovered more than $600 million in compensation for our deserving clients (see disclaimer below). We're proud of the way our clients speak about us, and we'd love to show you the Riddle & Brantley difference.
"I am completely satisfied with the result of my case."
–Lakeisha D., Riddle & Brantley client
Call 1-800-525-7111 and let's review your claim.
You deserve to have a team fighting for your rights and ensuring you receive the justice you deserve. Let us show you that at Riddle & Brantley, Justice Counts.
---
*** Disclaimer: The results mentioned are intended to illustrate the type of cases handled by the firm. These results do not guarantee a similar outcome, and they should not be construed to constitute a promise or guarantee of a particular result in any particular case. Every case is different, and the outcome of any case depends upon a variety of factors unique to that case.