What Are Early Signs and Symptoms of Parkinson's Disease?
Understanding Your Legal Rights After a Parkinson's Diagnosis
Over a million people in the United States are affected by Parkinson's disease, a debilitating movement disorder. The progressive disease gets worse over time, making it difficult for a person to perform normal activities. While the cause of Parkinson's is unknown, most scientists agree that environmental factors may play a significant role.
Several studies have shown that exposure to herbicides such as the popular weed killer Paraquat may directly impact a person's chances of developing Parkinson's disease. At Riddle & Brantley, our award-winning attorneys are actively investigating claims from individuals who were exposed to Paraquat and subsequently diagnosed with Parkinson's. 
Contact our office at 1-800-525-7111 for a free consultation to discuss whether you qualify for a Paraquat lawsuit.
What Are the Earliest Signs of Parkinson's Disease?
Parkinson's disease is generally diagnosed later in life. According to the Cleveland Clinic, only around 10% of patients are diagnosed prior to age 50. Detecting the early stages of Parkinson's disease (PD) can be difficult. 
Early signs of Parkinson's disease:
Tremors, usually starting as slight shaking in one hand

Muscle stiffness or rigidity

Stooped posture

Decreased movement, often observable in arm swinging

Changes in your voice

Smaller handwriting

Lack of facial expression
Many times some of the earliest signs of Parkinson's are misdiagnosed as other common conditions such as essential tremors. If you believe that you may have PD, you should consult with a movement disorders specialist or neurologist.
What Are the Major Symptoms Associated with Parkinson's Disease?
Parkinson's is most frequently associated with movement disorders, but the disease affects the whole body. It can change a person's mood or behavior, lead to difficulty sleeping, and other non-motor symptoms that may be less obvious. 
Major symptoms associated with Parkinson's as noted by the Michael J. Fox Foundation:
Stiffness

Bradykinesia (slowness of movement)

Resting tremors

Difficulty with coordination and balance

Constipation and problems with urination

Low blood pressure

Erectile dysfunction or low libido

Excessive sweating

Cognitive impairment

Psychosis
The Michael J. Fox Foundation is one of the leading nonprofits for Parkinson's research in the country. The foundation strives to help find treatments and, ultimately, a cure for the disease. Recently, they have urged Congress to ban the herbicide Paraquat, due to its potential link to causing Parkinson's Disease.
Am I Eligible for Compensation After My Parkinson's Diagnosis?
While there is no confirmed cause of Parkinson's, research indicates that genetic and environmental factors may be at play. As noted by the American Parkinson Disease Association (APDA), it is estimated that less than 10% of cases are primarily due to genetics. Therefore, environmental factors likely play a more significant role in the development of Parkinson's.
Studies have shown that exposure to dangerous weed killers like Paraquat may increase the risk of developing Parkinson's by up to 75%. At Riddle & Brantley, our Paraquat lawyers know the devastating effects of this disease and are currently pursuing compensation for individuals who handled or were exposed to Paraquat and were diagnosed with Parkinson's disease.
What Should I Do Next?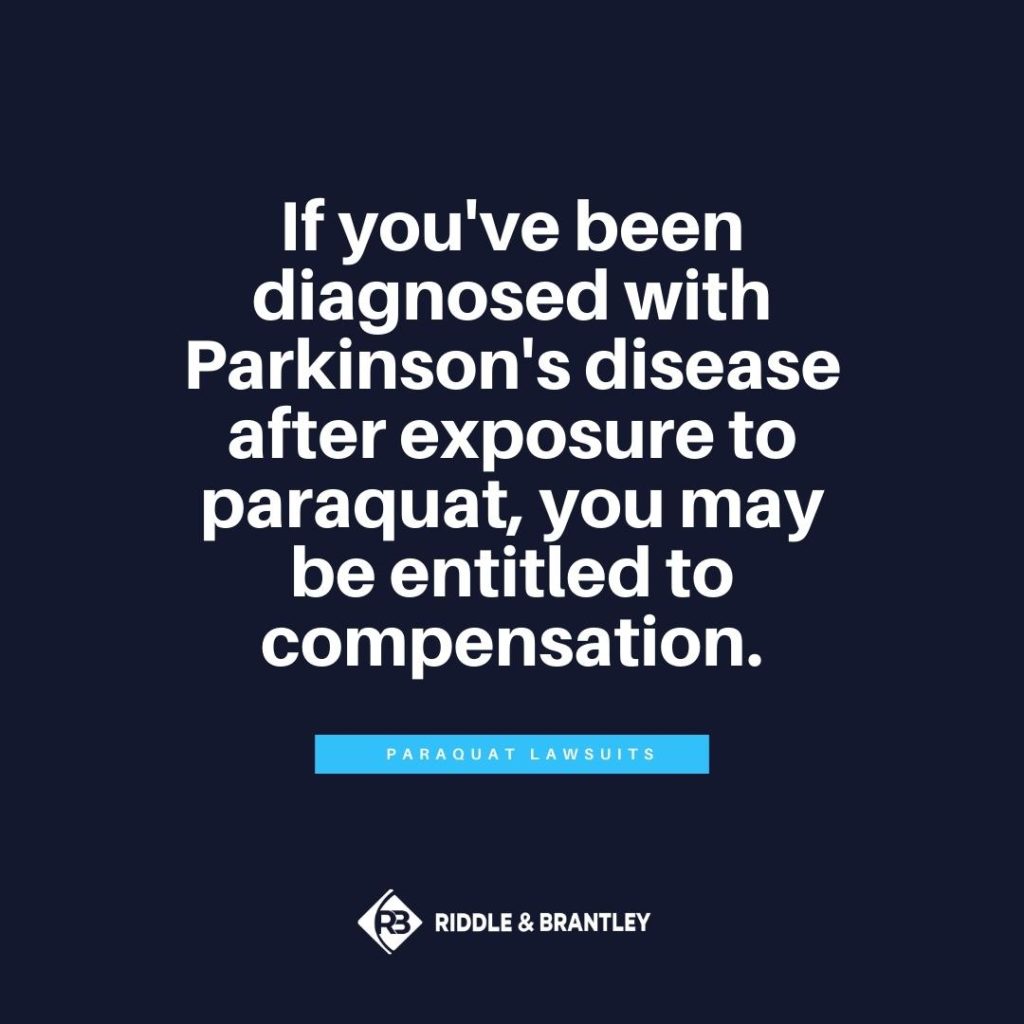 If you were diagnosed with Parkinson's after handling or being exposed to the dangerous herbicide Paraquat, contact our office at 1-800-525-7111. Our lawyers can help determine if you are eligible to pursue compensation against a negligent manufacturer or distributor.
With over 220+ years of combined legal experience, our compassionate attorneys know what it takes to hold these companies accountable for potential negligence and/or wrongdoing. Our practice was built on the premise that Justice Counts for all. With that in mind, we have fought hard to recover hundreds of millions of dollars on behalf of our clients (see disclaimer below). Let us help you get the recovery you deserve. Call our office for a free Paraquat lawsuit consultation today.
---
*** Disclaimer: The results mentioned are intended to illustrate the type of cases handled by the firm. These results do not guarantee a similar outcome, and they should not be construed to constitute a promise or guarantee of a particular result in any particular case. Every case is different, and the outcome of any case depends upon a variety of factors unique to that case.