What Types of Driving Mistakes Lead to Pedestrian Accidents?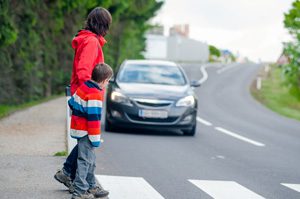 Recently, a 12-year-old boy in Fayetteville suffered severe injuries when he was hit by a Honda CR-V while he was walking near Rosehill Road around 4 pm on a Friday. According to WRAL-TV, as with many pedestrian accidents, the person on foot took the most punishment in the wreck. While the 22-year-old woman driving the CR-V escaped the crash without injury, both the 12-year-old boy's legs were fractured as a result of the incident. He was taken to the hospital for treatment. As of this writing, he was listed in fair condition. Reportedly, the driver in the wreck was charged with driving with a Revoked Driver's License.
How Can Drivers Do a Better Job of Sharing the Road with Pedestrians?
When drivers are in areas, such as neighborhoods, urban intersections and parking lots, they should be especially aware of the presence of pedestrians and drive more carefully. Here are few tips to help drivers avoid causing pedestrian accidents:
Stay Alert for Children – Kids do not always pay attention to what's going on around them, which means that they fail to recognize a car is approaching as they enter the roadway. Drive carefully around schools, school buses, parks, neighborhoods and playgrounds.
Drive Cautiously in Parking Lots – An accident where a vehicle backs into a pedestrian is known as a back-over accident. Per the Insurance Institute for Highway Safety (IIHS), 52 percent of back-over accidents happen in parking lots.
Respect Crosswalks – Always approach crosswalks slowly and give the right-of-way to pedestrians in crosswalks. If you need to drive across a crosswalk to make a turn, always take the time to scan the area for pedestrians approaching, entering or exiting the crosswalk before you drive through it.
Enter and Exit Driveways Safely – Since you enter driveways, especially your own, so often, you can often develop the habit of doing it on autopilot. This is how pedestrian accidents can happen. Whether a child is unexpectedly playing in the driveway as you enter it or a neighbor is walking his or her dog past the driveway as you back out. Be careful and stay aware anytime you enter or exit a driveway.
Avoid Distracted Driving – Car wrecks can happen in a split second. Therefore, taking your eyes off the road to check a text, adjust your GPS or change the station on your car's radio is all it could take for you to fail to see someone crossing the street ahead of you until it's too late.
Injury victims and the families of people killed in pedestrian accidents can fight back against those responsible for their pain and suffering through a personal injury lawsuit or by filing a wrongful death claim.