What Caused the School Bus Accident in Benson?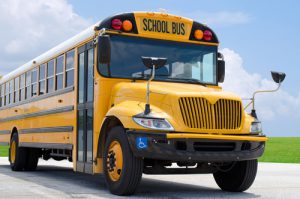 On September 7th, a school bus carrying 24 students crashed on Highway 96 in Benson. According to North Carolina Highway Patrol, the collision occurred because a 78-year-old woman driving a pickup truck failed to stop at a sign. Officials with Johnston County School District said the incident involved Bus 747, which was carrying students from Meadow Elementary School and Meadow Middle School. One student was injured and taken to the hospital.
Are Passengers on School Buses Safe?
Like many parents who are following this story, you may have questioned whether school buses offer adequate protection for children. However, the answer to that question depends on the circumstances.
Federal guidelines require school buses weighing over 10,000 pounds to use compartmentalization. This is a type of design feature that helps protect children from the impact force caused by collisions. However, compartmentalization is only designed to protect school buses involved in rear-end and frontal collisions. Students must also be properly seated during a crash for compartmentalization to work.
States or counties in the US may not require school buses to use three-point seat belts. These are the same seat belts found in most passenger vehicles. Without three-point seat belts, students could still be seriously injured or even killed during a rollover crash. In fact, this scenario unfolded last year during the tragic school bus accident in Chattanooga, Tennessee. Six students were killed and 12 were injured.
Last year, North Carolina began rolling out a pilot program to install three-point seat belts on school buses used by 11 districts. The program will expand in scope and add more seat belts to buses during the 2017-2018 school year.
Riddle & Brantley, LLP Can Help After a School Bus Crash
The North Carolina personal injury lawyers at Riddle & Brantley, LLP have decades of combined experience representing auto accident survivors or their families. If your child was involved in a school bus accident, then our attorneys could explain your rights and possible legal options. Our firm takes clients in Raleigh, Goldsboro, Kinston, Jacksonville and all throughout North Carolina.