Chemical Pneumonia From Vaping
As the EVALI outbreak continues across the United States (e-cigarette and vaping product use associated lung injury), many e-cigarette users have developed chemical pneumonia.
What is chemical pneumonia?
Chemical pneumonia is a dangerous form of pneumonia that can develop after inhaling chemicals that can inflame the lungs.
Many chemicals can result in lung inflammation when inhaled, and it can be difficult to determine which chemical is responsible.
Some of the most common chemicals responsible for chemical pneumonia are chlorine gas, pesticide fumes, dust from grains and fertilizers, and smoke.
According to Dr. Humberto Choi, a pulmonologist at Cleveland Clinic, "Lungs are made to breathe just clean air. When we're inhaling any kind of chemical, that can trigger an inflammatory response."
Symptoms of chemical pneumonia
Symptoms of chemical pneumonia are similar to those of other forms of pneumonia. Patients suffering from chemical pneumonia may experience:
Cough
Chest pain
Shortness of breath
Fever
Other chemical pneumonia symptoms include:
Fatigue
Loss of appetite
Nausea
Diarrhea
If you have experienced any of these symptoms, consult your doctor immediately, and be sure to tell him or her if you have used e-cigarettes.
Chemical pneumonia and vaping
As cases of e-cigarette and vaping product use associated lung injury have spread across the United States, investigators are actively exploring the possible link between e-cigarette use and chemical pneumonia.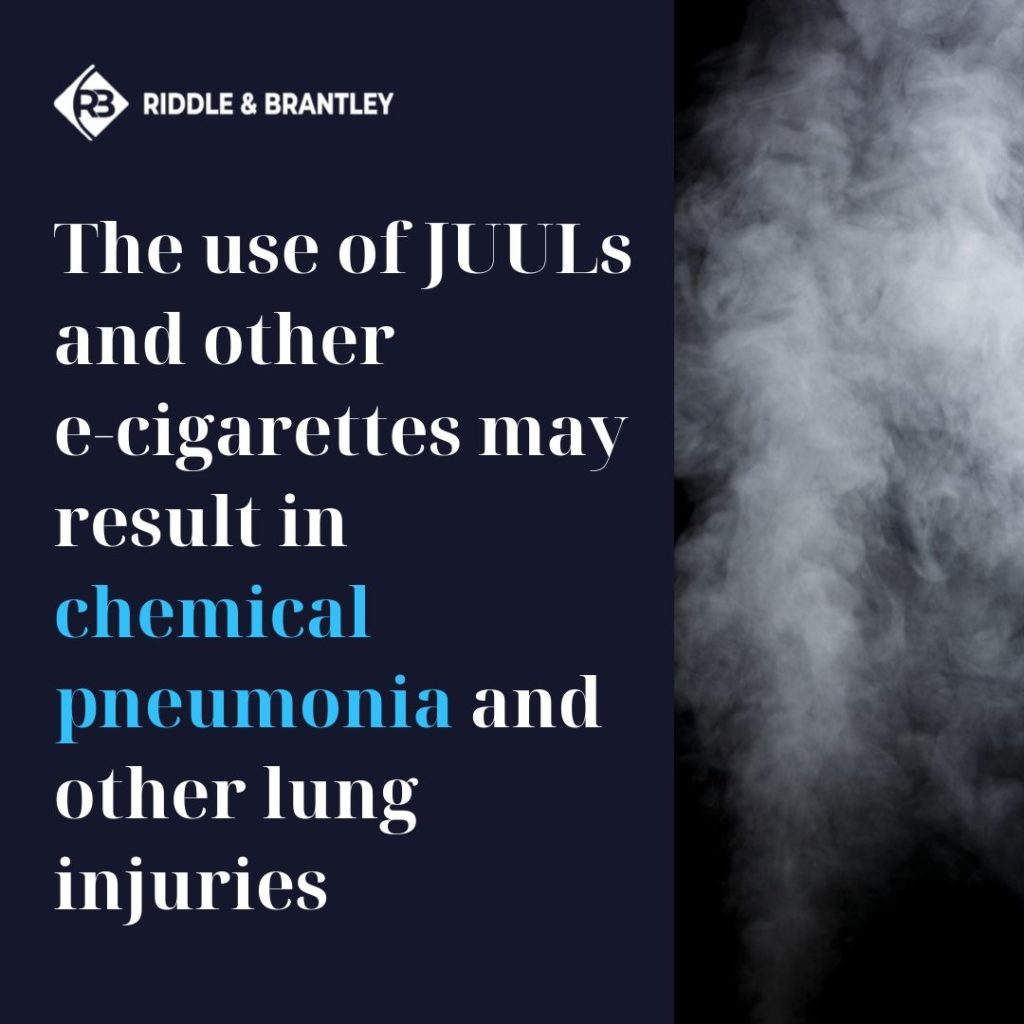 As of late October 2019, more than 1,500 cases of EVALI have been reported across the United States, contributing to more than 30 deaths.
Officials with the FDA and CDC caution that preliminary data indicates that certain chemical(s) in e-cigarettes and other vaping products may cause chemical pneumonia and other forms of EVALI.
With more than 80 percent of cases connected to vaping associated with tetrahydrocannabinol (THC), the CDC is advising individuals to stop use of vaping products containing THC immediately. Until further research is completed, the CDC also recommends stopping use of e-cigarettes altogether.
"The cases we are seeing in our nation — we do not know exactly what is causing [them]," said Dr. Melodi Pirzada, chief of pediatric pulmonology at NYU Winthrop Hospital in New York City.
For more information on this rapidly evolving situation, please visit the CDC's guide to vaping-related lung injury.
Have you suffered lung injury due to JUUL or other e-cigarette use?
If you've suffered chemical pneumonia or other lung injury due to use of JUUL e-cigarettes or other vaping products, you may be eligible for a JUUL lawsuit.
Our product liability attorneys are actively investigating these claims, and we would love to help you if we can.
The consultation is free, and there are no attorney fees unless we win your case and you receive financial compensation.
It is alleged that JUUL and other e-cigarette manufacturers may have engaged in deceptive and misleading marketing, and deliberately targeted minors with easily concealable vaping products and "fun" flavors like mango, strawberry and Fruit Loops.
We believe that's wrong, and companies whose negligence results in injury should be held accountable.
The injury attorneys at Riddle & Brantley has been seeking justice for the injured for more than three decades, and our JUUL lawsuit lawyers have more than 220+ years of combined legal experience.
For a free consultation with our legal team, please call 1-800-525-7111.
You can also complete the short form below if you prefer.
Justice Counts.