Entenmann's Cookie Recall: Choking Hazard Puts People at Risk
Bimbo Bakeries has issued a recall of Entenmann's Little Bites Soft Baked Cookies due to a potential choking hazard.
Certain boxes of 5-pack mini chocolate chip cookies may contain small blue bits of plastic, posing a safety risk to consumers. The plastic bits were accidentally introduced during the packaging process, according to the company.
According to a recall notice posted on the Food and Drug Administration (FDA) website, consuming the blue plastic pieces may result in choking.
The company says there have been no reports of injuries thus far.
The recalled products have been sold in 36 states, including North Carolina. Entenmann's Little Bites Soft Bakes Cookies are sold by popular retailers such as Walmart, Target, and Publix.
What Entenmann's cookies are being recalled?
The Entenmann's cookie recall does not affect all Little Bites Soft Baked Cookies.
Specifically, the recalled product has:
"Best Buy" dates of August 21, 2019 or September 7, 2019
Lot code 1350 to the left of the top of the box
UPC code 7203002378 on the lower right hand corner on the back of the box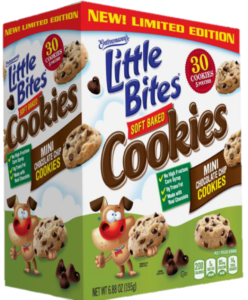 Consumers who have purchased the recalled cookies are advised not to eat them. Recalled product can be returned to the place of purchase for a full refund.
Entenmann's is also answering questions about the cookie recall via a hotline. If you have questions about the recall, please call 1-800-984-0989.
Have you been injured by a dangerous or defective product?
The product liability attorneys at Riddle & Brantley have been standing up for consumers since 1985. We take on companies whose negligence results in injury.
Our personal injury lawyers have more than 220+ years of combined experience fighting for justice and we're proud of the many four, five, six and even seven-figure settlements and judgments we've won for our deserving clients.
We are currently investigating cases related to defective 3M earplugs, Roundup weed killer, Johnson & Johnson talcum powder, Allergen textured breast implants, and more.
For a FREE case evaluation, please call 1-800-525-7111 or complete the short form below.
As always, there is no obligation, and if you decide to hire us, there is no upfront cost and no attorney fees unless we win your case and you receive financial compensation.
Please call 1-800-525-7111 today. We would love to see if we can help.
Justice Counts.