Keep Your Kids Safe at the Pool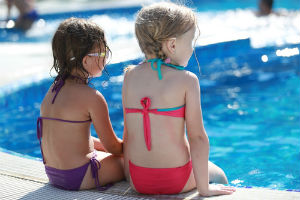 With summer in full swing, chances are your kids will be visiting the community pool or swimming in someone's backyard pool. Keeping your kids safe at the pool is easy when you follow some simple but important rules. The danger of drowning is very real, as it is the third leading cause of death from unintentional injury worldwide.
According to the CDC, the U.S. had 3,391 unintentional drowning deaths in 2013, and 625 were children 14 years old or younger.

That means more than one in every five accidental drowning deaths involves young children. Drowning is the leading cause of death by injury for children between the ages of one to four years of age, and the leading cause of unintentional injury deaths to all ages.

Non-fatal injuries for those who survive unintentional submersion include brain damage that can result in long term disability. Permanent loss of basic functions, memory problems, and learning disabilities are the most common injuries resulting from non-fatal unintentional submersion.
Below are statistics on unintentional deaths by drowning in the U.S. in 2013:

Following some simple rules will help drastically reduce the chance of your children being injured or killed while at the pool this summer.
Some Good Rules to Remember for Pool Safety
Learn to Swim
First and foremost, learn how to swim. If you and/or your child have not had swimming lessons, enroll in a class where you can both learn the basics of swimming. One of the most effective ways of reducing your child's chances of suffering an unintentional submersion injury or death is to teach him or her how to swim at the earliest age possible. Remember, you won't be able to help them or properly supervise them at the pool if you yourself cannot swim.
The American Academy of Pediatrics supports swimming lessons for children as young as one year old. Enroll your child in formal swimming lessons at your local YMCA, swim club or other community swimming facility. Most will offer classes for every age group.

Wear Life Jackets
Life jackets can be important for children until they demonstrate they can swim and are capable of swimming the length of the pool. Don't mistake foam toys, noodles, or inner tubes as suitable substitutes for a proper life jacket. Only a certified, approved life jacket is the proper safety wear for a child when first learning how to swim. Make sure you get one that fits well, and that doesn't slip off or ride up over their head when they are wearing it in the pool.

Provide Adult Supervision
It cannot be overstated how important it is for adults to supervise their children while they are in the pool. Never leave a child in the care of another child. Adult supervision does not equal texting or talking on the phone or lounging in a chair while your child is in the pool 30 feet away. The CDC recommends and strongly urges adults to be within an arm's length of their children while they are in the pool. Drowning can happen in seconds, and very quietly.
Even when there are lifeguards on patrol, they cannot see everything at once. Most often another swimmer alerts the lifeguard that someone is struggling.
Being within arm's length and paying attention to your child will obviously reduce the chance of accidental submersion.

Learn CPR
Knowing CPR can help to drastically reduce the possibility of brain damage if your child is submerged for any period. If you are able to properly administer CPR to prevent waiting for emergency personnel or a bystander to perform CPR, your child could avoid lifelong disabilities from brain damage. Take a CPR class and get certified. It is worth the small expense and extra time for the sake of your children. You may even use it on an adult someday.
Staying Safe in Private Pools
If you have your own backyard residential pool, or are visiting someone else's private pool, keep the following safety tips in mind. The rules mentioned above still apply, but when dealing with residential pools, you will not have the luxury of a lifeguard.


Beware of Pool Traps and Drains
Always make sure you keep your children away from pool traps, pipes and drains when in a spa or pool. The suction from these openings can easily pull a small child into them and trap the child underwater. Many children have been injured or drowned from faulty or pre-code traps and drains. The most notable child who was trapped by a pool drain was former Secretary of State James Baker's granddaughter, Virginia Graeme Baker, whose death inspired the passage of the Pool & Spa Safety Act.
The law mandates safety measures and building and design requirements for all pools and spas in the United States that were built after 2007, which has since been adopted by all 50 states. A copy of the Act could be of interest if you are a pool owner.


Comply with the Pool & Spa Safety Act
If you own a pool, make absolutely sure that your pool or spa complies with the most recent laws regarding pool construction and safety. Fencing around your pool, locks on the top of spa covers, and drains that are in compliance are just a few of the possible improvements you may want to make if your pool was built prior to 2007.
Sources: